NORMANDY AND PARIS
May 27- June 22, 2018
Fully Enrolled
Program Description
Program Description
Join us in Rouen, Normandy, the cradle of French impressionism and in Paris, the City of Lights, for a four week program devoted to the study of the language, culture, and people of France.
Academic Program
Students will earn 6 credits at the undergraduate level during this summer 2018 program. During the first three weeks students will live and study French language and culture at the University of Rouen followed by a 5-day stay in Paris before returning home. Students are also required to attend class sessions on the CSU main campus on May 16, 18, 22, and 24 prior to departure.  Credits earned through this program can enable French majors to complete their major capstone requirement or fulfill other requirements. Students enrolled in other majors can also complete credits toward a French minor or add electives.
FRN 240/340  Field Studies or FRN 441 Capstone (4 credits)
• Includes pre-trip class sessions on the CSU campus on May 16, 18, 22, and 24.
FRN 293/393 Intermediate or Advanced French Language (2 credits) included in program fee
• 30 hours of instruction by a French as a Foreign Language instructor from the Univesity of Rouen.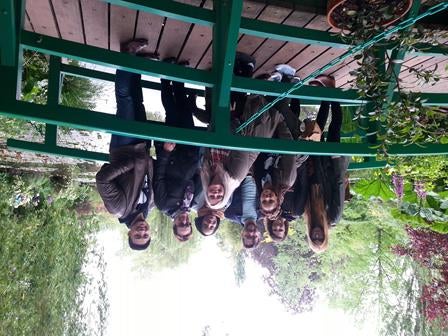 Tentative Schedule (subject to change)

May 16, 18, 22, and 24 Four orientation class sessions on the main campus of CSU
May 27 Group departure from Cleveland Hopkins International Airport to Paris, France
May 28 Arrival in Paris, chartered coach to Rouen, host family meeting and move-in
May 29  Orientation at University of Rouen and placement test
May 30- June 17 Monday-Friday Classes mornings with excursions during the afternoon
June 18- June 22 Paris excursion
June 22 Program conclusion; flight home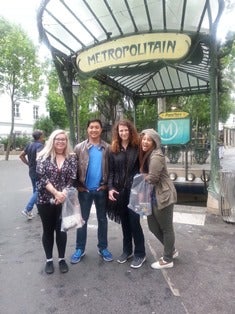 Program Fee
The estimated program fee is $5,800*

Round-trip airfare
Full room and board in Rouen (homestay)
Accommodation in Paris and most meals
Excursions, museum pass
All in-Country transportation (including a 4 day Paris metro pass)
2 credits at the University of Rouen
The cost does not include CSU tuition for the 4 credits of Field Studies. To view the current tuition rates, go to http://www.csuohio.edu/treasury-services/tuition-and-fees. Students should budget an additional $250 - $350 for meals not included in the program fee (during travel and in Paris). Students are also responsible for passport or visa fees, health insurance, and personal souvenir purchases and sightseeing.
*The cost may change due to increases in airfare and/or the exchange rate.
Total estimated cost for all expenses related to the program is ~$7,656.

Billing and Payments
The program fee of $5,800  (minus the application deposit) will be assessed to participants' CampusNet accounts at the time of acceptance. The tuition for the four-credits of Field Studies is an extra fee and will appear on the CampusNet account when the student participant "adds" the course to his/her first 6-week summer session academic schedule.  Students may wish to consider enrolling in the summer budget payment plan which is an option offered through the Office of Treasury Services and accessed through CampusNet.
$250 non-refundable deposit due at the time of application. Pay the $250 deposit through Shopnet with a debit or credit card. Only inadmissible applicants will be eligible for a deposit refund. If inadmissible to the program, the deposit is credited to the CSU CampusNet account. Otherwise, it's non-refundable.
There are no voluntary withdrawals and no withdrawal options after application decisions have been made.  Participants are considered fully committed to the program and financially responsible for 100% of the program fees. There are absolutely no refunds. Please carefully consider your situation before you apply. Consult with the faculty director or study abroad adviser before the application deadline.
First installment due April 7
Remaining Program Balance due April 28
Please make the payments electronically through Campusnet or by cash/check at the Cashier's Office in Main Classroom. If your program fees are not paid by the due dates indicated above, you may be removed from the program but you will maintain financial responsibility.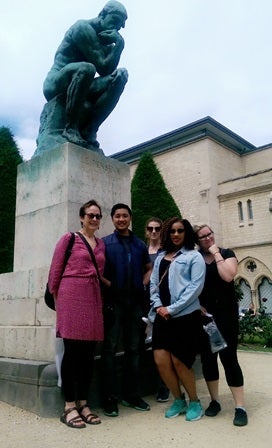 Students may use summer financial aid to pay for all CSU fees except the deposit. Summer financial aid is usually whatever aid is left over after the fall and spring semesters. This aid is usually in the form of loans or grants. Students can apply for independent loans through private lenders or by talking with a representative from All-in-One in MC 116.
If you have any questions about using financial aid towards the program fee, please contact the Center for International Services and Programs.
There are scholarship available to students. Eligible students can apply for the CISP Study Abroad Scholarship (click on the link to see the eligibility requirements for the scholarship as well as download the application form). Additionally, the first 10 students from the College of Liberal Arts and Social Sciences (majors and minors) who enroll in the program will be awarded a summer CLASS Dean's Scholarship in the amount of $500. Additional scholarship resources including a Gilman Award for Pell recipients can be researched through the Study Abroad Scholarships and Grants website.
New: Embassy of France- Benjamin Franklin / Generation Study Abroad Scholarship due Feb 16th. Four award of $2,500 each will be awarded in summer 2018.
 
Eligibility
Successfully completed  FRN 102  or equivalent by the time of departure
Minimum undergraduate cumulative GPA of 2.0 is required; minimum graduate cumulative GPA of 3.0 is required
18 years or older
Completed one year at CSU if a true first-year or at least one semester if a transfer or graduate level student
At the time of application, applicants must also have no financial holds on their CampusNet account, no outstanding sanctions resulted from adjudication of infraction(s) against the CSU Student Code of Conduct, and no CSU academic warnings or probation.
A minimum of 8 participants is required for this program.
Please contact the CSU International Center if you attend another university and wish to apply to CSU in Framce. All applications will be approved by the Faculty Director and the Center for International Services and Programs.
Application
The program application and $250 non-refundable deposit are due no later than February 23, 2018.
APPLY NOW   (Click link to fill out on-line application)
DEPOSIT NOW

Note on Acceptance and Withdrawals
Once notified of acceptance on the program, the student becomes financially and academically responsible to the group and the University.  The remaining program fee (minus the application deposit) will be added to each participant's CampusNet account and becomes irreversible. There are no voluntary withdrawals, as each student is needed to make up a group and cover the program related expenses. 
Once admitted on a faculty-led program, there will no refund of any of any kind for a withdrawal.  Expenses begin being paid out on behalf of the group as soon as a program is considered a "go" and the application decisions are announced.  If an applicant is unsure about making a financial and/or academic commitment to CSU in Spain, doubts should be cleared up prior to submitting an application. Please contact one of the two administrators listed below to discuss your options.
Do I need a Visa?
All participants will need a valid passport to enter France. Passports should be valid at least 6 months after the program ends. U.S. citizens do not need a tourist or study visa to enter France for this four-week program.
If you are not a United States citizen (even if you are a Permanent Resident), you may need a visa to enter France. Please visit the French Consulate of Chicago website  to determine if you need a visa. A personal appearance at the French Consulate of Chicago, at your own cost, is generally needed. If you have any questions about visas, please contact the CSU International Center.
Dr. Tama Engelking
Faculty Director
Professor of French in the Department of World Languages, Literature and Cultures
t.engelking@csuohio.edu
216-687-4647
Rhodes Tower 1623

Julie Good
Manager of Education Abroad
Center for International Services and Programs
j.a.good88@csuohio.edu
216-687-3910
MC 412