International Marketing and Business Research
May 9-17, 2015
application deadline extended to friday dEC. 5, 2014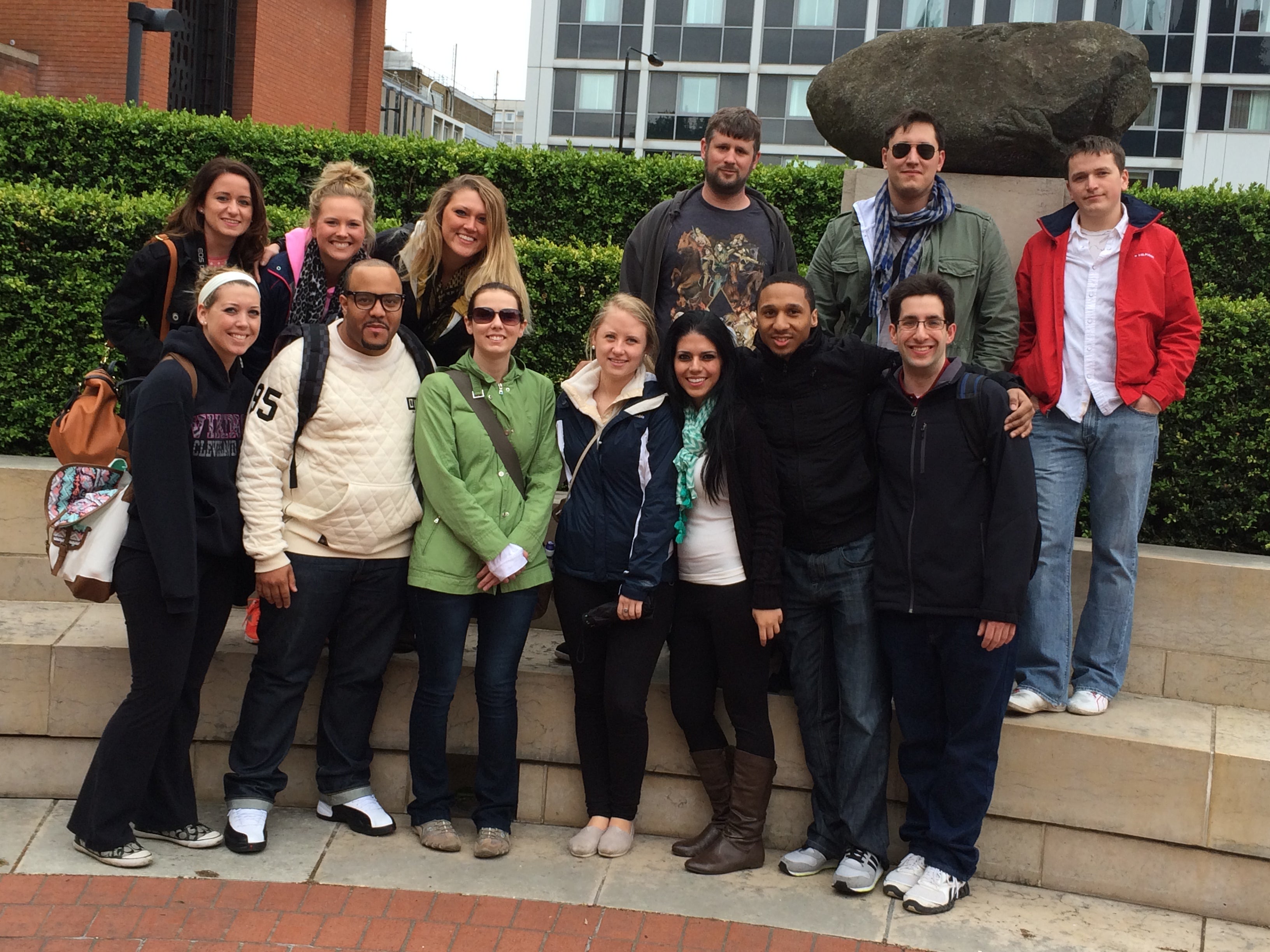 Program Description
This study abroad experience provides students with hands-on research skills, the opportunity to travel, and interaction with many sectors of the British business community.  During spring semester, teams of students will be provided a client who is seeking research in England.  Prior to departure, the student teams will prepare research proposals based on client needs.  Students then spend 8 days in England during the break between spring semester and first summer session conducting research and interviews with British organizations, businesses, agencies and consumers.  Students and faculty at BUCKS New University outside of London will host the CSU group. 
Academic Program
Through this program, students will learn how to plan and execute marketing research for a business client.  Students will form research teams, design research projects, write research proposals, conduct background research and identify British organizations and target segments to interview.  The program will also expose students to an unforgettable cultural and business experience by exploring and studying in London.  Students will develop teamwork skills by working within their CSU teams and with their partner students at BUCKS New University. 
While in England, Kim Ruggeri, director of the program, will conduct orientation sessions with the students and supervise their research. 
Completed group reports are submitted in June.
Undergraduate students should enroll in MKT 440: Field Experience Abroad.  Students may also use these credits towards the experiential requirement in the IB major. Graduate students should register for MKT 640: Field Experience Abroad.  Both classes are 3-credit hour courses offered during the spring semester.  The course includes the study abroad program in May, as well as four mandatory class meetings held at 6 pm on Fridays February 13, March 6, April 24 and June 5, 2015.
Eligibility
Pre-requisite of MKT 301 or equivalent. Minimum undergraduate cumulative GPA of 2.0; minimum graduate cumulative GPA of 3.0. At the time of application, the applicant must have completed at least two semesters at CSU if a first year student, and at least one semester if a transfer or graduate student. The applicant must have not have an unpaid balance on their Treasury Services account and no current sanctions against them from the Student Code of Conduct. All applicants will be reviewed and approved by the director Prof. Ruggeri and the CISP. Students will be selected based on major and GPA ; there is a limit of 15 participants.
Cost
The estimated program fee is $2500*. The cost includes:
Round Trip Airfare
Lodging
English breakfast
In-Country Transportation
The cost does not include CSU tuition for the required 3 credit course.
For current tuition rates - click here.
*The program fee may change due to increases in airfare and/ or the exchange rate. Students should budget
an additional
$400-500
for lunch, dinner, souvenirs, and sightseeing. Students are personally responsible for passport or visa fees, health insurance with international coverage, and souvenir shopping.
Billing
The $2,500 program fee is broken down into 2 payments:
$250 application deposit due with application (see application for instructions on how to make this payment). If admitted to the program the application deposit becomes non-refundable. Pay application deposit directly into the program account through the Cashier's Office.
 
$2250 will be due on Feb 13, 2015. If admitted to the program, this fee will be added to individual students' CampusNet accounts and will need to be paid off accordingly.  
If program fees are not paid in full by Feb 13, 2015 students may be removed from the program but maintain responsibility for the fee.
A signed Financial Policies statement is due to the Center for International Services and Programs from each admitted student on the program. Signed Financial Policies statements are due no later than Friday, January 16, 2015.
ENG 15 Financial Policies.pdf
Financial Aid
Students may use spring financial aid to pay for the program fees and tuition (except for the $250 application deposit which cannot be deferred). Spring financial aid awards may be increased due to the increased cost for the semester. Students can explore this and other options and seek advice on applying for private loans through FASTCHOICE by meeting with a Campus 411/ All-in-One Enrollment Services representative in MC 116.
If you have any questions about using financial aid toward the study abroad cost, please contact the CISP who will need to see a print out of your spring 2015 financial aid award indicating enough money to cover all spring tuition plus the program fee for England.
Scholarships
Two scholarships are available to students on short term programs. Eligible students can apply for the 
CISP Education Abroad Scholarship
,   and the Scotton scholarship.  The Scotton Scholarship is available out of the department of Marketing.  Please contact Prof. Ruggeri for questions about this scholarship or the Center for International Services and Programs (CISP) for questions about their scholarship.
Do I need a Visa?
No, you do not need a visa if you a United States citizen. If you are a Permanent Resident or an international student in the US, you may need a visa to enter the United Kingdom. If you have any questions regarding visas, please contact the CISP.
Application
APPLICATION DEADLINE EXTENDED TO december 5, 2014
The program application and deposit receipt is due no later than Friday, 
December 5
, 2014 to confirm your participation. To make the program deposit of $250, take the program application and your payment to the Cashier's Desk in the First Floor of the Main Classroom. You will receive a receipt that you must turn in with your application. 
Download
ENG 15 Application.pdf
Contact