June 29- July 30, 2016
Application due February 12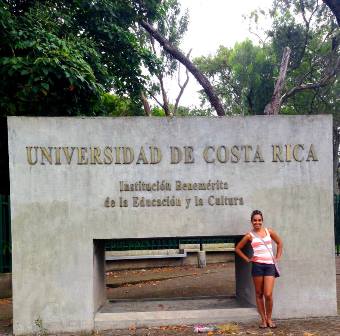 Program Description
Students will earn Spanish credit while taking classes at the University of Costa Rica, in San Jose, the capital of Costa Rica. Students will also interact daily with the Costa Rican people through their host families and local Spanish professors. Additionally, organized group excursions to the naturally beautiful and culturally rich areas of Costa Rica are planned for this program.  Classes at Universidad de Costa Rica (UCR), in San Jose, the capital of Costa Rica, will be offered to students based on their current language level: intermediate through native speakers.

Known as a natural paradise, Costa Rica is home to dramatic landscapes that include rainforest and active volcanoes. Its beauty is preserved intentionally by the Costa Rican government, with 20% of the country made up of forest reserves which are home to thousands of bird, plant, and mammal species. Costa Rica also has a consistently pleasant climate with spring-like temperatures and weather year round. The Costa Rican people are known for their relaxed and friendly attitudes.

Students enrolled in this program will visit Tortuga Island, the Poas Volcano National Park, La Paz Water Falls Gardens, and the Limon Province. There will be one weekend where students can travel independently, but they must inform the faculty leader Matias Martinez-Abeijon of their travel plans.
Academic Program
The program is comprised of 10- 12 credits of Cleveland State in-residence Spanish courses. 6 credits of UCR credit are included in the price while 4-6 credits of CSU tuition will be an extra charge. All students will take the following classes (available on 200, 300, 400, and 500 levels):
2 to 4 credit Field Studies course- This is an experiential course on Costa Rican culture taught by Dr. Martinez-Abeijon. The 4 credit option is offered to students wishing to do field research in Costa Rica. CSU tuition is charged for this class.

2 credit pre-trip course, SPN 293, 393, 493, 593, Costa Rica Today, in the 1st Summer Session. The program director grants exceptions to this requirement only in extreme circumstances. CSU tuition is charged for this class.
3 credit language course. Taught at University of Costa Rica by UCR staff. The level is determined by a placement test given on the first day of class. There is no additional tuition charge for this course.
 
3  credit elective chosen by students in consultation with Professor Martinez-Abeijon. Past courses have included Advanced Composition, Costa Rican Literature, The Novels of García Márquez, Hispanic Linguistics, Techniques of Spanish Teaching. Students whose language skills are at the ACTFL Superior level may elect to take 2 three credit courses in Hispanic lit and/or culture. Course offerings depend on enrollments and availability of instructors, but the following courses are typical offerings: Latin American Culture and Civilization, Intro to Spanish American Lit, Intro to the Literature of Spain, Intro to Generation of 98 Spanish Writers, Advanced Compostion, Costa Rican Lit, the Novels of García Márquez, the Contemporary Latin American Novel, the Poetry of Borges, Hispanic Linguistics, Techniques of Spanish Teaching, Women in Latin American Literature, Latin American Thought. There is no additional tuition charge for this course.
 
Cultural Program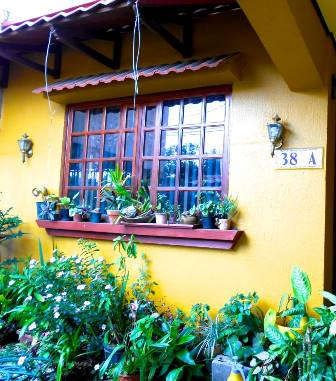 Students will live with Costa Rican host families in single occupany rooms. Students will have the opportunity to observe and participate in the daily life of a Costa Rican family by eating breakfast and dinner at home. In addition to these two meal daily, the family provides a weekly laundry service at not extra charge. The homes are within walking distance to the university and/or are close to good public transportation to get around San José.
 
Itinerary
Wednesday, June 29:  Depart Cleveland for San José
June 29-July 3
Orientation at UCR
Placement test
Meet and move in with host families
July 4 -July 8:  First week of classes

July 11-15:  Week 2 of classes

July 16-17:  Overnight program excursion to Limón and Cahuita

July 18-21:  Week 3 of classes

July 22-24:   Free weekend

July 25-29:  Final week of classes

Saturday, July 30 Return flight from San José to Cleveland
 
Program Fee
The program cost is estimated at $3,995.
The cost includes roundtrip airfare, lodging, two meals a day, group transportation and excursions, and 6 credits at the University of Costa Rica.

The cost does not include tuition for the required CSU courses (2 credits of Costa Rica Today and 2-4 credits of Field Studies) and may change due to increases in airfare and/or the exchange rate.
Students should budget about $400 for lunches, meals on Sundays, and other traveling incidentals including the free weekend of travel.
Financial Aid/Scholarships
Students may use summer financial aid to pay for the program and tuition cost. Summer financial aid is made up of financial aid not used from the previous fall and spring terms. Students will need to speak to a Financial Aid Specialist in All-In-One in order to apply for summer financial aid (MC 116).
There is a scholarship offered through the Center for International Services and Programs that is available to students on short term study abroad programs. Eligible students can apply for the CISP Study Abroad Scholarship.  If you are a Pell receipient, you are also eligible to apply for the Gilman International Scholarship (deadline March 1). Please contact the Education Abroad staff at the Center for International Services and Programs for help in applying for scholarships (MC 412).
Do you need a visa?
If you are not a United States citizen (even if you are a Permanent Resident), you may need a visa to enter Costa Rica. Go to the Costa Rican Consulate of Chicago's website to find out if you need a short term tourist visa to enter Costa Rica. If you have any questions regarding visas and how to apply, please contact the Center for International Services and Programs (CISP).
Eligibility
Applicants must have completed one year of college-level Spanish or equivalent. Minimum undergraduate cumulative GPA of 2.0; minimum graduate cumulative GPA of 3.0.
At the time of application, the applicant must have completed two semesters at CSU if a first year student, and one semester if a transfer or graduate student. Students from other universities may be accepted to the program as a CSU transient student. Must also have no financial holds on their Treasury Services account and have no infractions of the Student Code of Conduct. All applications must be approved by the faculty leader and the Center for international Services and Programs (CISP).
Application
The program application and deposit receipt are due no later than February 12, 2016. To make the program deposit of $250, take the application form and your payment to the Cashier's Office (MC 115). You will receive a receipt that you must turn in with your application. Application and receipt should be be submitted to the CISP in MC 412.
Application for CSU in Costa Rica 2016
Contact
Professor Martínez-Abeijón of the Department of World Languages, Literatures, and Cultures will accompany the group, teach Costa Rica Today and the Field Study, and oversee the program on behalf of Cleveland State University.
Faculty Leader
Dr. Matías Martínez-Abeijón
Department of World Languages, Literatures and Cultures
RT 1627
Phone: 216-523-7171

Education Abroad Manager
Julie Good
Center for International Services and Programs
MC 421
Phone: 216-687-3910