Cancelled due to low enrollment
Visit Beijing, Shanghai, and Hong Kong
Space is limited to 15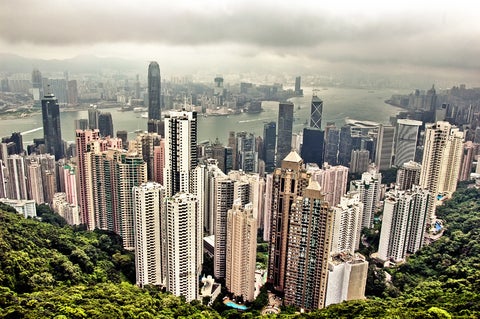 December 27, 2013 - January 13, 2014
Program Description
This program is intended to give students a first-hand understanding and experience of the financial practices, financial management, and financial markets in China. China's recent resurgence as the largest emerging market and the 2nd largest economy in the world implies that it is important for global business. It is very valuable for students to gain an appreciation of the Chinese business and finance environment. This course attempts to accomplish this through a hands-on study abroad experience that focuses on visiting government agencies, international and domestic companies, and financial institutions in multiple China cities. The course also includes cultural activities aimed at obtaining an appreciation of the Chinese culture. Students will also visit some Chinese universities and have a chance to communicate in person with Chinese college students.
Academic Program
All students must enroll in the mandatory 3 credit course FIN 495/695 in spring 2014.  Students will be required to attend 10 pre-departure sessions in the Fall semester as part of the course requirements. These sessions (light refreshments provided) will take place on Fridays from 5:00 pm-8:00pm on Oct. 4, Oct. 11, Oc. 18, Oc. 25, Nov. 1, Nov. 8, Nov. 15, Nov. 29, Dec. 6 and Dec. 13.
While in China, the program will travel to Beijing, Shanghai, and Hong Kong. Dr. Zhou will accompany the students to all activities outside of the host university, Capital University of Business and Economics in Beijing. In addition to company visits and site seeing, time will be spent in group lectures and on independent research. Students should expect to be engaged in program activities for 8 hours every day while in China. 
Eligibility
Applicants must have a minimum undergraduate cumulative GPA of 2.0; graduate cumulative GPA of 3.0.
At the time of application, the applicant must have completed two semesters at CSU if a first year student, and one semester if a transfer or graduate student. Students from other universities may be accepted to the program as a CSU transient student. Must also have no unpaid balance on their Treasury Services account and have no infractions of the Student Code of Conduct. All applications must be approved by the Program Director and the Education Abroad office.
The program cost is $2,800. The cost includes:
All meals

Round Trip Airfare with the Group Flight

In-Country Transportation

Lodging, Entry Fees, Guides, & Transportation on all excursions

A Chinese Visa

An International Student ID Card
The cost does not include CSU tuition for FIN 495/695 International Field Experience. To view the current tuition rates, visit the Treasury Services website. The cost may change due to increases in airfare and/or the exchange rate.
Students are also responsible for passport fees, health insurance, and personal souvenir purchases and sightseeing.
Billing
The $2,800 cost is broken down into 3 payments:
$200 Payment Due with Application (See Application for Instructions on How to Make This Payment)
$1600 Payment - This charge will be posted to your Treasury Services account after your acceptance. Payment deadline: October 11, 2013
$1000 for Remainder of Cost - This charge will be posted to your Treasury Services account after your acceptance. Payment deadline: November 1, 2013
You make payments toward these charges just like you would for tuition, electronically through CampusNet or by cash/check through the Cashier's desk in Main Classroom or by mail.
If your program fees are not paid by the due dates indicated above, you may be removed from the program.
Financial Aid
Students may use spring financial aid to pay for the cost of the program, except the $200 deposit. In order to apply spring financial aid toward these fees, the student must provide the Education Abroad office with a print out of their financial aid award for 2013-14 reflecting that the student has enough spring 2014 aid to cover both their tuition costs for all courses taken in the spring term and the cost of the program. All of these documents must be submitted to the Education Abroad office by October 11th payment deadline.
If you have any questions about using financial aid toward the program fee, please contact the Education Abroad office.
Scholarships
The Center for International Services and Programs offers a scholarship to qualifying student on faculty-led programs. Eligible students can apply for the CISP Education Abroad Scholarship by downloading the application from the web.
Do I need a Visa?
You will need a visa (permission to enter) to enter China. The visa fee is included in the program fee, and you will receive instructions from the Education Abroad office after you are accepted into the program about how to apply for the visa.
Application
The program application and deposit slip is due no later than Friday, September 20, 2013 to confirm your participation. There are only 15 spots on this program. To make the program deposit of $200, take your payment to the Cashier's Desk in the First Floor of the Main Classroom. You will receive a receipt that you must turn in with your application.
Download the brochure and application.
Contact
Dr. Haigang Zhou
Monte Ahuja College of Business
h.zhou16@csuohio.edu
216-687-3687
BU 324
Julie Good
j.a.good88@csuohio.edu
216-687-3910
Main Classroom Suite 106