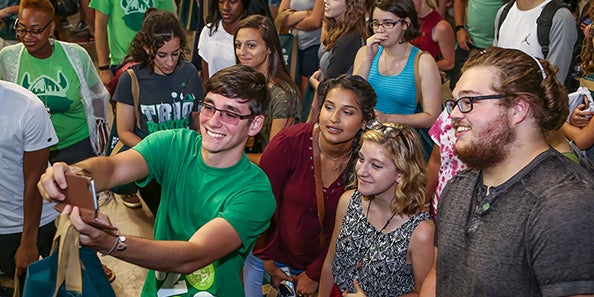 Welcome to Cleveland State University's social media directory! We're excited you're looking to engage with us, our students, faculty, staff and alumni. Below you'll find an overview of the main university accounts as well as those of schools, departments and organizations. To have your CSU account considered for inclusion on this list, please e-mail socialmedia@csuohio.edu.
Social Media Feed
We love when you share your Cleveland State experience with the world. Check out our social media feed for some of your best posts about CSU. Want to see your post here? Tag @CLE_State on Twitter and Instagram, mention CSU on Facebook, add the Cleveland State University location to your posts, or include #CLEstate & #ImAViking.
Viking Pumpkin Stencil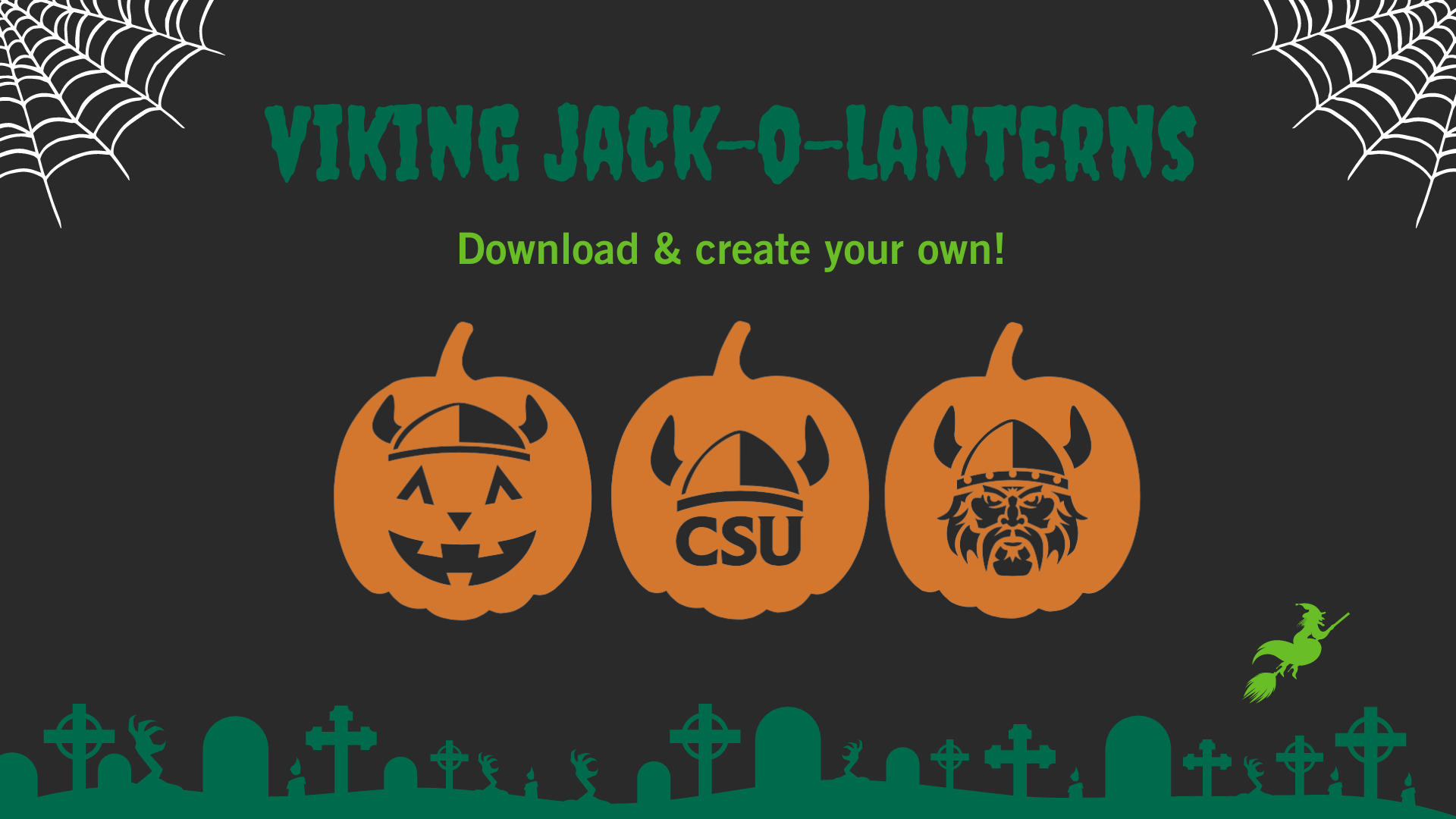 Show your Cleveland State spirit this Halloween with a Viking-themed jack-o-lantern! Download the Viking Pumpkin Stencil and follow the instructions on how to carve your own. Then take a photo and tag @cle_state on social media!
Viking Halloween_Pumpkin_Stencil 2021.pdf
Main University Accounts
Other University Accounts
1964 Society
Alumni Association
American Marketing Association
CSU Chapter
American Society of
Civil Engineers
CSU Student Chapter
Art Galleries at CSU
Athletics
Athletic Compliance Office
Black Student Union
Black Studies Program
Campus 411
Campus Activities Board
Campus International School
Campus Police
Camp Vike
Campus Support Services

Career Services

Center for Cybersecurity &
Privacy Protection

Center for Educational
Leadership
Center for eLearning
Center for Professional
Development
Center for Public and Nonprofit Management (Levin)
Center for Public History
& Digital Humanities
Cheerleading
City is Our Campus
Cleveland-Marshall
College of Law
Cleveland-Marshall
College of Law
Alumni Association
Cleveland Memory Project
Cleveland Teaching Collaborative
College Credit Plus
College Democrats
 
College of Education
& Human Services
College of Graduate Studies
College of Liberal Arts
& Social Sciences
College Republicans
College of Sciences
& Health Professions
Counseling Center
Counseling & Mental Health
Continuing Education
 
Cross Country
CSU Education Abroad
CSUteach
Dance Team
Delta Omega Phi
Delta Sigma Phi
Department of English
Department of Facilities
& Safety
Department of History
Department of Mathematics
Department of Music
Department of Psychology
Department of Theatre & Dance
Department of World Languages,
Literatures & Cultures
Dining Services
Division of Continuing and
Extended Education
Elements Bistro
Exploratory Advising Office
Facilities Services
Fencing
First Year Experience
Flying Circus of Physics
Golf
Global Business Center (Home to the SBDC Export Assistance Network)
Graduate Business Program
Graduate Student
Resource Center
Health & Wellness Services
History
History Club
Homecoming
HYPE Team
Jack, Joseph & Morton Mandel
Honors College
KeyBank Scholars Program
Krenzler Krew
Lacrosse
Lacrosse Club Team
LGBTQ+ Student Services Center
Levin College Forum Program
Lift Up Vikes!
 
Magnus
Maryjoyce Green Women's Center
Maxine Goodman Levin College
of Urban Affairs
Maxine Goodman Levin College of Urban Affairs - Forum Program
Maxine Goodman Levin College of Urban Affairs - Women's Leadership Network
Men's Basketball
Men's Soccer
Michael Schwartz Library
Monte Ahuja College of Business
Monte Ahuja College of Business
Undergraduate Office
Muslim Student Association
National Society of
Black Engineers
National Society of Leadership
& Success
Office of Civic Engagement
Office of Research
Office of Sustainability
Panhellenic
Parking & Transportation
Services
Phi Alpha Delta
Poetry Center
President Harlan M. Sands
Refresh_cle_csu
Residence Life
Recreation Center
Rowing
School of Film & Media Arts
School of Nursing
Sigma Phi Epsilon Fraternity
Sigma Tau Gamma Fraternity
Social Studies Program
Softball
Student Athlete Advisory
Committee
Student Government Association
Student Life
Supplier Diversity Initiative
Swimming & Diving
TASC, Tutoring & Academic Success Center
Tau Kappa Epsilon
Teaching
TEDxClevelandStateUniversity
Tennis - Mens
Tennis - Womens
 
 
The Cauldron
The Cleveland Stater
The Galleries at CSU
The Vindicator
Tour Guides
Track and Field
Transfer Center
Viking Expeditions
Viking Outfitters
Viking Veteran Student Services
Viking Village
Vocal Vikings
Volleyball

Washkewicz College of 
Engineering

Wolstein Center
Women's Basketball
Women's Soccer
Wrestling
Young Life College