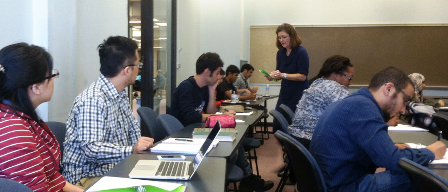 CSU graduate and undergraduate students work closely with the talented writing staff of the Writing Center and Director, Dr. Mary Murray McDonald.  McDonald (pictured above) has learned over the years that she does not need to promote the services of the Writing Center.  The Center serves an increasing number of students each semester.  Students find the Writing Center on their own and especially when receiving a lower writing grade than expected.  Students are also referred frequently by University Librarians and Faculty.  Last year, the Writing Center averaged more than 5,000 tutorials a semester!
Many students, including graduate students, are considered long-term users who visit frequently throughout their writing process.  McDonald and staff assist some students who simply cannot get started with their task.  The pressure of the project, uncertainty on how to approach it, or concerns about potential faculty or advisor feedback all pose barriers for many students both at the onset and throughout their writing project. 
McDonald finds it very rewarding to watch a student grow in confidence and enjoys being the "quiet person in the middle who helps someone grasp what he or she needs to do to write well—it's like being a writing psychologist and craftsman at the same time."  The Writing Center staff offers the following practical advice to students:
Consider context.  Link the writing to the larger societal issues.  Don't stick to the facts alone or to the research itself.

Get to the point right away.  When you write, write it all out badly, summarize, and put that summary at the top of the document to steer the reader.
Cite more than you think you should.
Ramp up your discussions—don't be influenced by magazines that dumb things down.
Follow your intuition about your research.
Driven by its mission to welcome and encourage student writers to make great decisions regarding their writing, the Writing Center provides a variety of resources and services in many formats:  individual writing sessions, online tutorials, online handouts on the web site, and workshops. Students may select from general topics such as Common Writing Issues to more specific content areas on the web site including: Beginning a Thesis or Dissertation, Plagiarism, Research, Grant Writing, Annotated Bibliography, Grant Writing, APA & MLA Style, Conversion to Formal Language, and Grammar:  http://www.csuohio.edu/academic/writingcenter/writinghelpforGrads.html
This spring, the Writing Center plans to host a week-long writing camp aimed at helping graduate students complete their writing projects. Providing a reserved, quiet space and dedicated access to writing consultants, the week is designed to help students wrap up or make significant writing progress in a thesis, dissertation, or capstone project.
Writing Center Staff are available at flexible times convenient to graduate student schedules.  The Center offers both drop-in and scheduled appointments and also provides feedback to students making online submissions; the link for online submissions is as follows:  http://www.csuohio.edu/academic/writingcenter/writinghelponline.html.
For students needing a more flexible option, the Writing Center provides online workshops on general topics related to research writing: http://www.csuohio.edu/academic/writingcenter/WAC/studentsworkshop.html
McDonald has served as CSU's Writing Center Director for the past 15 years and also serves as Writing across the Curriculum Director.  She holds a Bachelor of Arts in English from John Carroll University, an M.A., and Ph.D. in Rhetoric and Composition from Purdue University, and has authored 2 books and numerous academic articles concerning the history of grammar instruction, the writing of Thomas Merton, insight in writing, and writing pedagogy.
Visit the Writing Center for additional information: http://www.csuohio.edu/academic/writingcenter/index.html