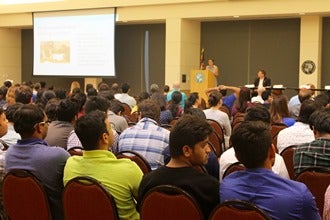 Over 400 new graduate students participated in two new orientation sessions at the start of fall semester. Interim Dean of the College of Graduate Studies, Dr. Donna Schultheiss, welcomed new master's and doctoral students with CSU's first Orientation for New Graduate Students on August 24 and a re-launched version of the previously suspended Graduate Assistants Orientation on September 15.  The majority of new graduate students, visiting campus for the first time, joined in the optional orientation programs to learn more about CSU graduate student resources and services.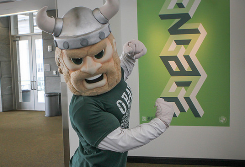 Students attending the New Graduate Student Orientation and Resource Fair filled the Student Center Atrium while connecting with more than 30 campus and community representatives to help them become better acquainted with the City of Cleveland, Young Professionals Organizations, and with the University. Following the Resource Fair, students adjourned to a formal session covering nearly a dozen topics related to student success and University resources. The afternoon activities were capped with a graduate student panel discussion, campus tour and an early evening reception at Chili's. For new students who may have missed either orientation program, online materials may be found here.
New Graduate Assistants and those with a Tuition Grant were invited to attend an abbreviated GA Orientation program in mid-September that centered upon critical legal and compliance matters, Title IX, and payroll, along with presentations by the Center for Faculty Excellence and a panel of current Graduate Assistants.
In a recent program evaluation, 95% of respondents agreed or strongly agreed that the Graduate Student Orientation helped them develop a better understanding of CSU resources and services.