"I use my power as mayor not to benefit myself but to fulfill the Mission to move this agenda on, and I hold myself accountable at the end of 4 years when the Cleveland Plan expires.  We have a role in the failure or success of this plan."
Mayor Frank G. Jackson returned to Cleveland State University April 14th with a progress report for an invited group of approximately 50 students and faculty from the Urban Education doctoral program.  By invitation of CSU's Dr. Paul Williams, Superintendent in Residence,  Jackson reported on the state of the Cleveland Plan and his mission to improve the quality of education in Cleveland schools over a four-year period.
Mayor Jackson stressed, "Our focus [is] on quality education, Pre-K to 12, and the debate is how can we better educate our children and how can we get there in the quickest amount of time.  The aim is to reduce existing directives based upon seniority, pay, tenure, and collective bargaining units.  By removing self-interests it allowed us to focus on the child's self-interests."  Jackson explained that soon after his first conversation in April 2012 with CSU doctoral students and faculty, Governor John Kasich supported and helped negotiate the process for the Cleveland Plan to replace the former Academic Emergency Distress Commission. State legislation was passed in 2012 as House Bill 525 that created the Alliance and the pathway to the improvement plan involving a four-year Cleveland school levy tax effective through 2016.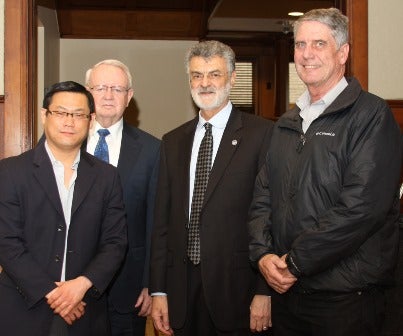 During this second visit with CSU students and faculty (pictured here), Jackson reported, "some parts [of the Cleveland Plan] are ahead of schedule, some behind and others right on target, but the public should see clear results by 2016." He explained how the Plan needed not only to revamp leadership and control, but also change the competitive environment fueled by the numerous educational systems that operate within the Cleveland Municipal School District. The mayor reported, "The Cleveland Plan was designed to stop the debate and competition between public, charter, parochial, and private schools in the city. The competition between schools has caused us to miss out on educating the kids. We have responsibility as people in charge, the teacher, principal, superintendent, administrator, politician, and Mayor to ensure outcomes." 
Cleveland State's Urban Education Ph.D. candidates, as future teachers, administrators and community leaders, participated in the discussion and questioned the role of current Cleveland Metropolitan School District teachers in the Cleveland Plan design.  Jackson stated, "Teachers had a role in plan development and in setting the framework of the proposal, and union leaders also participated.  With teacher input, the Plan was then revised to include seniority and tenure in all teacher evaluations."  Jackson acknowledged an evaluation-based retention provision of the plan is a controversial but necessary tool to achieve improved quality.  The mayor also stated that Transformation Alliance and school building administration "need greater hiring control in cases where a specific skill set is required by the school principal". 
Jackson reported that portions of the Cleveland Plan have been delayed in part by Ohio's new Department of Education Report Card for measuring schools in categories or performance progress, literacy, and graduation rate. The Cleveland Plan includes new provisions in the Cleveland Teachers Union contract related to retention of low seniority teachers with high evaluations over high seniority teachers with lower evaluations. It also provides for teacher evaluations to be based on specific statewide rubrics and standardized test scores. Teacher seniority will dictate in cases where teachers have comparable evaluations and similar career experience.
Following the presentation, Urban Education Ph.D. student, Sarah Gann, expressed her concerns with the following statement by Mayor Jackson: "If we don't do what we need to do to fulfill our Mission to serve and educate our children, there will be no public education system in Cleveland."  Gann remarked, "Public education in the United States, and especially in Cleveland, has never been without its heated, often volatile social issues: segregation, gender inequity, low status for teachers, inadequate leadership, and funding constraints that frustrated many communities and an exhausted taxpaying electorate.  However, that doesn't mean the whole model of truly public education - a legacy institution in every modern republic - must be thrown away."
Jason Ziesch, Urban Education Ph.D. student, also shared his thoughts on the mayor's presentation, "I was impressed that Mayor Jackson staked his reputation on the Cleveland Plan, even tying his political fortunes on the success or failure of the initiative. He went as far as using the metaphor of "burning the bridge behind him" to illustrate that there was no retreating and that failure was not an option. Nonetheless, he did stress that it may be many years before what the Cleveland Plan sets out to accomplish will be realized." 
Cleveland Mayor, Frank G. Jackson, is a three-time Cleveland State University alumnus having earned his bachelor's and master's degrees at CSU and his law degree from CSU's Cleveland Marshall College of Law.
Photos courtesy of Dennis DeCoulo