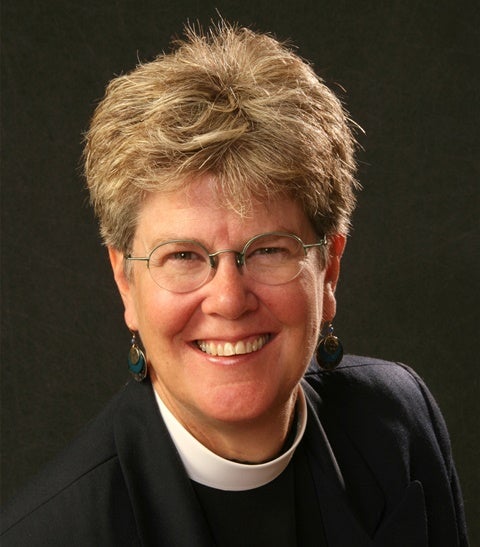 The Very Rev. Tracey Lind has overseen many changes in her 16 years as Dean of Trinity Cathedral, Cleveland's oldest church.  The Episcopal Church maintains a vibrant, engaged, diverse and inclusive community of faith in the middle of a city that has lost 30% of its population. Trinity is committed to serving as the cathedral of the city.  "Trinity has been here since the beginning of Cleveland.  The city's history is Trinity's history. And Trinity will be here for Cleveland's future - whatever that future holds," explains Dean Lind.
Rising above the center of the CSU campus at East 22 & Euclid Avenue, Dean Lind describes Trinity as a place of hospitality for students, faculty and administration, "Often times, as I walk through the cathedral, I see students sitting quietly reading, meditating, writing, checking email and even praying.  We have also tried to make our storefronts campus-friendly."  Trinity sponsors campus ministry activities and support groups for students and hosts a welcome to campus or move-in party every fall. Trinity has an official campus ministry in partnership with United Protestant Campus Ministries and co-sponsors major speakers and other programs with CSU. (See below for a full list of weekly services and events.)
Trinity Cathedral Schedule of Events
Sunday Worship
8 am:  Quiet communion service in the chapel
9 am:  A mostly jazz mass with many kids, great music, and lots of energy
11:15 am:  A more traditional worship experience with a beautiful choir and great organ music
5 pm:  On the first Sunday of the month, find a very special worship experience with lots of candles and incense   
Tuesday
Noon:  Campus Ministry's Real Talk Tuesdays with free lunch and conversation.  
Wednesday
Noon:  Free Concerts
6 pm:  Choral Evensong (from the great cathedrals of England)
7 pm:  Community Supper, students eat free with university identification
7:30 pm:  Adult Education Classes
Thursday
Noon:  Healing service 
View the full schedule at www.trinitycleveland.org
"I think that our $10 million investment in the building of Trinity Commons - the first private investment on Euclid Avenue east of Playhouse Square - and the first environmentally sustainable construction project in Cleveland - has encouraged and influenced the rebuilding of the Euclid Avenue Corridor.  We now offer a great space for folks to gather, organizations to meet, and people to grow," states Reverend Lind.  She continues, "From my perspective, when I first arrived 16 years ago, Trinity was surrounded by parking lots and faced a fortress across the street.  Now, we are in the middle of a thriving and growing residential campus with new housing, new classrooms, new restaurants, shops, and green spaces.  CSU is a growing urban university.  I wish folks were outside more, but I think that's coming as the residential population grows."
"I would like to see Trinity Cathedral as a spiritual inspiration for the redevelopment and enhancement of the Campus District.  It is a sacred public space in the heart of the neighborhood - a piazza for celebration, creativity, conversation, culture, and collaboration." 
Trinity is a place where students, faculty and staff can serve their neighbors.  Students can volunteer with meals programs or mentoring and tutoring programs at a local elementary school. By joining in Trinity's advocacy opportunities, students can work for justice, better schools, more jobs, affordable health care, gun violence reduction, criminal justice reform, refugee support, and LGBT rights, and the rebuilding of Cleveland.  Trinity is also a place of great music - classical, sacred, secular, popular, bluegrass, jazz, rock 'n roll. A labyrinth in the cathedral is open for walking, Tuesday-Friday.  Dean Lind reminds students, "We have many educational and service opportunities. We are here if you need a listening ear. Come visit us and join our programs or services during your winter break or stop in next semester."
A native of Columbus, Ohio, The Very Reverend Tracey Lind is an alumna of the Columbus School for Girls. She holds a bachelor's degree in urban studies from the Honors College at the University of Toledo, a master of community planning from the University of Cincinnati, and a master of divinity from Union Theological Seminary in New York. She has also held the seminary's prestigious Maxwell Fellowship and received the Diocese of Newark's Canterbury Scholar Award.
Dean Lind photo, courtesy of Herb Ascherman.