Daniel J. Simon, Ph.D.
Interim Associate Vice President for Research
Doctoral Program Director, College of Engineering
Professor, Department of Electrical Engineering and Computer Science
Washkewicz College of Engineering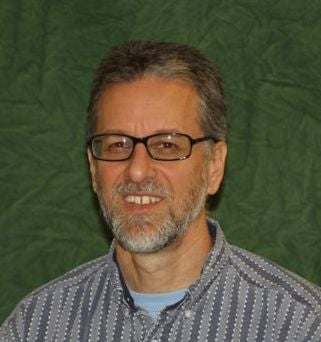 Well known to students in the Washkewicz College of Engineering, Dr. Dan Simon's passion and purpose have earned him a great deal of attention from across the CSU campus and far beyond.  His innovative research with fellow faculty keeps Cleveland State University in the national and international spotlight. 
In September, Simon was appointed interim Vice President of Research, and a few weeks later, CSU President Ronald M. Berkman recognized him with the 2015 Distinguished Faculty Award for Research.  A true model of how good things happen to good people, Simon recently made time for Graduate Student News by addressing our 10 Questions!

1.  You have an impressive history of successful research at CSU, tell us about your current projects.
Well, I am working on a few projects.  The one in the news lately is a collaborative project with engineering, exercise physiology and human performance in designing smart exercise equipment.  Our research team (Hanz Richter, Ph.D., Dan Simon Ph.D., and Antonie van den Bogert, Ph.D., of CSU's Washkewicz College of Engineering, and Kenneth E. Sparks, Ph.D., of the College of Education and Human Services) will develop and field-test the machines on CSU student-athletes. Our design, recently funded by an $800,000 grant from the National Science Foundation (NSF), will allow the user to row, bike, and lift weights on one machine with the turn of the dial.  The equipment also senses feedback and adapts intensity levels accordingly.  We have a good green energy tie-in, given that we are designing the machine to capture user energy to recharge itself.
Last fall, Drs. Richter, van den Bogert and I were also awarded a $1.5 million grant from the NSF for a four-year project to develop a prosthetic leg that emulates able-bodied gait and utilizes a groundbreaking energy-regeneration system.
 
2.  Tell us about your new assignment as Interim VP of Research.
It was a difficult decision for me and I was not sure how I would fit it all in.  I have learned to juggle responsibilities and to allow my graduate students more responsibility.  I saw the interim role as an opportunity to expand what I currently do in Engineering- help younger faculty, build research, and raise the doctoral program profile.  I realized I could do the same university-wide and expand my influence to raise Cleveland State's profile and encourage greater collaboration. 
Many people do not know who to collaborate with or how to find funding so if I can help Cleveland State from that angle then that is what I will do.  I had to decrease my teaching load to one class per year.  I have mixed feelings about that because I like to teach.  One course will be enough for me to keep my feet wet.  Lots of others can do the teaching so I am not as needed in that role as much as I am in the Office of Research. 
 
3.  What are your plans for your new role in the Office of Research?
My goal is to develop external funding and partnerships.  I now have more influence to bring internal and external partners together.  Developing collaboration and finding funding outside the University is important to our research program.  The whole is always greater than the sum of the parts.  Another goal is to enhance research outside of the engineering and science disciplines.  There is very interesting scholarship going on in each of our Colleges.  While not always fundable, the work being done is quite scholarly and it must be recognized.  The large grants get in the press but other initiatives are just as valid.  Finding the balance is always tricky but I have been at Cleveland State for more than 16 years and I know my way around.  I look forward to this, my first official role outside of Electrical Engineering. 

4.  How do you intend to balance your new role with your teaching responsibilities?
My current allotment is 49% in research and 51% in teaching. That majority share in teaching allows me to continue to serve on College committees and to retain voting rights.  My new research role over these next few months gives me an idea of the role and the fit – that is the nice thing about interim roles.  My goal is to do it long term but you do not know if it is a good fit until you have done it for a while.

5.  What changes have you seen in the field during your past 16 years at CSU?
I have seen many changes.  When I arrived in 1999, we were the Department of Electrical and Computer Engineering in the Fenn College of Engineering.  One of the most obvious changes I have noticed is that there is a much bigger focus on healthcare.  In the early years, we saw very little research or teaching related to healthcare.  Now, we have extensive course material and research integrated with the healthcare industry because the U.S. healthcare focus has become so much more important in the past 20 years. 

6.  What are your thoughts about the role of engineering in healthcare?
I think there is much broader thinking now and we have a culture that views healthcare as a social concern.  Our population is less individualistic and willing to help each other.  I like the increased emphasis on community and helping each other and the disadvantaged. Many of our EE faculty, including Drs. Wenbing Zhao, Nigamanth Sridhar, Siu-Yung Yau and others, are involved in all kinds of healthcare research.  People will continue to seek resources and measures of prevention.  I think we will see more of a personal responsibility for individual health.  We can use engineering and technology to improve and not just treat personal health.  Perhaps, engineering and technology will eventually prevent someone from becoming diabetic in the first place. 

7.  How do you stay motivated as you juggle your multiple roles?
Helping others is my main motivation.  As a researcher, I want to develop products and services that help others.  As a teacher, I came to the University to help students.  For example, our international students do not have the same educational options in their home country and many are very motivated to find that opportunity in the U.S.  This is the land of opportunity and that is why I am here.  It is very fulfilling to me to help students and junior faculty.  It is very gratifying when someone comes back and tells me that my class actually helped them in their job or helped them to get a job.  It is why we are here in the first place.  Sometimes professors will stop in to say thanks for advice or helping me get a grant.  All of that keeps me motivated.

8.  What type of advice do you give your graduate students? 
Whatever you do, give it 100% and be passionate about your academics and your career.  You are here to learn and I encourage you to be teachable.  If a professor corrects or gives you advice, be open-minded to changing your thinking.

9.  Tell us about how you selected CSU.
I grew up in Phoenix, Arizona and my wife grew up in Akron, Ohio. I was living there when I decided to apply to the faculty position at CSU.  Once I completed my Ph.D., I knew I did not want to live just anywhere.  Family and community are very important to my wife and me.  I did not want to apply to a job in a city where I did not know anyone.

10.  What is it that your students and colleagues may not know about you?
We have big family!  We have five children who are all at or near adulthood now and two are CSU students.  My wife and I are very active and I like to run on the Towpath Trail. 
Also, I find it funny that my boss, Dr. Anette Karlsson (Dean of Washkewicz College of Engineering), shares the same name with my wife, Annette.  So when both of your bosses have the same name, it makes it easy to just say "Yes, Annette" and never go wrong. 
Cleveland State University Faculty Profile:  I spent 14 years in industry before coming to Cleveland State University in 1999. I received a PhD from Syracuse University, an MS from the University of Washington, and a BS from Arizona State University, all in Electrical Engineering. My work experience includes time in the aerospace, automotive, agricultural, biomedical, process control, and software industries. I have lived in Seattle, Syracuse, Los Angeles, Phoenix, and Akron. My research interests include control theory, signal processing, embedded systems, and computer intelligence. 
Click here to view the December '14 story of two CSU doctoral students closely involved with engineering and healthcare research.