The Monte Ahuja College of Business unveils its innovative Entrepreneurship MBA and Graduate Certificate this fall semester along with two new Graduate Certificates in Business Analytics in Spring '15.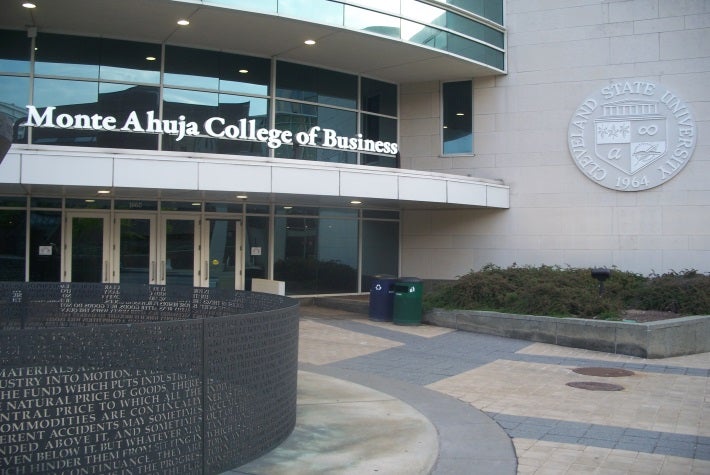 Working closely with Dr. Joseph B. Mazzola, Dean of the Monte Ahuja College of Business, to drive the concept and lead the development of the new MBA concentration and new Graduate Certificates, Dr. Raj Javalgi, Associate Dean for Strategic Initiatives and Research, shared his enthusiasm for graduate student success.  He eagerly revealed the new program highlights and his personal interest in helping students explore these new programs.
Taking a Big Step into Big Data Analytics
As corporations become increasingly data driven, the demand for highly skilled data analytics professionals increases. To meet that demand, the Monte Ahuja College of Business will lead the Northeast Ohio market with the development of two Business Analytics Graduate Certificates: Strategic Business Analytics and Advanced Business Analytics.  These Graduate Certificates are designed for all and will have special appeal to the data-driven professional who is passionate about making decisions based on descriptive, predictive and prescriptive business analytics. The objective of the Graduate Certificate is to produce highly trained, data savvy practitioners, skilled in mining, deciphering and predicting data trends.  Graduates of the certificate program will be uniquely qualified to make such decisions.
According to Bureau of Labor and Statistics, Occupational Outlook Handbook, July 2014, "Employer demand for data analytics experts is expected to increase by 32 percent" as technology continues to increase access to what is commonly referred to as big data. Monte Ahuja College of Business and University of Cincinnati are the only public universities in Ohio to offer a Business Analytics Graduate Certificate.  CSU's certificate was developed as an interdisciplinary program and courses will be offered in an 8-week format allowing students to complete a certificate in two consecutive semesters.
The CSU model, according to Javalgi, was developed collaboratively and with a focus on market needs: "Based on conversations with leaders in a variety of industries and a thorough examination of the business analytic programs offered by colleges and universities in the U.S., our [graduate certificate] modules are designed to address the demand for analytic professionals by building market driven graduate education that incorporates advanced statistical tools that are used in the industry." 
The Graduate Certificates are customized to business and non-business professionals and meet the needs of both seasoned experts and new graduates.  Visit the Ahuja College online at http://www.csuohio.edu/business/. For specific questions related to the Business Analytics, contact Dr. Raj Javalgi directly at 216-687-4757 or e-mail cba@csuohio.edu.
New Entrepreneurship MBA and Certificate Programs- Not Just for Business
New graduate and undergraduate options in Entrepreneurship are available this fall. Students may select from MBA with a Concentration in Entrepreneurship, an interdisciplinary Graduate Certificate in Entrepreneurship, and an Undergraduate Entrepreneurship minor. Each option offers students, as future entrepreneurs, courses designed to appeal to those in business and non-business sectors who aspire to innovation and discovery.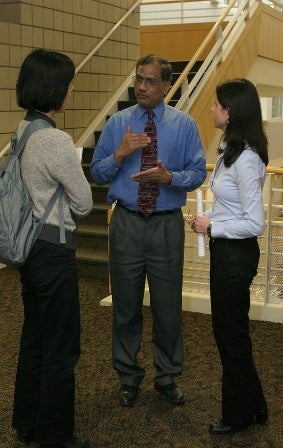 Dr. Javalgi (pictured above) also leads the curriculum development of this new MBA and recognizes the importance of innovation and entrepreneurship in driving our local economy.  He describes the impetus behind the Ahuja College expansion into Entrepreneurship education, "Undoubtedly, there has been a growing focus on entrepreneurship as a principal source of economic growth, which is a key element for a region's competitiveness.  The economic vitality of a region represents the ability to sustainably improve the living standards of its citizens in terms of real incomes and job creation.  Like all other regions in the nation, the sustainable economic growth of the Northeast Ohio region depends on entrepreneurial activities of young entrepreneurs and firms of all sizes and in all types of industries. 
"Entrepreneurship tends to be innovation-driven and will also help generate solutions to the region's myriad social problems including the quality of education, and the difficulties of creating and retaining jobs in the region." Dr. Raj Javalgi
Javalgi envisions the Entrepreneurship program as an opportunity to challenge students' thinking by "encouraging them to expand their understanding of creativity, opportunity recognition, exploitation and exploration of new ideas".  The program provides students with both the tools and the environment to support their success while developing their product ideas and forming new ventures.  The objective is to connect students to the entrepreneurial community and to the resources needed for start-ups and small businesses.
Aspiring entrepreneurs choosing this MBA specialization may select from a wide range of interdisciplinary courses, including Entrepreneurial Finance, Management of Innovation, and Patent Laws and Practice. By working directly with entrepreneurs through independent study, students will also gain necessary practical experience.
All Monte Ahuja College of Business Graduate Certificates are designed to fit the needs of students or working professionals and are open to graduates of all undergraduate majors who are looking to further their career or supplement their education.  The Ahuja College is accepting applications for all programs including the MBA with Entrepreneurship concentration, Entrepreneurship Certificate, Strategic Business Analytics Certificate and Advanced Business Analytics Certificate.
For specific questions related to the Business Analytics, Entrepreneurship Certificate Programs, and entrepreneurship minor, please contact Dr. Raj Javalgi, Associate Dean: 216-687-4757. For additional information, contact the Monte Ahuja College of Business Advising Office: 216-687-3786 or e-mail cba@csuohio.edu.  Visit the Ahuja College online at http://www.csuohio.edu/business/.