Master of Music student, Seth Thomas, clearly recalls sitting in a Sunday school classroom at the age of 6 and feeling captivated by the sounds of the bass from the church organ.  He decided early on that he would learn to play the organ but decided on piano because his parents did not own an organ.  Thomas, whose musical journey started on a Little Tykes® toy piano, said he easily fell in love with playing piano.  He was self-taught through age 11 when his first formal lessons began.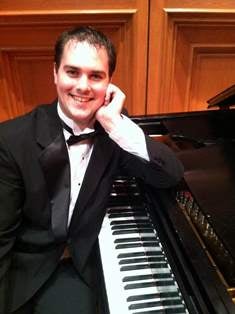 With his talent and love for music, Thomas said, "it was an easy decision to come to CSU" to pursue a Master of Music in Piano Performance. Originally from Michigan, Thomas knew he would end up back in the Midwest but did not make that decision until meeting CSU's Dr. Angelin Chang.  She encouraged him to take a look at the CSU Master of Music program in Piano Performance and Thomas was intrigued by the thought of studying under Chang, a Grammy Award® winning musician.
After completing his master's degree, Thomas hopes to pursue a Doctor of Musical Arts (DMA) so that he can teach music in a university setting.  He is hopeful that CSU will one day create a doctoral program in music. Thomas earned his Bachelor's of Music in Piano Performance from the University of Texas at Tyler in 2013.
Finally, while fulfilling his need for a one-credit course as an undergrad, Thomas discovered the enjoyment of singing in a choir. Between his master's classes, and piano performances and rehearsals, Thomas makes time for CSU's University Chorus.
Take time out this December 9th to hear Seth Thomas sing in performances with the Cleveland State University Chorus. Songs for a Winter Night, December 9th, will be held in Waetjen Auditorium at 7:30pm in the Music/Communications Bldg.  The event is open to the public.  Tickets are free and parking is also free of charge in the CSU Central Garage.
For information on the Master of Music or the Graduate Certificate in Music Performance visit online or contact Kate Bill, Enrollment Administrator.  For information on CSU Chorale, University Chorus or Voice Chamber Ensemble, contact Brian Bailey, Conductor.