School of Nursing, MSN, Forensic Nursing
The Cleveland State University School of Nursing offers the Master of Science in Nursing (MSN) with a focus on population health.  Students may select online courses from one of four tracks:  Specialized Populations, Nursing Education, Forensic Nursing, or Clinical Nurse Leader.
According to Dr. Vida Lock, Dean of Cleveland State University's School of Nursing, "Forensic nurses work with hospitals, prisons and law enforcement to collect and document evidence, and aid in a crime scene investigation. They also can provide expert testimony in court. In addition to learning basic theory and concepts, students are introduced to the real-world aspects of forensic nursing and interacting with the law enforcement and legal systems.  The forensics specialization combines the art and science of nursing, the law, and forensic science."
Currently located in Julka Hall, the School of Nursing offers an interactive audio-video lab, a critical care simulation lab, and state of the art classrooms to accommodate 80 students.  The Chester Building holds a state of the art nursing resource laboratory for hands on experiences where students safely learn and practice complex skills.  The School of Nursing will open offices and classrooms this summer in the new Center for Health Innovation as part of the NEOMED consortium for fostering physician primary care education and practice in urban areas. 
Applicants to the program must hold an RN license in the United States and a baccalaureate degree in nursing. To learn more about Forensic Nursing, contact Dr. Maureen Mitchell or visit the School of Nursing online.
Jessica Blahnik, MSN, Forensic Nursing
Wisconsin resident, Jessica Blahnik, spent most of her nursing career working in forensic nursing and death investigation.  When she decided to take her education to the next level, she reviewed Forensic Nursing programs from around the nation and found the Cleveland State University online program to be the best fit.  "It stood out from the rest because it offered the greatest focus on forensic nursing compared to other programs and was also a diversified program to allow for future career growth in non-forensic areas." shared Blahnik.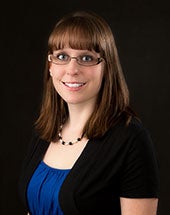 The Fall 2014 graduate currently serves as Chief Medical Examiner for Marathon County, Wisconsin.  Promoted to this position in 2014, Blahnik had previously served as the Chief Deputy Medical Examiner.  She works closely with law enforcement, emergency medical services, hospital staff, forensic pathologists, local and state crime labs, forensic toxicologists - as well as mental health personnel and other professionals - to investigate suspicious, sudden, or violent deaths within her county jurisdiction.
Blahnik knew the master's degree would allow her to better fulfill her career responsibilities because the coursework involved two major functions of her current role as Medical Examiner (forensic nursing principles and mass fatality preparedness).  Blahnik considers her new MSN degree to be the foundation she needed to take a more active role within her community, leading and participating in task forces, review teams, and providing preventative education to both the vulnerable and general populations. "The program offered a personalized focus on each student's ideal population to enhance learning, combined with flexible courses being taught entirely online.  The professors all had diverse experiences and backgrounds. They also pushed all of the students to reach their full potential and expand on the concepts learned. They surpassed my expectations and I feel honored to have had the opportunity to learn from each of them." described Blahnik.
Jessica Blahnik obtained an Associate Degree in Nursing from Nicolet Area Technical College, Wisconsin, 2009, and a Bachelor's Degree in Nursing from the University of Wisconsin, Green Bay in 2011. Outside of her work in the Medical Examiner's Office, Blahnik enjoys spending time with her friends and family, playing with her yellow lab, running, traveling and outdoor recreation.
Click here for more information on Jessica Blahnik's role as Medical Examiner