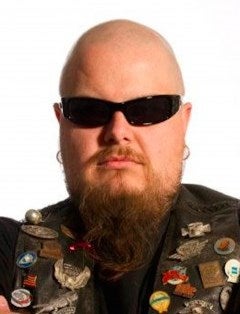 "The biggest challenge is putting myself out there. I never intended to be in the spotlight, and truth be told, don't like it. But there are many people counting on me to engage the great minds on human rights issues and I won't fail them."
The October 24th TEDx event placed Cleveland State University among the more than 4,300 TEDx events that have been organized around the globe in over 1,200 cities and 133 countries.  The event celebrated innovation, insight and new ideas, all within the CSU theme of The Right to Dream. It also provided a platform for CSU graduate student, Jesse Bach, pictured here, to speak eloquently about an issue which drives not only his Ph.D. studies in Urban Education but also touches his heart. 
Click here to view Bach's video.
What is TEDx
TEDx, an acronym for Technology, Entertainment, Design, is a non-profit dedicated to "Ideas Worth Spreading" usually in the form of short, powerful talks of 18 minutes or less.
TEDx began in 1984 as a conference where technology, entertainment and design converged, and today covers an array of topics presented in more than 100 languages.
The "x" in TEDx stands for "independently organized" TEDx events. TEDx events are designed to bring people together to share a TED-like experience on a local level.  (www.ted.com/)
The Maple Heights native pursued the TEDx opportunity to raise awareness of child slavery and to engage CSU in human rights issues. "I have a long term career goal to establish a human rights research institute at Cleveland State University specializing in analysis of domestic human rights abuses such as human trafficking.  CSU, uniquely positioned as an urban university with a diverse student body, could easily solidify itself as a major player in human rights." explained Bach.
Bach described how he uses statistical research to apply a mathematical approach in identifying and targeting the heaviest traffic areas within the human trafficking network.  "My research examines human trafficking as a science rather than an emotionally- charged social issue.  Because trafficking is a system, a complex system, and as such it can be mapped, plotted & explained along mathematical terms.  My research examines the numbers related to human trafficking:  mapping the hot spots, and looking at the origin areas (places where people start out) and the destination areas (where they end up). I also look at court cases and the portrayal of force, fraud, and coercion in domestic minor sex trafficking trials."
Having earned degrees in education at both Kent State University and Ursuline College previously, Bach said he chose CSU for doctoral studies "because the College of Education made it possible for me to study human trafficking as an educational issue and not as topic of criminology or sociology." 
Now the final year of his doctoral program, Bach was the only graduate student among the 13 speakers selected for the CSU TEDx.  Presenters were chosen by committee from more than 100 applicants across campus and the greater Northeast Ohio community.  Additional TEDx event highlights may be found below and online:  http://tedxclevelandstateuniversity.com/.
Bach, who plans to defend his doctoral dissertation in spring semester, also teaches 8th and 9th grade STEM students in the Parma City School District and works for the Imagine Foundation, a non-profit organization working to end child slavery worldwide.  Bach aims to establish the Cleveland Freedom Center, a first-of-its-kind residential center for human trafficking rehabilitation. 
---
Beyond TEDx- Creating Positive Change in CSU's Backyard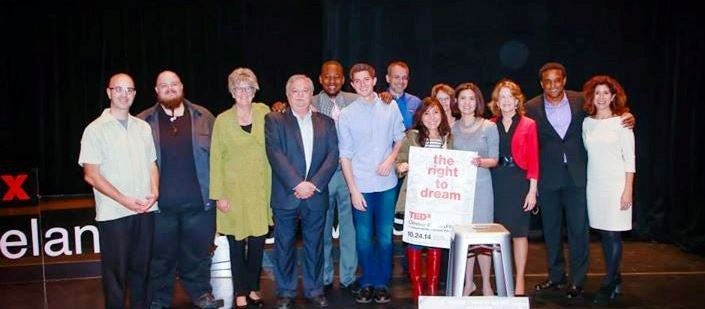 TEDxClevelandStateUniversity Commits:  A 2014-2015 Initiative in Cleveland's Central Neighborhood
To support positive change in a meaningful and sustainable way, inspired by TEDxClevelandStateUniversity speaker, Basheer Jones, the CSU Office of Civic Engagement announces its commitment to the following project:
Children in the historic Central Neighborhood live within a 15-minute walk from Cleveland State University and a community college, yet only 6% of adults in this neighborhood have had any type of higher education. Promise Ambassadors, who live and work in the Central neighborhood, are committed to insuring that the youth in this area of our city pursue success through education. TEDxClevelandStateUniversity speaker, Basheer Jones has inspired the first TEDxClevelandStateUniversity Commits project in this neighborhood to promote education and college attainment.
For further information on how to support the project, visit online: http://TEDxclevelandstateuniversity.com/commits/