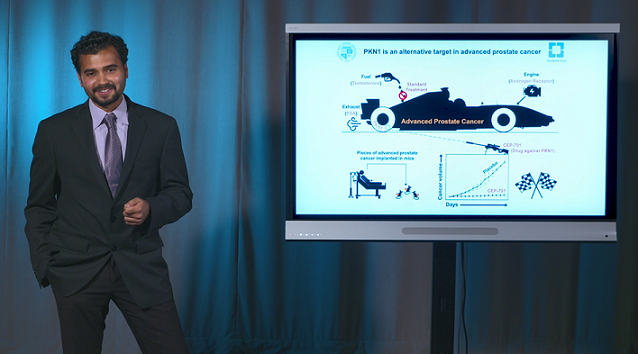 Varadha Balaji Venkadakrishnan 
Regulatory Biology, Ph.D. 
College of Sciences and Health Professions
& Cleveland Clinic Lerner Research Institute
As a participant in the College of Graduate Studies' Three-Minute Thesis Competition, Varadha Balaji Venkadakrishnan earned the top award of Outstanding Performance in February. This win qualified him for a place the 2020 Midwestern Association of Graduate Schools (MAGS) 3-MT competition where he went on to earn the MAGS Second Place Award on September 29 for his virtual 3-MT presentation entitled "PKN1 is an alternative target in advanced prostate cancer." 
​​​​​​​ Describing the challenge of 3-MT, Venkadakrishnan stated, "PhD students usually have experience presenting their dissertation research in an  80-minute format, but summarizing several years of research within 3 minutes can be tricky. Our lab holds a "mini" journal club every other day with one lab member presenting a research article for 3 minutes. We summarize the important findings from the publication, strengths, weaknesses, and conclude with a 'why do we care' statement. I have presented more than 75 articles over the years and this experience was extremely helpful in my performance in the 3MT competition. Participating in the 3MT competition was enjoyable and an excellent learning experience, and I highly recommend all graduate students participate in it."  ​​​
Watch for details about the 2021 Three-Minute Thesis at CSU. Training and preparation begins in December 2020. The Graduate Student Resource Center offers extensive 3-MT training and preparation for students who recognize the value and opportunities come from learning how to communicate complex research in three minutes or less in a language that is suitable for a non-specialized audience. The training and pitch development begins in December for the February competition. 
​​​​​​The Regulatory Biology program in the College of Sciences & Health Professions at Cleveland State University has a long-standing collaboration with the Cleveland Clinic Lerner Research Institute (LRI). Venkadakrishnan completed his dissertation research under Dr. Hannelore Heemers in the Department of Cancer Biology at LRI.
CSU's 3-MT competition follows the format originally developed by University of Queensland, one which allows the presenter to use one static slide only. Props, notes, demonstrations or excessive hand motions are not allowed.
As one of 150 member colleges and universities across a 14-state region, the College of Graduate Studies at Cleveland State University is one of the Midwestern Affiliates of the Council of Graduate Schools.