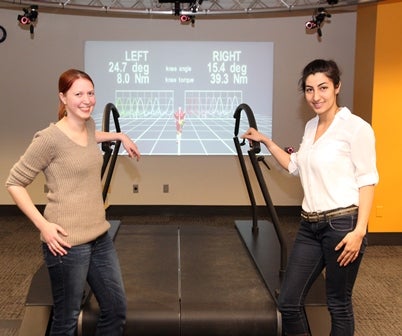 As young girls growing up more than 6,000 miles apart, one dreamed of writing a book and the other dreamed of becoming a teacher someday.  Separate paths converged in CSU's Washkewicz College of Engineering as both women pursue doctoral degrees and shared research interests. 
Doctor of Engineering (DRE) students, Sandra K. Hnat and Hadis Mohammadi, conduct research in Human Motion and Control and work closely under the guidance and advisement of Dr. Antonie van den Bogert, Dan Simon and  Hanz Richter in the Washkewicz College of Engineering.

Sandra K. Hnat
CSU, Fenn College of Engineering, Bachelor of Mechanical Engineering, May 2013  
Cuyahoga Community College (CCC), Associate of Science, Parma, Ohio, June 2010
Parma, Ohio native, Sandra Hnat, (pictured above at left) describes growing up in a family heavily involved in music, literature, and art and surprised everyone when she decided to study mechanical engineering (ME).  After earning her CCC associate's degree, Hnat said "CSU was a natural choice for engineering knowing the Fenn College reputation." 
The next part of Hnat's educational journey was not quite as simple.  Hnat describes, "I was getting ready to graduate with my bachelor's degree and I just did not see myself going into industry at that point.  I received advice from Dr. Richter about not limiting myself and not counting out grad school.  I have a love for learning and I was excited about the idea of the doctoral program and having the research opportunity.  Just one month from completing my undergrad, I found myself submitting an application for the ME doctoral degree!" 
"My last minute decision to move on to grad school was very smooth because I already knew most of the faculty and some of their research. It was exciting to think about working with Drs. van den Bogert, Richter and Simon.  Plus, the Human Motion and Control Lab was brand new so it was a huge added benefit for me.  I find it so fulfilling to work with the motion control team and always wanted to work in a field that would provide the opportunity to help others."
Now a second year DRE student, Hnat says she has a much clearer vision of how she will enter into industry in the next 3-4 years upon her degree completion.  The doctoral program helped Hnat define both her interest to work in the healthcare industry and her desire to help others through her work.  She added, "I am excited about my future and the options and access I will have to reputable research and teaching hospitals in Northeast Ohio." 
Hnat uses mathematical equations that describe how muscles control human movement and is working to develop a prosthetic leg which responds to reflex and resistance. 

Hadis Mohammadi
Sharif University of Technology in Iran, Bachelor of Mechanical Engineering, May 2012
Hadis Mohammadi (pictured above at right) always felt a passion for teaching.  Because she liked project work and research she studied mechanical engineering at home in Tehran, Iran.  She wanted to become an expert in one particular field and become a college professor.  Mohammadi also knew she wanted a career which would allow her a personal life.  She felt that a teaching environment would offer more flexibility while still meeting both her desire to learn and to conduct research.
Mohammadi describes, "When searching for U.S. doctoral programs, I found Dr. Richter's program and became very interested in the Human Motion and Control Research.  I then learned more about Dr. van den Bogert and his experience on human motion.  I applied to many universities and one of the reasons I came here was because of Cleveland State's reputation in motion studies." 
As both an international student and a first-generation college student, Mohammadi did not know what to expect.  Just one month after earning her bachelor's degree, Mohammadi arrived at CSU to pursue a master and doctoral degree under Dr. Richter's supervision.  She remains surprised by how welcoming the campus felt and how willing the faculty is to help students.  She explains, "The engineering faculty really helped me to discover what interests me."
Now a third year DRE student, Mohammadi works in CSU's Control, Robotics and Mechatronics Laboratory to design a controller for a prosthetic leg which would function to closely resemble a healthy human leg.  Her work involves refining impedance control along with a process to recharge the artificial leg using the energy produced by its movement.  This will extend the operating time of the prosthesis.   
Since joining the doctoral program, both students have learned that survival skills are important when working in the lab and classrooms for 40-50 hours per week.  To unwind, Mohammadi enjoys rock-climbing at the Cleveland Rock Gym.  She states, "It was Dr. Richter who pointed that that we, as students, must make time for a personal life to keep us balanced and successful."  Hnat, when not in the lab, enjoys arts, crafts, and video games.  She has been writing a book since age 9 and found time this past year to plan her recent wedding. 
CSU's Washkewicz College of Engineering brought these two young women together in studies and in research.  They also share an admiration and gratitude for the engineering professors who support their success.  In speaking of their faculty mentors (Drs. van den Bogert, Richter and Simon) both students agree that "All three truly are champions for us.  They give us access and their experience and knowledge save us so much time that it makes our research more productive."
Learn more about Human Motion and Control Research:  Developing an Optimal Prosthetic Leg, a 2-minute video, courtesy of CSU Office of Research.
For additional information about the Doctor of Engineering in Mechanical Engineering, please contact Dr. Hanz Richter or visit the Washkewicz College of Engineering.