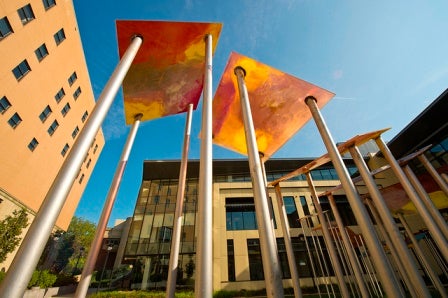 Health Professions Education degree, College of Education and Human Services
With a successful pilot program completed by 13 students this past summer, the College of Education and Human Services' newest program is now accepting applications to its inaugural class next fall.  The Masters of Education in Health Professions Education (MEHPE) is a Cleveland Clinic joint partnership program aimed at the medical and health professions to help practitioners develop and enhance their medical education skills.   
The goal of MEHPE is to offer cutting edge training for medical and health professions educators in a region and state that offers world class medical care.  With the University's proximity to outstanding medical facilities in Northeast Ohio, CSU is uniquely positioned to offer this master's program.
Working with faculty of Cleveland Clinic's Lerner College of Medicine, MEHPE program director, Dr. Catherine Hansman, is putting the finishing touches on the curriculum design.  An internationally-recognized leader in adult education, Hansman explains,
"Students will be given ample opportunities to put theoretical and conceptual knowledge into practice.  The field experiences align with the program's overall purpose to improve the process of educating adults in health and medical professions based on principles and best practices in adult education."
The curriculum includes five core courses focusing on the following topics: the psychology of adult learning, instructional principles for adult learners, educational research, assessment and evaluation for health sciences, and program planning and evaluation.  Other program courses are more specific to the medical and health care environment, including teaching and learning in health care professions, health systems and educational leadership, learner assessment, and technology and simulation specific to teaching in the medical professions.
The Masters of Education in Health Professions Education is managed by the Adult Learning and Development (ALD) section of the Counseling, Administration, Supervision and Adult Learning (CASAL).  The CASAL Department is located in Julka Hall, pictured above.
For additional information, contact Dr. Catherine Hansman, program director.
---
MEHPE PILOT PROGRAM
Cleveland Clinic physician and 2014 pilot program graduate, Dr. Richard Prayson, describes his expereince in the MEHPE program and how it has helped him in his profession:
 
The cohort aspect of the program was perhaps one of the greatest hidden benefits.  It was an opportunity to share ideas with a diverse group of people.  The MEHPE:
Allowed me to focus attention on and carve out time from my schedule to actively engage in dialogue around a variety of aspects related to adult and health education

Provided me with a better understanding why I do what I do when teaching

Provided a chance to grow, to stretch outside my comfort zone a bit in a supportive learning environment

Provided the background to allow me to go beyond the classroom and take what I'd learned and use it to do research

Provided a personal challenge for me to return to school (after over 25 years) and study a different discipline and within a field I feel passion about
I gained a better understanding of learning theory and the literature.  The opportunity to consider why I do what I do when I teach has made me more deliberately conscious in planning teaching activities.  It gave me the incentive to try new things, to experiment and to take some risks.  The program provided me with a unique learning experience with a cohort of other health care professionals.
Richard Prayson, MD
Head of Neuropathology, Cleveland Clinic
Professor of Pathology, Lerner College of Medicine
MEHPE, Pilot Program, Class of 2014