Engaging CSU Graduate Students
Driven by its mission is to assist graduate students in the acquisition of new tools and skill sets that help them further their educational, career and research goals, the College of Graduate Studies created the brand new Graduate Student Resource Center (GSRC).  The GSRC sponsors professional development, career development and advancement opportunities, and community building activities to support the success of Cleveland State University graduate students.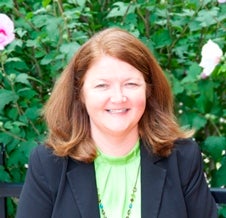 The Center serves to gather, streamline and communicate the wide variety of CSU resources and services available to graduate students. "Graduate faculty, having regular communication with students, play an important role in helping us identify workshop topics, graduate education trends, and story ideas for our monthly newsletter," stated Patricia Otcasek, Manager of the Graduate Student Resource Center (pictured here).
While run from the College of Graduate Studies, the Center operates in locations across campus. Otcasek explained, "CSU has many, many services available to support student success.  It can be challenging for graduate students to learn of these resources and activities due to the nature of their lifestyles and limited time on campus. It is important to bring our services to our graduate students, so we conduct our workshops and activities in central campus locations and within the Colleges and classrooms to make it convenient to those who want to participate in our activities."  
Over 400 graduate students were served by the Center during the past 2 months.  GSRC staff look for opportunities to keep the momentum going. Plans for upcoming semesters involve Center growth in key service areas.  This involves expanding workshop content, creating customized workshops/training for specific cohorts and colleges; creating student networking opportunities through community, corporate, and alumni outreach; supporting graduate student career development in partnership with CSU's newly-redesigned Career Success Network; and expanding social media presence of the College of Graduate Studies.
The Graduate Student Resource Center staff hit the ground running last month with the following graduate services and activities:
College of Graduate Studies Newsletter
Welcome to the second edition of the College of Graduate Studies monthly newsletter!  Launched in early September, the first issue of Graduate Student News, official newsletter of the College of Graduate Studies, reached almost 6000 CSU grad faculty and students.  Jianping Zhu, Ph.D., Senior Vice Provost for Academic Affairs and College of Graduate Studies Dean, views the College newsletter as a platform for "highlighting outstanding accomplishments of our students, faculty, and alumni; introducing new graduate programs and new student services; and publicizing upcoming events."  E-mail engagedgrad@csuohio.edu to submit news items and topics of interest.   
Professional Development Workshops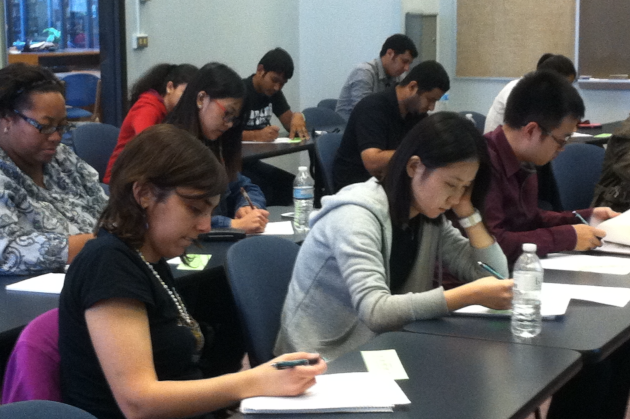 The Graduate Student Resource Center sponsors services and workshops to enhance professional and career development opportunities for all CSU Graduate Students.  These services are provided free of charge to all graduate students by CSU partners and the College of Graduate Studies. 
The first two sessions of the new GSRC Workshop Series were kicked off last month. "Setting Yourself Up for Success in Graduate School" was presented by Dr. Catherine Monaghan on September 8th.  Monaghan highlighted the critical tips students need for success in graduate school and was pleased by the number of students who stayed after the session to continue the conversation.
"Professional Writing for Graduate Students" was facilitated by Dr. Mary McDonald, Director CSU Writing Center and Writing across the Curriculum.  McDonald's 90-minute session on September 23rd covered the complexity of writing at the graduate level.  She shared a variety of useful writing resources and also advised students to drop-in or schedule appointments with the Writing Center to discuss their writing assignments. Email the Graduate Student Resource Center at engagedgrad@csuohio.edu  for a copy of the workshop material presented.
These introductory workshops also help introduce graduate students to the CSU services available to them.  "I attended because a friend in my cohort had registered for it. It was a good way to familiarize us with some of the resources available and to encourage us to utilize them!" commented Patti DellaCorte, Master of Applied Communication Theory & Methodology student.
Register now for October Workshops:  Building a Powerful Resume and Developing a Self-Care Plan for Success in Grad School.
International Graduate Student Orientation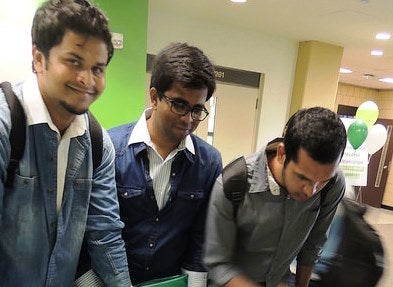 Dr. Deirdre Mageean, Provost and Senior Vice President for Academic Affairs, welcomed an enthusiastic group of newly-arrived international graduate students to CSU on August 19th.  Navigating a newly redesigned two-day orientation session, international students participated in the College of Graduate Studies International Student Orientation after attending CSU's Center for International Services and Programs general orientation the previous day.
International graduate students were introduced to the College of Graduate Studies and the City of Cleveland during presentations by Associate Dean, Dr. Donna Schultheiss, and Global Cleveland's Talent Director, Tom Bennett.  Graduate Student Resource Center Manager, Patricia Otcasek, provided information on academic policies and practices and guidance on graduate student success.  Following the morning session, students participated in a resource fair to meet with representatives from CSU Colleges and Departments to learn about campus services, health and wellness, and student activities and events. A guided tour of campus and dedicated time with advisors and graduate faculty rounded out the day.
Having scheduled time for students to meet with advisors was a highlight of the newly expanded orientation format.  Academic advisors and faculty set aside a 4-hour block of time dedicated solely to walk-in advising for international students, allowing them to finalize their course schedules a full 5-7 days earlier than in previous years.  As a result, international students not only found more open sections but also eased their tuition burden by gaining eligibility for the four-payment tuition plan.  "This year we were pleased to make significant changes in the way that we orient and serve newly-arrived international graduate students.  The College of Graduate Studies, in cooperation with the International Center, held a half-day orientation session specifically for graduate students, followed by academic advising appointments in the afternoon.  This was a huge change for us and, by all accounts, it was well-received by the campus community."  explained Harlan Smith, Executive Director, Center for International Service and Programs.
This fall, CSU enrolled 226 new international graduate students pursuing masters, Ph.D. and doctoral degrees!
Week of Welcome for Graduate Students
Week of Welcome tables were set up in colleges and near classrooms during the first and second week of fall semester to welcome graduate students to the new academic year.  College of Graduate Studies staff provided information, giveaways, and light refreshments to graduate students and faculty each evening. 
Students who missed the event are encouraged to contact the Graduate Student Resource Center at engagedgrad@csuohio.edu to request materials that were handed out during welcome week: information about workshops for graduate students; links to pertinent resources to support research and funding for conference travel, and news about CSU's Graduate Student Association.
Visit  http://www.csuohio.edu/gsrc further information about the Graduate Student Resource Center.The Graduate Student Resource Center welcomes graduate student and faculty input related to all of its services!