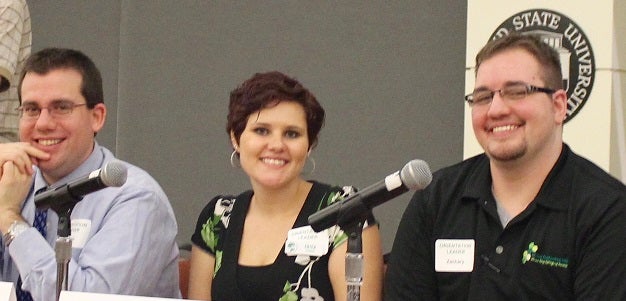 The mission and purpose of Graduate Student Association is to serve as a liaison for all CSU graduate students, to provide CSU graduate students with an on-campus social and professional network, and to promote the interests of graduate students in all disciplines in a fair and equitable way.  GSA is advised by Patricia Otcasek, Manager of the Graduate Student Resource Center, College of Graduate Studies.  
 
Erica Henkin, President
Erica Henkin is in her second year of the Master of Nonprofit Administration and Leadership degree with a certificate in Historical Preservation.  She is also an alumna of Cleveland State University, where she received her Bachelor of Arts in Liberal Studies in December 2014.  As the graduate assistant for the College of Graduate Studies, she helps to plan events and spends time getting to know the needs and opinions of the graduate student population.  This is Henkin's second year serving on the GSA Executive Board.  Henkin is a native Clevelander with a passion for all things Cleveland and describes Cleveland State University as her "second home".  Henkin also holds a degree in Baking and Pastry Arts from Johnson and Wales University and relaxes by designing, baking, and decorating one-of-a-kind cakes.
 
Alexander Roth, Vice President of Advocacy
Alexander "Alex" Roth is a doctoral student in Chemical Engineering at the Washkewicz College of Engineering.  Roth earned his B.S. in Biological Engineering and M.E. in Biological Engineering at Cornell University.  He also earned an M.S. in Chemical Engineering from The Ohio State University.  He has held several senate positions for the Student Government Association and previously served as President and Treasurer for the Graduate Student Association.  Roth is serving his second year as GSA Vice President.  He is a native of New York.  In his free time, Roth can be found exploring Cleveland's many culture sites and unique neighborhood.
 
Zachary Pichler, vice President of administrative affairs 
Zachary "Zack" Pichler is a second year graduate student from Cleveland, Ohio majoring in Clinical Mental Health Counseling. He earned his Bachelor of Arts in Psychology from Cleveland State University in 2015. Pichler is a Graduate Assistant in the Graduate Programs Office in the College of Business. He is a member of the Chi Sigma Iota Honors Society, Order of Omega, and the Graduate Student Association. He is also an Alumni of Tau Kappa Epsilon and is active on their alumni board.  Pichler speaks German, loves autumn, and is a fan of the video game series "Fallout".
Join now!
GSA is looking for individuals to take on leadership roles in the following areas: event planning, membership and recruitment, social media, advocacy, alumni relations, and networking.  To apply, please submit a resume and the position(s) you are interested in with a description of why you would be a good fit for the role to GradVike@gmail.com.
The Graduate Student Association holds monthly membership meetings and other social, professional development, and advocacy events throughout the academic year.  Visit http://www.csuohio.edu/gsrc/graduate-student-association for more information.  Be sure to follow the Graduate Student Association on Facebook, Twitter, Instagram, and Pinterest!