Graduate Student Appreciation Week 2017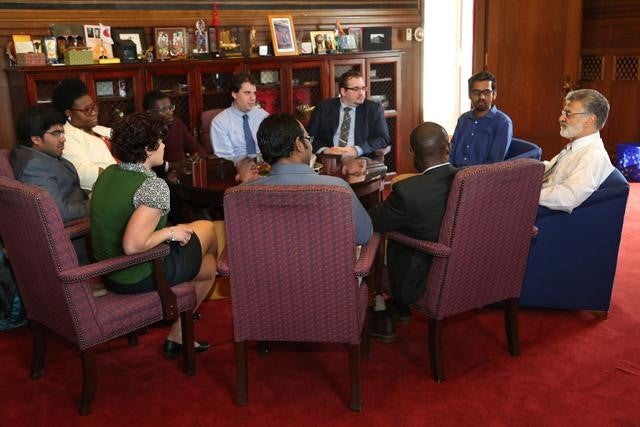 The Graduate and Professional Student Association kicked off the second annual Graduate Student Appreciation Week with their invitation to City Hall. Mayor Frank G. Jackson held a proclamation presentation in honor of Graduate Student Appreciation Week, April 3-8, 2017. Eleven students from the executive board represented six Cleveland State University Colleges.
Students in attendance described how Mayor Jackson, a three-time CSU alumnus, invited them to share in an hour-long, informal conversation following the presentation of the proclamation. Each shared personal and academic experiences at CSU and in Cleveland, discussed the current political atmosphere and issues surrounding graduate education, and learned what they could do to better serve the community.  Mayor Jackson's parting advice was, "to learn our trade and spend time getting to know the industry before becoming a game-changer; to stay informed, seek out the truth, and help others to do the same; to stay true to our personal values; and to be a leader who helps others develop their leadership qualities and earn our roles as leaders through resp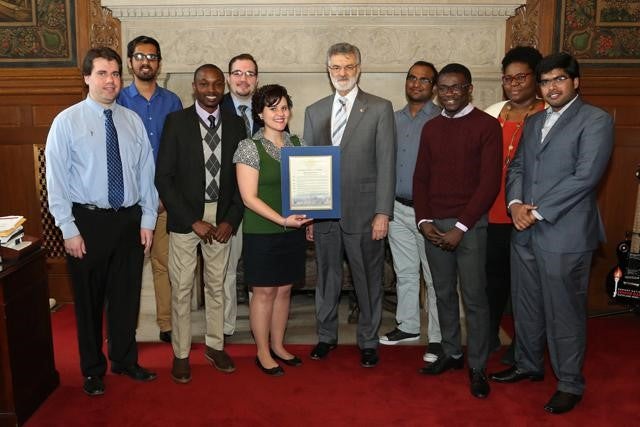 ect and kindness to all who we interact with."
Celebrating Graduate Students, sponsored by the Graduate Student Resource Center and College of Graduate Studies, involved over a dozen activities, social events, evening receptions, trivia night, and giveaways across campus.  
A photo of the Graduate Student Appreciation Week Proclamation and graduate student group with Mayor Jackson is pictured here.  Additional photos are linked here.
Photo credit: City of Cleveland Photography Bureau