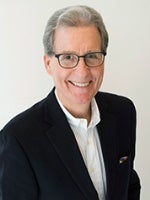 In the fall of 2013, Cleveland-Marshall became one of the first law schools in the country to offer a graduate-level degree designed for those who do not want to practice law in the traditional sense but who need legal knowledge to enhance their chosen professions.  The Master of Legal Studies program, now entering its third year, provides such an opportunity and is already giving students a greater understanding of the law.
MLS Program Director, Alan Weinstein (pictured) describes, "The MLS degree was created for working professionals who routinely interact with lawyers or deal with regulations, contracts or compliance issues in their current or future position."  Examples of those who may benefit from an MLS include professionals in non-profit management; environment, land use and real estate; human resources; labor and employment; information specialists; journalists; or anyone who would like to gain legal knowledge to advance in their profession or support their business.
In its first year, the program enrolled students representing a wide range of industries such as health care, compliance, business and law enforcement. Students choose from designated tracks including business and corporate law, corporate compliance, criminal law, elder law, health law and health care compliance, international law, litigation, and sports and entertainment law.
The program is designed to help graduates obtain leadership positions by being able to protect ideas and organizational assets, assess appropriate responses to rules and regulations, and understand legal terminology and statutory language in their fields. The program may also be customized to allow students the opportunity to work with a faculty advisor to build an individualized curriculum.
Visit Cleveland-Marshall College of Law for additional information on the Master of Legal Studies  and click here to view a message from Alan Weinstein, MLS Program Director.
Why the MLS is Right for Me
As a lifelong learner, I have always sought enriching endeavors that would provide both intellectual stimulation and practical application.  There is value for me in the Family Law and Education MLS tracks.  Several years ago while living in Chicago I placed the value of my career and being the mother of two toddlers above pursuing a Law Degree from DePaul University. The Cleveland-Marshall MLS degree feeds my long-standing interest in law.   The MLS coursework is relevant in my current operations responsibilities in the family business and my civic involvement in education, activities that are not mutually exclusive. 


Deborah A. Rutledge
My position at The George Gund Foundation—in philanthropy and education—demands knowledge of laws and regulations. In my current role, I have numerous opportunities to interface with laws and regulations within the field of education and beyond. I find great satisfaction in reviewing judicial rulings, legal opinions, state law, pending legislation and management/union contracts. My work in 2012 in the development of Cleveland's Plan for Transforming Schools and its supporting legislation, House Bill 525, is probably my best example of a deep dive into legislation, law and contracts.
The Master of Legal Studies degree at Cleveland-Marshall School of Law seemed like a great opportunity to further my knowledge in the field of law. My first course: Introduction to American Law is providing a great overview of what's to come further in my studies. I am looking forward to learning more about contracts, torts, employment law, estates and trusts, labor law, legislation, the regulatory state and taxation, civil procedures, constitutional law, corporations and local government law. My MLS classmates have a wide variety of impressive personal and professional experiences, and contribute greatly to the richness of the program.

Ann Mullin