Diversity Management Alumni
Founded in 1998 in partnership with Cleveland business leaders, the Diversity Management Program (DMP) is the nation's only master's degree that combines cultural competence and leadership development.
Program participants develop and enhance leadership skills for guiding large and small companies, government agencies and nonprofits. They also develop the presence and critical change leadership and cultural competence skills necessary to successfully lead organizations. 
Three alumni of the program discuss life, career, and doctoral studies after DMP.
Thomas Hawn, Class of 2012

"The mix of traditional academic faculty and adjunct real world practitioners made the learning applicable. Not only did I learn the "why" but, I also learned the skills to apply the training to real life situations immediately. The addition of an executive coach to help guide you through your learning agenda was of great help and support during the program."
I spent more than 25 years in the corporate and nonprofit worlds and I currently provide strategic consulting services, coaching and diversity & inclusion training in the for-profit and non-profit worlds. The master's degree in Diversity Management has given me the knowledge and skills to be able to facilitate diverse groups, help organization and individuals to use their own skills to improve the effectiveness of their organizations and strategies.
DMP has allowed me increased opportunities to work with organizations on issues of inclusion and cultural competency. The degree has increased my "credibility" with organizations and individuals. Because of the program I have been able to deliver training to several large public organizations and help them to update policies regarding inclusion.
CSU is the only University to offer such a program. Designed like many Executive MBA programs, this was the right kind of time commitment for me to be able to pursue the degree and remain active in my work and volunteer activities. And it was reasonably priced and high in value.
Amy Hochadel, Class of 2009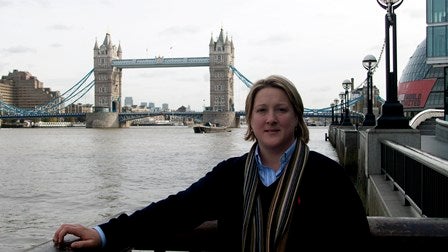 I am a doctoral student at King's College, London studying International Political Economics. My Ph.D. dissertation researches the impact of globalization on local elected officials and how they are changing their behavior and tactics at the local level to meet the demands of a new global economy. 
I also serve as Director of The Social Innovation Partnership (TSIP) in London, England.  TSIP is an advisory business providing socially conscious organizations with the insight, capacity, and expertise necessary to deliver social projects.
While pursuing my MA, I served as director in the Division of Community Relations and Diversity at Cleveland Clinic.  With over a decade of experience in community and government relations, politics and public policy, I have also managed political campaigns for Congressional and Presidential candidates and for British Members of Parliament.  The Diversity Management Program (DMP) at Cleveland State University provided me with both professional and personal skills that have helped secure these achievements. 
I pursued the degree offered by DMP because I wanted a master's degree that was both academically rigorous and imminently practical.  Having been walked through the advantages, opportunities and applications of the DMP program, I decided it was a good fit for my future aspirations.  I am still in contact with many of my professors to seek advice and draw on resources and tools provided in the curriculum.
The wide range of theory and practical application that was taught in DMP has cleared the way for me to pursue a PhD, something I had not been previously prepared to do.  Professionally, the organizational management courses have helped me to navigate a career in one of the most diverse and challenging business environments in the world in London, England.  
Damaris Price, Class of 2008
The skills I use on a daily basis in my role as a Senior Organizational Development Consultant for Working River were largely honed in the DMP.  This program offered not only an academic experience, but also an experiential and pragmatic one.  We were not just learning - we were doing.
 In 2006, I was leading the management training and diversity function for my former employer.  Though I was experienced, I was largely self-trained. The work increasingly evolved into leadership development – skills that are quite different from management training. It put me in close proximity with coaches and consultants.  I remember asking them what I would need to do to transition my career more toward this path.  Their advice and a bit of research pointed me to the DMP program.
The relationships I established with DMP faculty led me to my current career path as a consultant and a practicing coach. Years ago neither were in my crystal ball.  But they are indeed in my reality, in large part, because of the DMP.
DMP students complete the master's degree in just 22 months. Students are charged an affordable flat fee that includes tuition, books and other required materials. Students earn 40 credit hours in monthly, three daylong modules with a cohort of diverse classmates from business, nonprofit and government industries.  The Master of Arts in Psychology, Diversity Management, creates leaders who are prepared to tackle the critical challenges of a 21st century global economy.  For further information, contact Lisa Gaynier, Program Director or click here to visit online.