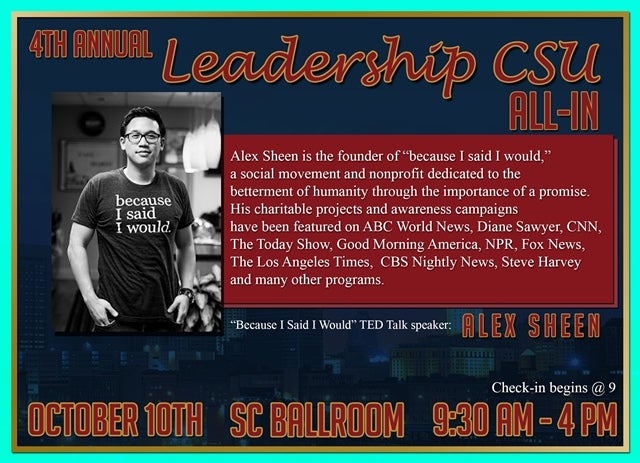 Join your fellow graduate and undergraduate students at the 2015 Cleveland State University Leadership Conference "Leadership CSU: All In" on Saturday October 10, 2015 from 9am - 4pm. 
Keynote speaker and Cleveland native, Alex Sheen, is founder of Because I Said I Would - a social movement based on the importance of a promise is rapidly expanding worldwide.  The leadership agenda includes topics such as communication, networking, transformational leadership, inspired leadership, and conflict management, to name a few.  Breakfast/registration will take place from 9am - 9:30am.  Lunch will also be provided.
Graduate student, Jasmine Elder, attended this conference during her undergraduate years and is now involved in conference planning and preparation as a graduate assistant in Student Life.  Elder believes the 2015 conference, sponsored by the Department of Student Life, will be of particular interest to masters and doctoral students:
"The conference is perfect for graduate students because it is never too late to learn more about leadership and get help figuring out where you are going.  Speaking with others is essential for success and networking is a big part of the conference."
Registration is free of charge to all Cleveland State University students.  Space is limited and students must register by Wednesday, October 7 at 5pm.