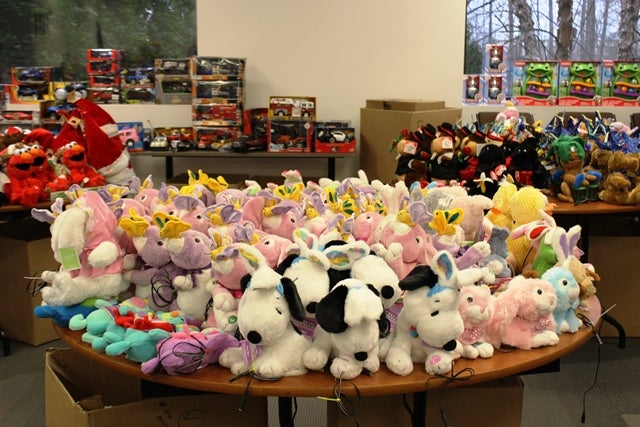 The Foxes' Den at CSU's Washkewicz College of Engineering was transformed on Wednesday, December 2, as more than 40 alumni and friends gathered to adapt toys to benefit children with disabilities as part of the College's annual Toy Modification Workshop. The event benefited RePlay for Kids, a non-profit organization whose mission is to increase the availability of toys and assistive devices for children with physical challenges. 
"I always look forward to the Cleveland State Workshop because so many skilled volunteers attend.  Volunteers bring toys to modify or they repair toys from other RePlay for Kids workshops.  This year's workshop at Cleveland State fell one day prior to our Annual Adapted Toy Giveaway and we were able to present over 1,300 adapted toys to families, hospitals, school districts and County Board of Developmental Disabilities,"   shared Natalie Wardega, Director of Operations at RePlay.
Biomedical Engineer, Bill Memberg, RePlay chairman and parent of a child with a disability, established the nonprofit corporation in 1999 with a mission to increase the availability of toys and assistive devices for children with disabilities. This is accomplished by repairing existing devices, adapting mainstream toys, designing new devices, and educating families and clinicians. 
"It is great to see so many of our alumni and friends return each year to support this wonderful cause.  It's an honor to be part of a program that makes such a positive difference for children in our community," shared Paul Pawlaczyk, Manager of External Affairs and Communications with the Washkewicz College of Engineering.  The College coordinated the 10th annual event with alumni, friends, faculty, staff and student volunteers from across campus. 
Cleveland State faculty have served the RePlay for Kids Board of Directors for many years with current board member Bette Bonder, Ph.D., Professor Emerita, Health Sciences and Psychology; and former board member, Mark Sundahl, Ph.D., J.D., Professor and Associate Dean, Cleveland-Marshall College of Law.
To learn more about RePlay for Kids, visit www.replayforkids.org.
Related story:
Cleveland State was recently named as the study site and a major hub for GoBabyGo, a national movement to promote mobility across the lifespan. Through a unique multidisciplinary process housed in CSU's new Center for Innovation in Medical Professions, CSU will join GoBabyGo and Aging in Place collaborators around the world to research and develop low-cost, high-impact technologies ranging from modified race cars for infants to hands-free harness systems for children and adults with mobility impairments.  Visit the School of Health Sciences online for additional details.