We are All Pieces of One Puzzle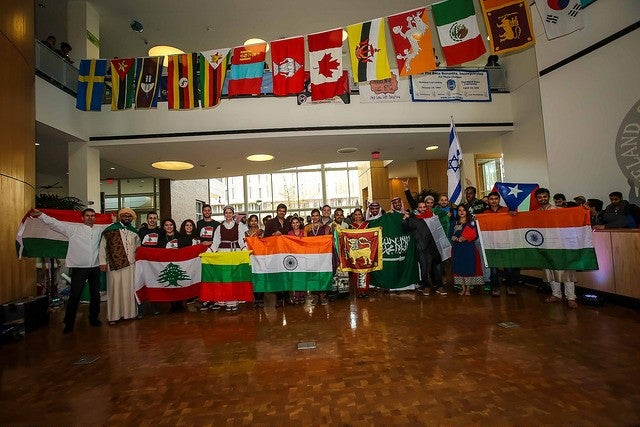 The Center for International Services and Programs (CISP) is expanding International Education Day to a week of events and activities that celebrates the unique culture and diversity found on the CSU campus.  Students from 81 countries across the globe are proud Vikings and CSU's rich ethnicity will also celebrated by U.S. students from a diverse array of ethnic backgrounds. International Education Week is about celebrating the places from which ALL students come, near or far. 
Rita Kizys, CISP Graduate Assistant, who helped to coordinate the November 15-18th event, shared, "This year is the 18th anniversary of International Education Week and institutions from across the globe will be celebrating."  The theme for CSU's celebration is: We are All Pieces of One Puzzle. Ms. Kizys, on behalf of the CSU International Center, invites all students, faculty and staff to join in one or all of International Education Week's five events, hosted by the Center along with many other organizations on campus: 
International Education Week kicks off on Tuesday, November 15th from 10am-2pm in the SC atrium where culturally-oriented student organizations and student groups will host tables with food and crafts representing their culture. There will be singing and dancing performances throughout the day to showcase the many cultures. Students on campus in the evening can play Win around the World with Campus Activities Board from 7-9pm in SC 313/315. Learn to play games from around the world!
On Thursday, November 17th from 1-4pm in MC 136 an Immigration Seminar will guide international students about the laws and regulations they need to be aware of while living and studying in the United States. The seminar is primarily for international students currently attending CSU, though all are welcome to attend.  Later that evening, all students are invited to Arab Movie Night from 7-10pm in BU 118, hosted by the CSU International Center along with the Arab Studies Program and other student organizations.  Attendees will enjoy free popcorn and engage in a lively discussion after the film.
An International Potluck will be co-hosted by the Graduate Student Association on Friday, November 18th from 5-9pm in the Levin College Atrium.  The potluck will have traditional American Thanksgiving dishes as well as ethnic dishes provided by CSU's cultural student organizations. Attendees are asked to bring a dish to share then spend the evening getting to know fellow students from various backgrounds.
All students and faculty/staff are welcome! The CSU International Center challenges students, faculty and staff to attend at least one event and learn something new about another culture.