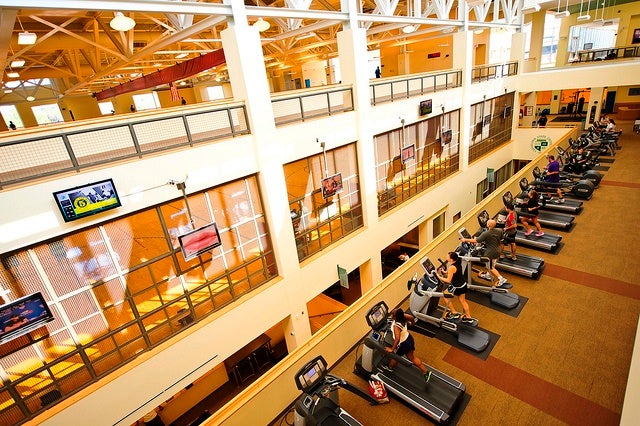 As graduate students, it is important to perform at your peak level, both mentally and physically. Be sure to take advantage of the health-related resources provided by CSU's Health & Wellness and Campus Recreation services.

RECREATION AND FITNESS
Come in from the ice, snow, and frigid February temperatures to CSU's balmy and expansive Recreation Center.  It's a great way to not only forget about the cold weather, but to bring healthy balance and activity to your life.
Greg Ross has served as Director of CSU's Recreation Center since the 2006 grand opening of the $29.8 million dollar Center.  With student needs in mind, Ross's team continues to expand recreational activities, exercise equipment, and fitness programming.  He reports, "Some of the most popular activities include: personal fitness, intramural sports, aquatics and wellness activities.  Graduate students are frequently seen on the intramural basketball courts, in the pool, at table tennis and in fitness classes." 
Programming highlights found within CSU's 130,000 square foot Recreation Center include:
Adventure Rec:  Adventure Rec offers outdoor activities and recreational trips such as hiking, rock climbing and whitewater rafting for a small fee. Inexpensive gear rental and training clinics are available. Visit online for upcoming adventures such as Beginners Ice Climbing on February 28th in Fenton, Michigan or Indoor Rock Climbing on March 25th at Cleveland Rock Gym. 
Intramural Sports:  Intramural Sports provide friendly competition in a variety of leagues, special events and tournaments throughout the year. Men's, women's and divisions are available for individual or team play. Intramural sports emphasize mental, social and physical well-being while building a community atmosphere.
Group Fitness: For those who want more than the usual treadmill workout, the CSU Campus Recreation Center has many free group fitness classes to choose from - aerobic dance, aquatic exercise, strength training and more.  The group classes provide a great workout and the opportunity to mingle with people who share your same goals.  
When asked about usage trends, grad student and Campus Recreation graduate assistant, Andrew Morreale summarized, "Outdoor recreation participants are usually split evenly between undergraduate and graduate students. Those participants that I feel get the most enjoyment out of our trips are the international graduate students. These are the students who have not experienced a great number of the natural landmarks within the NE United States.  Many have never participated in activities like camping, hiking, white water rafting, and snowshoeing.   Within the facility, I do see particular areas where graduate students tend to congregate more than others. The DPT (Doctor of Physical Therapy) students put a team in each of our intramural sport leagues, and our table tennis and badminton areas are in use throughout the day. Graduate student participation seems to be most apparent in the later hours of the night." describes Morreale.
Finally, if you not sure where to begin, contact Morreale directly  by email (a.morreale@vikes.csuohio.edu) or by office phone (216-802-3210) and he will will be happy to assist you in getting started with:
 Free Fitness Orientation to learn how to use Center equipment;
 Personal Training services;
 An evening of fun and games with Billionaire Bingo  on February 25th,
and much more.
CSU students are members of the Recreation Center if currently enrolled in at least a one-credit hour course and the CSU general fees have been paid. Not sure if you qualify for rec center membership?  Show your CSU ID at the Rec Center front desk or view membership details.
Click here to learn more about Andrew Morreale and the Master of Education degree in Sport Management.

HEALTH AND WELLNESS
CSU Health & Wellness Services offers medical care, health counseling, limited in-house pharmacy and lab services, immunizations, and more.   Services are available to CSU students, staff and faculty by appointment.  A 24-hour Nurse Help Line is also available to students by calling 1.855.293.8947
For students who purchased the CSU Student Health Insurance plan, there is 100% coverage in the Health Center. (For all others, most insurance plans can be billed.) The clinic is located in the Union Building-UN 263, located at 1836 Euclid Avenue.  For additional information call 216.687.3649 or email healthandwellness@csuohio.edu
Down the hall from Health & Wellness Services is the CSU Counseling Center which offers services to students, faculty and staff.  Individual and group therapy sessions are available for various needs from test anxiety to LGBTQ support.  Weekly workshops are facilitated to enhance academic performance in areas like procrastination and motivation; and to help with skill development in the areas of time management, parenting, and stress reduction to name a few.  The CSU Counseling Center also subscribes to the online services of ULifeline - an anonymous, confidential, online resource center.  Students may use the service to search information regarding emotional health. 
Learn more about the CSU Counseling Center or schedule an appointment by calling 216.687.2277 or by visiting the Counseling Center in person, Union Building- UN 220. 
Take advantage of the many wellness and fitness services provided by Cleveland State University which help all graduate students rise to their peak academic potential.