On March 26th, Levin College welcomed over 100 faculty, students, alums and staff involved in development activities in Cleveland's neighborhoods.  Keynote speaker, Alan Mallach of Brookings Institution and the Center for Community Progress, along with a panel of community leaders, led the conversation on 25 years of neighborhood development in Cleveland.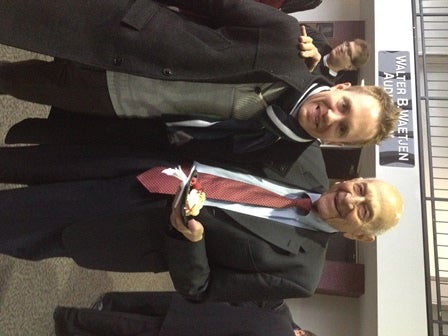 The Master of Urban Planning, Design and Development program focuses primarily on regional issues and those affecting Legacy Cities like Cleveland in transition from an industrial past. The program offers six specializations: economic development, housing and neighborhood development, geographic information systems (GIS), historic preservation, environmental sustainability, and real estate development and finance. MUPDD is also offered in two dual degree programs- with the Cleveland-Marshall College of Law and with Chung Ang University in Seoul, South Korea.
The MUPDD Program has had four directors in its 25 year history: Dennis Keating (founding director and returning director from 2007-2015), Mittie Davis Jones, Wendy Kellogg, and Roby Simons.  Beginning in Fall, 2015, Stephanie Ryberg-Webster will become the fifth director. 
In addition to MUPDD, Levine College of Urban Affairs offers four additional masters programs, dual degree programs and doctoral studies. Master's degree studies include: Master of Public Administration, Master of Science in Urban Studies, Master of Arts in Environmental Studies, and Master of Nonprofit Administration and Leadership.  J.D./M.A. dual degree programs include the J.D./Master of Arts in Environmental Studies , J.D./Master of Public Administration, and J.D./Master of Urban Planning, Design, and Development.  Levine College also offers a Ph.D. in Urban Studies and Public Affairs.  The doctoral program in  Urban Studies and Public Affairs integrates urban-related knowledge from a number of academic disciplines. Through disciplinary integration, doctoral students analyze, design, test, and evaluate strategies for urban policy making and management within the public and private sectors.
According to a recent study by Planetizen, Levin College's MUPDD program was ranked among the top 15 programs in both Economic Development and Community Development. It is also ranked 8th for the most diverse student body and 8th for non-resident tuition.
For additional information on MUPDD and the Levin College of Urban Affairs, visit online or contact  Lindsey Hobson, Levin College Recruiter.
Senior Fellow & Professor Emeritus Norman Krumholtz and 2013 MUPDD alum, Greg Soltis, are pictured above.