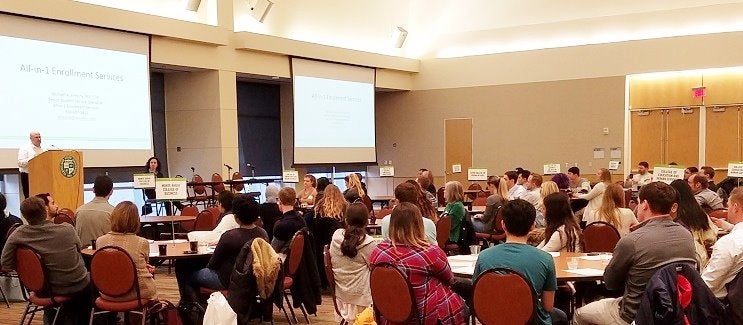 Welcome to Cleveland State University!  
Graduate Student Orientation
Student Center
Wednesday, January 8th, 2020
Check your email for registration information
We look forward to seeing you at Graduate Student Orientation! Please allow time for check-in and to be seated by 3:50PM. Graduate Student Orientation will prepare you for a successful start to your new graduate program. Learn all about the resources, services, and opportunities available to you as a CSU graduate student. In preparation for your visit to campus, please note the following details:
Arrival Information
Use the complimentary parking pass that was sent to your email address.  The pass is valid ONLY on January 8th, 2020 at the Cleveland State University

 Central Garage. 

Scan the Parking Validation Bar Code to enter AND to exit the Central Garage OR take a picture of the bar code and scan it using your smart phone to enter and exit. If you park elsewhere, you are required to pay the posted fees.
If you have a need for special parking accommodations, please contact us at EngagedGrad@csuohio.edu
Central Garage Parking Lot Entrance
1900 E. 21st Street, Cleveland, Ohio 44115
Student Center Entrance
2121 Euclid Ave., Cleveland, OH 44115   
Campus Map
View or print the Cleveland State University
Campus Map.