CSU's fourth annual Graduate Student Appreciation Week (GSAW) was celebrated April 1-5, 2019.  A wide variety of daily events were held to recognize and celebrate CSU graduate students and their significant contribution to Cleveland State University, the City of Cleveland, and beyond.
Specific GSAW activities also recognized student leaders, Graduate Assistants, and Researchers. New this year, GSAW extended to CSU student researchers in the Lerner Research Institute at the Cleveland Clinic.  Kenya Wilcots, Ph.D. candidate in Bioanalytical and Clinical Chemistry, helped to coordinate the College of Graduate Studies involvement in the resource fair and lunch with students. The week-long GSAW events, sponsored by the College of Graduate Studies and GPSA, crossed multiple categories, including:
Professional and Personal Development

Grant Writing for Graduate Students
Mindfulness & Resiliency Workshop
Preparing my Curriculum Vitae


Community and Campus Recognition

Meeting with Mayor Jackson
Cleveland Clinic Resource Fair
Grad Student Lounge Open House
Receptions in Colleges
Departmental Celebrations

Social

International Student Conversation Hour
Trivia Night - Students vs. Grad Faculty
Grad Happy Hour at Moe's
Local restaurant discounts and much more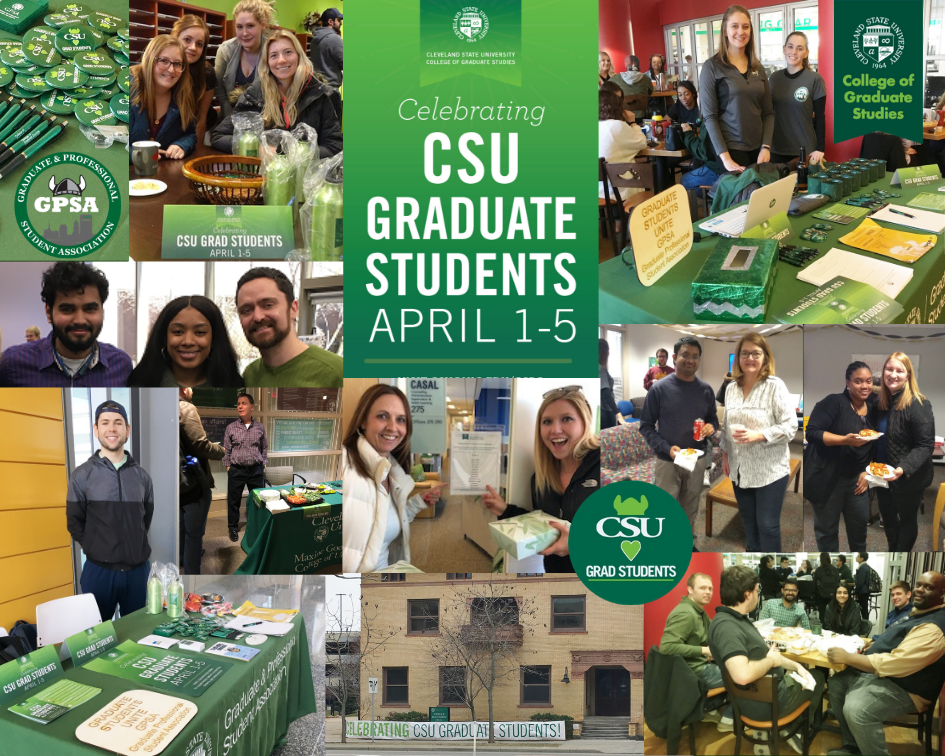 Graduate Student Appreciation Week was started in 1993 by the National Association of Graduate-Professional Students and is now an internationally recognized event that celebrates the contributions made by graduate students on campuses and in their communities.