Goodbye and Good Wishes to the outgoing GPSA Officers
The GPSA of 2018/19 will be greatly missed.  We congratulate those who will be graduating next week and send best wishes to those who are moving into various stages of training, research, internships or careers.

President, Brittany Carbaugh
Vice President of Administrative Affairs and Outreach, Rene Kizys
Vice President of Finances, Lining (Daisy) Zhang
Vice President of Programming, (Fall 18) Alexis Plaga
Director of Policies and Advocacy, Chika Morkah
Director of Diversity and Inclusion, Uliana Spiridonova
Director of International Concerns, Grace Agbenin
Director of Marketing, Tatiana Nikitina*
College Representative - Engineering,Dustin Bowden* and Rushik Bandodkar*
College Representative - Education, Patricia Zentner
College Representative - Business, Rohit Bhattacharya
College Representative - Science, Lorenzo Bianco
(* Denotes officers-elect for 2019/20 Board)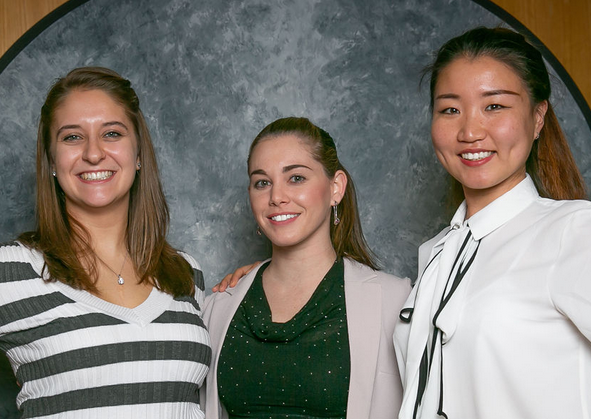 Farewell to the 2018/19 officers. These board members connected with graduate students across campus and in the Grad Student Lounge, supported services of the Graduate Student Resource Center, liaised with College of Graduate Studies Dean Nigamanth Sridhar regarding student concerns, and coordinated new responsibilities as part of the CSU General Fee Advisory Committee (GFAC). GPSA officers and members offered countless hours of service to maximize the graduate school experience for current and prospective students, including major events such as Graduate Student Orientation, Appreciation Week, Graduate Student Visit Days, College Info Tables, and monthly social events for the CSU community.
 As a group, they are also responsible for coordinating involvement and first-time representation of graduate students on University faculty and administrative boards and committees. GPSA Advisor, Patricia Otcasek, shared, "This was a notable year in the history of the organization with two significant feats:  operating within the privileges and responsibilities as a member of GFAC, and giving graduate students a stronger voice with first-time representation on a variety of University committees. Because GPSA now has a platform, a vote on student fees, and an annual budget, the incoming officers will be able to create new partnerships, provide services that reach more graduate students, and solidify important relationships with University governing bodies."  The formal transition between boards begins May 3rd with a GPSA reception where former GPSA presidents and vice presidents will be honored and incoming board members will be introduced. 
(GPSA Executive Officers pictured, left to right: Rene Kizys, Brittany Carbaugh, Lining (Daisy) Zhang)
Hello and Congratulations to all incoming GPSA Officers
Elections of officers to the 2019/20 GPSA began as Graduate Student Appreciation Week culminated.  To date, over a dozen officers have been elected to serve on the board of the Graduate & Professional Student Association.
These students will represent their constituents by advocating for graduate student rights by increasing exposure to graduate student needs and representing the graduate student body on CSU governing boards and committees.  The 2019/20 term begins July 1 and continues through June 30, 2020.  Contact GPSA at Gradvike@gmail.com with any questions or if you are interested in becoming involved in volunteerism or leadership opportunities.
| 2019/20 Officers | Positions |
| --- | --- |
| Robert Gray | President |
| Natalia Hernandez | VP of Admin Affairs |
| Nathan On | VP of Programming |
| Rushik Bandodkar | VP of Finance |
| Aisha Ibrahim | Director of Policy & Advocacy |
| Lena Grafton | Director of Diversity and Inclusion |
| Sri Sai Ram Narayan Reddy Budigi | Director of International Concerns |
| Tatiana Nikitina | Director of Marketing |
| Vincent Ekeh | College of Business, college rep |
| Dustin Bowden & Tanetta Curenton | Washkewicz College of Engineering, College Co-Reps |
| Jamiee Imbrogno | College of Liberal Arts and Social Sciences, College Rep |
| Kenya Wilcots | College of Sciences and Health Professions |
| Jenna Jordan | Levin College of Urban Affairs |
| Marlise Taylor | Cleveland-Marshall College of Law, College Rep |
| Amber Jackson | Undergraduate Liaison |