Meet Brittany Carbaugh, fourth-year Counseling Psychology Doctoral Student, who was recently selected for training at the Center for Deployment Psychology Summer Institute in Bethesda, Maryland. This highly regarded and selective training program prepares trainees for Military Psychologist careers. The program presents seminars, didactics, and applied learning strategies for serving Military and Veteran Service members and their families. Brittany will learn directly from renowned Military psychologists and network with fellow trainees who share her passion for working with the U.S. Military. 
Upon completion of the training program, Brittany hopes to secure an internship position working with Military Service Members/Veterans, perhaps at a VA Medical Center. She plans to graduate in 2020.  She states, "It is my plan to continue making an impact in the lives of our service men and women around the globe, both through my clinical practice and through my advocacy work in shaping organizations to meet the needs of these individuals.  Along the way, I hope to have fun, have a family, and never stop learning." 
Brittany is also the Graduate Assistant & Mentoring Program Coordinator for the CSU Veteran Student Success Program. The CSU Veteran Student Success Program (VSSP) provides services to help students overcome barriers to accessing and completing their education. The VSSP has a space on campus dedicated to providing resources and fostering community for the Vets at CSU. She states, "We offer opportunities for professional growth, involvement with student and professional organizations, fellowship and community, easy access and connection to a range of benefits, VA education benefits, suicide prevention programming, and countless other personal and academic enrichment opportunities."
Excerpts from a recent interview with Brittany Carbaugh follow:
Tell us about yourself
I'm the daughter of a retired USAF Colonel and F-16 pilot. I was privileged to grow up all over the United States. I'm a bit of a nomad--home is where I make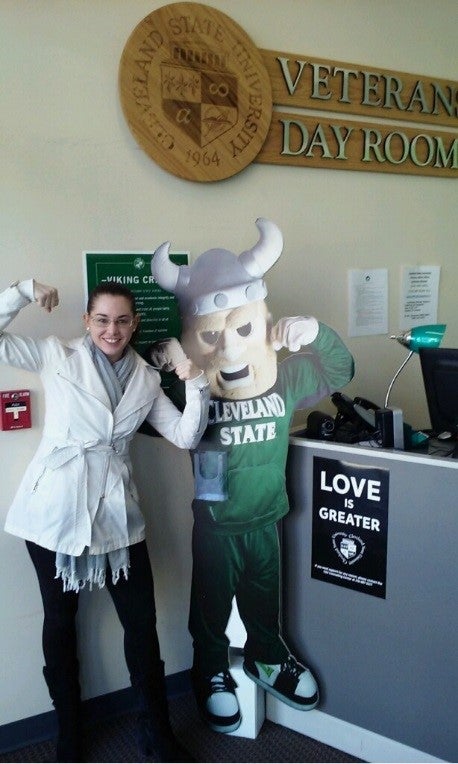 it! Currently, my family is in Florida so that's where I travel to when going "home for the holidays." However, I've been in Cleveland for about 7 years, which is the longest I've ever lived in one place. This geographic longevity is a new experience for me.
I completed my B.S. in Psychology with a minor in Cognitive Sciences from the University of Central Florida, in Orlando in 2011 then completed a Master of Arts in Clinical Psychology at Cleveland State University in 2013. I worked as a therapist before starting my doctoral education here in the APA-accredited Counseling Psychology program. I'm currently wrapping up my third year in the Ph.D. program and I hope to secure an internship position working with Military Service Members/Veterans, perhaps at a VA Medical Center. I plan to graduate in 2020.
I coach a salsa team in Cleveland and have traveled the US teaching and performing.  Most people are surprised to find out that I'm a professional Latin dance instructor and performer! It's my leisure activity and a passion of mine and it's how I find balance with my academic and professional work.
What do you like most about being a GA with Viking Vets?
The Veteran mentoring program!  It has been incredibly rewarding, but not just for me. The mentors that I oversee have strengthened their academic resolve and confidence and find immense solidarity in helping their fellow Military Service Members/Veterans reach their goals. We experience, first–hand, how mentorship and peer advising play an integral role in helping incoming students find their place at Cleveland State.
How does your role as GA support your academic and career aspirations?
 I feel very much empowered in my position at the VSSP and have been able to be so much more than an "assistant. There are days I feel like a budding organizational psychologist, days I feel like an advisor, days I feel like an intervention specialist, days I feel like a consultant, and days I feel like "one of the guys." I feel like a valued member of the team and have found it's my job to be whatever the team needs from me at that moment--however I can be of most help!  Every day offers a new learning experience for me. There's alwa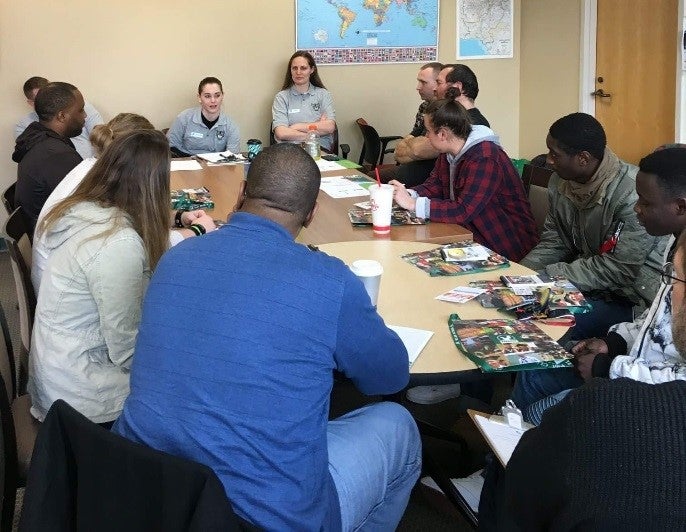 ys some new fact or resource that I learn about which helps me provide better service.
What stands out most to you in your Cleveland State experience so far?
I've always been self-starting and self-assured but my doctoral journey has challenged me in new ways and has helped me to know myself better. The feedback and hard learning that are inherent in doctoral work have strengthened me. The blood, sweat, and tears are real! My experiences here have also shown me the importance of family. Without them, I wouldn't be the woman I am today who is capable of thriving through these challenges.  Being able to develop my personal and professional identities with more depth and breadth not only helped my within my program, but gave me a greater sense of belonging and confidence.
Learn more about CSU Veteran's Success Program and the services available to Veterans and their families. For more information, please visit the Veteran Student Success Program website or call 216.875.9996.