Lindsey Hobson, M.Ed,'14, has received the prestigious and highly competitive Fulbright U.S. Student Award for 2015/16 and will travel to Guangzhou, China this fall.  The Fulbright Program is the flagship international educational exchange program of the United States.  Hobson will represent the United States as a cultural ambassador helping to enhance mutual understanding between Americans and the people in China.  She will join over 100,000 Fulbright U.S. Student Program alumni who have undertaken grants since the program began in 1948.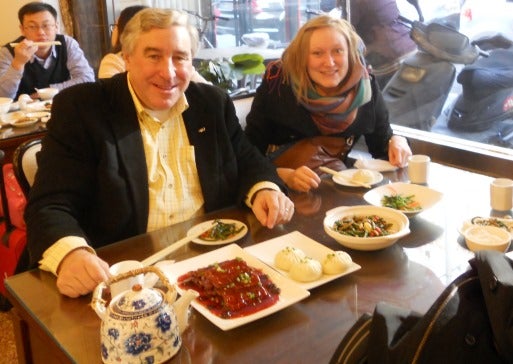 The Adult Learning & Development alumna and recruiter for the Levin College of Urban Affairs said, "I want to do something that changes the way we prepare and integrate Chinese students on U.S. campuses. I hope my research will provide insight into the Chinese student application and orientation experience before arriving in the United States." Hobson is pictured above with Levin College of Urban Affairs Dean Edward "Ned" Hill on a 2013 recruitment trip to Beijing.
Hobson who plans to spend the next 4 months improving her Mandarin language skills, suggests, "Anyone who is interested in learning about other cultures, further exploring a particular area of research abroad, or who would like to be part of the Fulbright mission to the promote mutual understanding between the peoples of the United States and those of other countries, should consider applying for a Fulbright grant."
Hobson's Fulbright Research & Goals:
My study will capture the lived experiences of 15-20 undergraduate and graduate Chinese students at South China University of Technology in Guangzhou, China who will apply to study abroad in the United States for the 2016-2017 academic year. For the first four months of the grant term, I will record video and audio interviews once a month for a 20 minute session per student.  Additionally, I will observe students.  After recording this data, I will spend four months editing and shaping a set of videos and a written report. These videos and report will be submitted for publication and presentation to share their stories with international college admissions personnel in the U.S. in order to provide better service for Chinese international students.
I hope this research project will provide international student services professionals in the United States with a small picture of the current status of international student exchange with China from the Chinese student perspective. After returning from the Fulbright term, I will share results with fellow colleagues and professional organizations. Additionally, I am interested in working for innovative universities who are dedicated to helping international students acclimate to the United States.