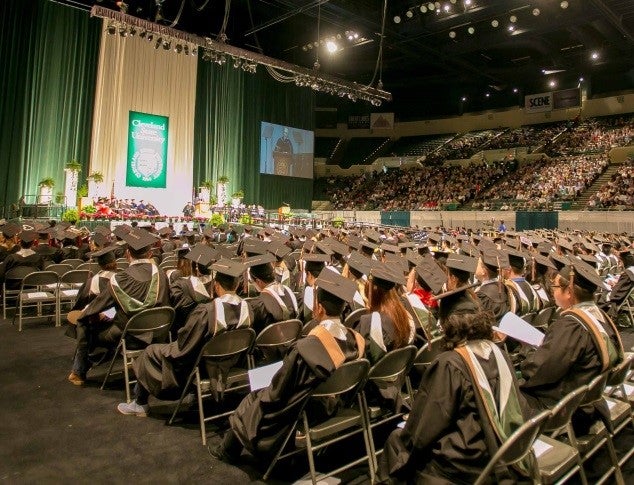 Congratulations Graduates!
Degrees will be conferred for all Cleveland State University fall and summer graduates at the Wolstein Center on Sunday, December 18th. Interim Dean of the College of Graduate Studies, Dr. Donna Schultheiss, will lead a hooding ceremony for doctoral students. Degrees will be conferred for summer and fall semester graduates, including 703 master's degrees and 70 doctoral degrees.
Class Valedictorian is Bachelor of Arts in History major, Mackenzie Sylvia Paul of the College of Liberal Arts and Social Sciences, and Mandel Honors College. Legendary sports agent Rich Paul, who represents LeBron James, will receive an Honorary Bachelor's degree from the Monte Ahuja College of Business.
The Cleveland State University Fall 2017 Commencement ceremonies begin at 1pm on Sunday, December 18, 2016 at the Bert L. and Iris S. Wolstein Center located at 2000 Prospect Avenue.  For additional information related to Commencement, please visit the official 2016 Commencement website:  https://www.csuohio.edu/commencement/commencement