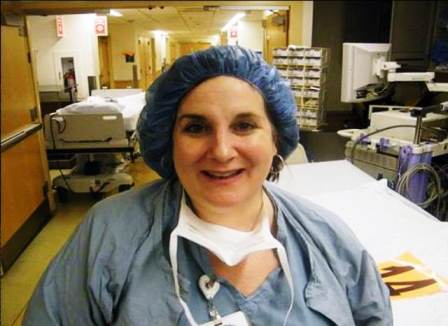 Francesca Ann Margaret (Maggie) Logterman
Master of Science in Nursing
"Education is my passion and I wanted to add the professional hallmark of a graduate education to my portfolio."
As a University Hospitals nurse for over 26 years, Francesca Ann Margaret (Maggie) Logterman, pictured above, shares with Graduate Student News her story of returning to college with an initial goal to attain graduate certification as an operating room nurse. 
Q.  What prompted you to pursue a graduate degree?
A.  For the past five years, I have been an operating room instructor and this job expanded the way I viewed education.  I work with all types of nurses, nursing students, and medicals students in handling all the educational needs of the department.  I transitioned from being a patient advocate into being a student advocate.  Also, I was turning 50 and feeling a bit intimidated by graduate studies and reluctant to pursue this goal!  Yet, I felt empowered by the tuition reimbursement offered by my employer.
Q.  How did you decide upon Cleveland State University and the MSN degree?
A.  I wanted a school with an online program, but close enough to home and work for me to utilize the resources CSU offered.  I found that CSU provided the right enrollment options for me. Because I did not meet the required G.P.A. for the program, I was encouraged to first enroll in a non-degree seeking status and complete twelve hours in order to transition to the nursing program.  CSU offered online course work for the majority of the program.  This gave me great flexibility and I knew I would be able to achieve a balance with the demands of the program, my family, and my full time work. 
I chose the Master of Science in Nursing, in the Nursing Education track.  For me, it was a natural fit.  I had to take an online statistics course before I applied.  To this date, I consider it one of my greatest accomplishments.  It gave me the confidence to pursue a higher degree and the knowledge that I could handle returning to school. 
I sometimes struggled with continuing, I kept telling myself, if not you, then who?  Nurses must all ask themselves this question.  We need advanced practitioners and educators to educate new nurses and pass the torch.  We also need to encourage diversity in nursing and nursing faculty to meet the needs of nursing students.
Q.  Tell us about your MSN capstone project.
A.  The Master of Science Nursing Education program culminates in practicum and capstone experiences in the last three semesters.  Graduate students find a preceptor and work in academic settings as a nursing educator.  I was fortunate to secure Dr. Rebecca Patton, from Frances Payne Bolton School of Nursing, as my clinical practicum advisor. I was a clinical instructor for students in my role as the operating room instructor, but the practicum and capstone gave me the opportunity to teach in academia.
I knew that I wanted to focus on safety in nursing.  Initially, my project was to integrate the Quality and Safety Education in Nursing (QSEN) Competencies, Knowledge, Skills, and Attitudes (KSAs) into the lectures for the perioperative class.  These competencies had only been used in baccalaureate classes previously but I was given the opportunity to expand this and integrate QSEN into the hospital settings where students were doing clinicals. 
The original focus of the capstone was on students acquiring QSEN competencies but this changed when we discovered that the clinical site educators and preceptors lacked the necessary QSEN to accurately assess student competency.  I developed an educational offering for the preceptors and developed six rubrics related to the QSEN competencies to enhance the assessment of student acquisition of safety KSAs in the clinical setting.  We assessed the knowledge level of the clinical preceptors before and after the educational offering and noted an increase in knowledge.  The rubrics are to be used this fall in the ten clinical settings. 
Q.  Where do you see yourself in 2015 and beyond?
A.  I finished my capstone in August and am now finishing a Health Care Policy class with plans to graduate this December.  After graduation, I intend to pursue a Certification in Nursing Education.  I think there will continue to be a need for nurses in clinical settings to pursue advanced degrees to meet the demands of the complex healthcare environments we have today.  But for now, my plans are to learn everything I can about health care policy and graduate.
Three years ago I would have never considered pursuing my doctorate, yet now I once again ask myself, if not you, who? I am immensely proud of my graduate work and have learned so much that will enhance my professional career.  I have already utilized knowledge gained through this program to enhance education offered in the operating room.  I have come to appreciate the view of the student and it has transformed the way I teach.  My view of nursing and patient care has expanded and is more global. 
Q.  Do you have any advice to share with your fellow CSU graduate students?
A.  Yes, I do!
 Put time into investigating in the program to see if it matches your values and vision.  I looked at many programs but I wanted a program that would improve my skills and challenge me as a nurse.
 Set goals and work toward them, one step at a time.
 Do not hesitate to utilize the faculty and wealth of talent they have as you pursue your goals.  They are willing and able to assist you. 
 Create balance in your life as well as you can.  It took me three years to complete my masters but initially I thought it would have taken me at least ten years to reach this goal. 
Q.  Speaking of balance, how did your family adapt to your new role as "student"? 
A.  My family was extremely supportive.  I struggled with the amount of time I had to dedicate to school.  Now I know my children will value education and the pursuit of excellence in their own lives. I like to think I set a good example.  Also, I was an engaged and hardworking student, and as a result, received all A's in my coursework.  This was especially rewarding because I did not do this in my undergraduate coursework.  I consider this degree to be one of the greatest achievements of my life.
Logterman and her husband, Tod, reside in Fairview Park with their children, Max and Chloe. 
For further information regarding the Master of Science in Nursing, contact Dr. Maureen Mitchell, assistant professor and graduate program director, School of Nursing.
Editor's note:  On September 17th, one day after her interview with Graduate Student News, Logterman was notified that her CSU capstone project qualified for placement on the national QSEN website.  "It's the cherry on top of the capstone!" announced Maggie Logterman.