Dean, College of Graduate Studies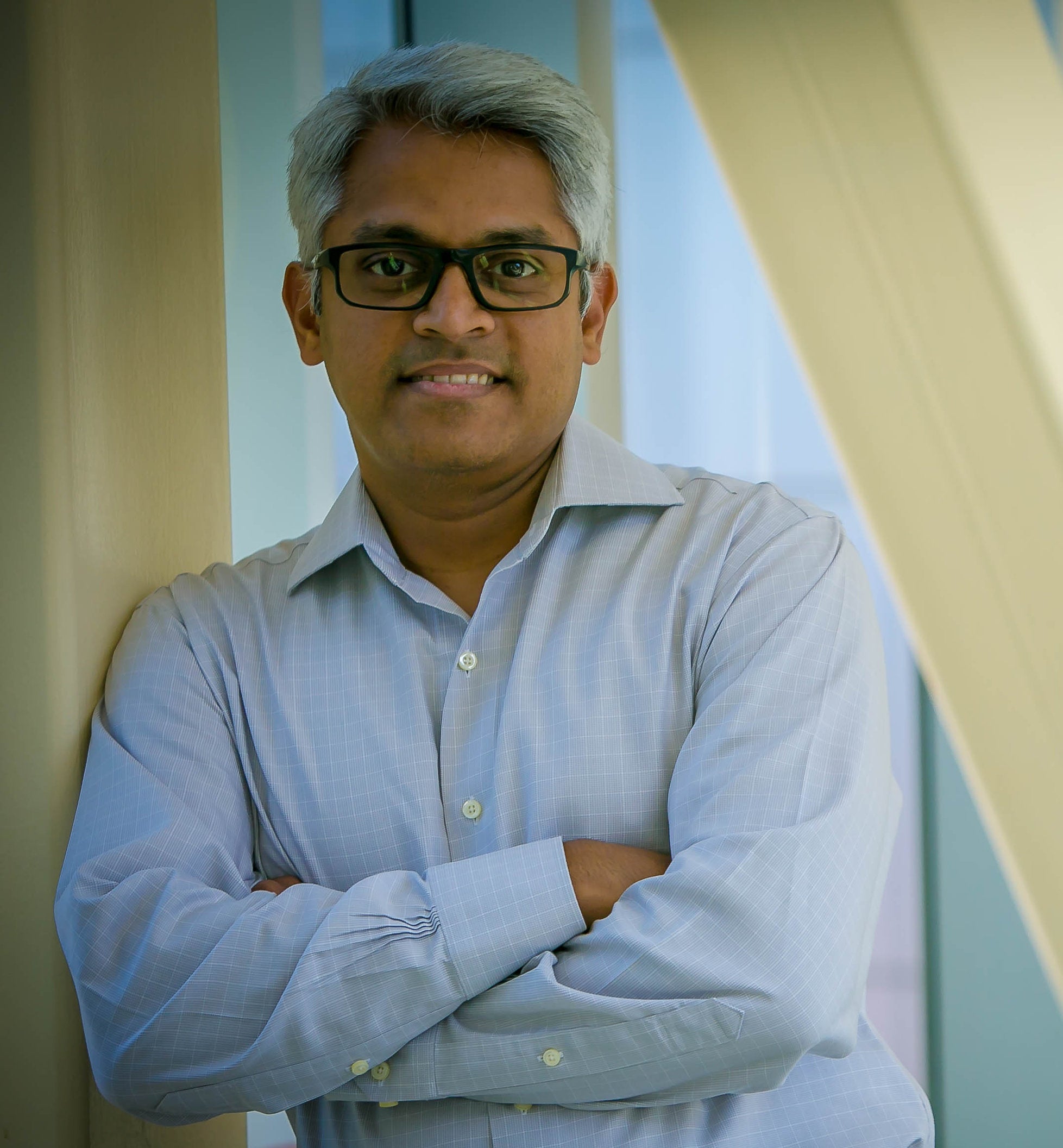 Following a national search begun in spring semester, Dr. Nigamanth Sridhar was appointed dean of the College of Graduate Studies.  The professor of Electrical Engineering and Computer Science, and former president of the Cleveland State University Faculty Senate, assumed his new role on August 1, 2017.  Amidst the full schedule of a new dean, Dr. Sridhar arranged time for the following interview with Graduate Student News.
What are your priorities and vision as dean?
Cleveland State plays a unique role in Cleveland as the public research university with an urban mission. Our array of graduate programs are structured to serve the region with a deep understanding of the needs of the Northeast Ohio region. My priority and vision for the College of Graduate Studies is to stay true to this mission, and to continue to innovate by way of graduate program offerings that enrich Cleveland.
What attracted you to Cleveland State University?
With a fresh Ph.D. in Computer Science, Cleveland State was attractive for a few reasons – plenty of industry connections, a nice sized city, and a very supportive department and college.
You've served a variety of academic and leadership roles at CSU.  What appealed to you most about this position?
I've been on the faculty at CSU since 2004. I've taught in the Computer Engineering, Software Engineering, and Computer Science programs, both undergraduate and graduate. I've supervised two doctoral dissertations and 16 master's theses during this time as well. From 2014 to 2017, I served as the President of CSU's Faculty Senate. The position of Dean of Graduate Studies was appealing mostly because of the "cross-campus" view; I've always enjoyed multidisciplinary research, and the prospect of working with graduate programs from across campus and having the ability to interact and work with a variety of subject areas is exciting.
You've been in your new role for about two months now.  What are some of your early thoughts on the opportunities and challenges that lie ahead?
Yes, it's been two months, and it's been a fun, eye-opening experience. The challenges in the role are mostly around enrollment. Our enrollment in graduate programs has been declining, and I have been spending time around campus trying to understand reasons for this decline, and exploring opportunities and tactics that would allow us to stem this decline, and highlight our fascinating graduate programs to potential students.
In your opinion, what are some of the greatest challenges faced by grad students and how can they be overcome?
A major challenge that grad students face is one of identity. Graduate students are in a unique position on most college campuses, including CSU. While they share a physical space with undergraduate students, the range of professional development needs that graduate students have are very different, and quite varied across various disciplines. This is one of my priorities as dean, to try and address this challenge and to provide opportunities for graduate students to identify with each other better, and with the university more closely.
You've been actively involved in research throughout your career.  Describe some of your current initiatives.
I am currently engaged in two projects. The first is a program to introduce computer science courses in K-12 schools. In particular, we are engaged in an intensive program with the Cleveland Metropolitan School District to provide curriculum support and professional development to the teachers who teach these courses. We are working on this program with the goal of reaching all students, with specific attention paid to equity issues.
The second project is a Collaborative focused on the Internet of Things (IoT). IoT broadly encompasses technological advances in sensors, actuators, data analysis, and connectivity, which together provide us with an unprecedented level of visibility and control into the physical world around us. These technological advances, when appropriately integrated into the fabric of human society, using sociological and legal structures, present an opportunity that can enable a quantum leap in societal development. The Collaborative is led jointly by Cleveland State University and Case Western Reserve University, and brings together faculty and students from across the campus at both universities.
What are some of your favorite things to do in Cleveland?
I live in the Detroit Shoreway neighborhood with my wife and daughter who is in elementary school. Our family loves Cleveland, with the variety of things to do and places to eat. Edgewater Park is an easy favorite; it's up the street from where we live. Another spot we love to go to as a family is a spot overlooking the Innerbelt Bridge in Tremont – great view of the city!
Nigamanth Sridhar is CSU's dean of graduate studies. In that role, he promotes educational and research excellence in graduate programming across campus. He is also a professor of electrical engineering and computer science in the Washkewicz College of Engineering. His areas of research interests lie at the intersection of Software Engineering and Distributed Systems, with a special emphasis on the Internet of Things. Along with colleagues from CSU and CWRU, he is one of the leaders helping to shape the Cleveland IoT Collaborative. Dr. Sridhar also has a strong interest in computer science education. Most recently, Dr. Sridhar has been working closely with the Cleveland Metropolitan School District (CMSD) in implementing a "CS for All" program. In particular, CMSD will make available rigorous CS courses (Exploring CS and CS Principles) in every one of its high schools. This work is funded by the Cleveland Foundation and the National Science Foundation.