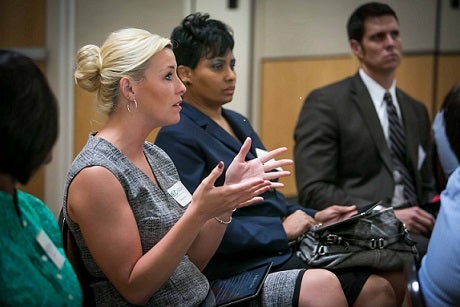 The time is NOW to research and plan for upcoming academic, research, and leadership conferences. Conference participation gives graduate students an opportunity to build an expanded network, gain specialized training, learn about trends and innovations, or present research findings.  Plus, it is a great resume builder.  Speak with your advisor or program director for their recommendations about the most appropriate conferences in your area of study.  Listed below is a sample of upcoming local and regional conference opportunities for students:
 
Cleveland State University Dive into Leadership Conference
The Center for Student Involvement is presenting its 5th Annual Leadership Conference titled, "Dive into Leadership" on Saturday, February 11th 2017 from 8:00 a.m. to 4:00 p.m.
 "The Leadership Plunge" workshop is brought to you by CampusSpeaks. Before leaving, participants will be able to identify personal leadership styles that are utilized on a day-to-day basis, examine how leadership values translate through actions and demonstrate how to effectively navigate through different real life scenarios utilizing Situational Leadership Theory.  A limited number of spaces are available, e-mail:  c.witt18@csuohio.edu
University of Toledo 8th Midwest Graduate Research Symposium
The Graduate Student Association is proud to present the 8th Annual Midwest Graduate Research Symposium on Saturday, March 25th, 2017 at the University of Toledo.  This event has been recognized as a premier event and is a great opportunity for presenting research, networking, and fostering intercollegiate friendships and collaborations.  The University of Toledo looks forward to hosting individuals from around the nation in what promises to be an outstanding day for all involved.
https://graduatestudentassociationblog.wordpress.com/midwest-graduate-research-symposium/
The 5th Annual Communicating Science (ComSciCon) Workshop for Graduate Students
Applications are now open for ComSciCon 2017, the 5th annual Communicating Science workshop, to be held in Cambridge, MA on June 8-10. Graduate students at U.S. institutions in all fields of science, technology, engineering, health, mathematics, and related fields are encouraged to apply. The application will close on March 1st.  Acceptance to the workshop is competitive; attendance is free and travel support and lodging will be provided to accepted applicants. 

Participants will build the communication skills that scientists and other technical professionals need to express complex ideas to the general public, experts in other fields, and their peers. In addition to panel discussions (on topics such as Media and Journalism, Science Advocacy, and Diversity in Science Communication), ample time is allotted for networking with science communication experts and developing science outreach collaborations with fellow graduate students.  Follow the link to submit an application or learn more about workshop programs and participants: Learn More and Apply.