Graduate Student Awards Program, Fall 2020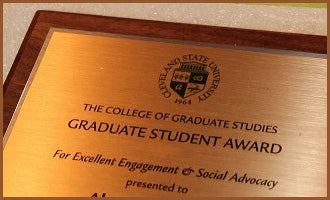 The College of Graduate Studies invites eligible graduate students to participate in the 2020/2021 Graduate Student Awards Program (Fall semester) and the 3MT Competition (Spring semester). 
The awards programs recognize graduate student achievement across multiple categories with monetary awards ranging from $250 to $500.  Award categories include:  Research and Creative Scholarship, Thesis and Dissertation, Teaching, Engagement and Social Justice Advocacy. The 3MT prepares students to make a clear and concise research pitch to a non-specialist audience in three minutes or less.
Award submissions deadline is January 15, 2021 at noon
Graduate Student Award nominees must:
Be current CSU graduate students or be no more than one year post-graduation
Have a GPA of 3.0 or better 
Request a nomination from a member of CSU Graduate Faculty
Be in good academic standing at the time of nomination 
Follow all of the Awards Guidelines, described in link above
College of Graduate Studies Awards Photo Archives
2019/20 Awards (photo unavailable)
2018/19 Awards
2017/18 Awards (pictured)
2016/17 Awards
2015/16 Awards
​​​​​​​
​​​​​​​
---

Graduate Student 3MT Competition ​​​​​coming in Spring 2021
Three-minute Thesis Awards Program Details
What is a Three-minute Thesis (3-MT)?  Oral communication of a student's research to an educated layperson can be lacking in graduate programs. The University of Queensland developed the 3-Minute Thesis® where students summarize their research in 3 minutes using pre-determined guidelines. Students make a presentation to explain their research in three minutes in a language appropriate to a non-specialist audience. A panel of judges scores each student to determine a winner. The College of Graduate Studies invites all students completing a dissertation or thesis to participate in the Three Minute Thesis (3MT). 
Click here to read about CSU's 3MT winner earning Second Place Overall at the MAGS Regional 3MT in September 2020.
 
Design and Develop your Powerful 3MT Pitch! 
A series of training and competition-prep workshops will be held in December and January for the February 3MT @ CSU.
Group A:  Candidates Training Group 
Designed for students that are at the completion stage of their dissertation or thesis and are eligible to compete under the 3MT guidelines. 
Group B:  Beginners Training Group
Designed for graduate and undergraduate students that are NOT in the completion stage of their research.