Graduate Student 3MT Competition
Entries are due by December 2, 2019 at noon.

The College of Graduate Studies invites all who are completing a dissertation or thesis to participate in the Three Minute Thesis (3MT).  Designed by the University of Queensland, 3MT is a competition that measures and supports a student's capacity to effectively explain their research in three minutes in a language appropriate to a non-specialist audience.  
New this year! 
Take advantage of an added competition for those students that are NOT yet at the completion stage of their dissertation or thesis. It's never too soon to begin.  Learn to make your powerful pitch and be eligible to win cash or prizes!  Call 216-687-3595 with questions and to register.  Click here for Three-minute Thesis Awards Program Details
Click here to view 2018/19 3MT participants.
Graduate Student Fall Awards Program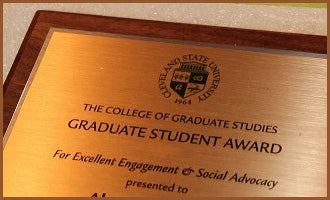 Returning for the fifth year, the College of Graduate Studies invites eligible graduate students to participate in the 2019/2020 Graduate Student Awards Program and the 3MT Competition. (fall deadline has passed.)
These two programs recognize graduate student achievement across multiple categories with monetary awards ranging from $250 to $500.  Award categories include:  Research and Creative Scholarship, Thesis and Dissertation, Teaching, Engagement and Social Justice Advocacy. 3MT prepares students to make a clear and concise research pitch to a non-specialist audience.
Submissions deadline is November 1, 2019 at noon
Deadline for submissions is November 1, 2019 at noon. Award nominees must be current CSU graduate students or be no more than one year past graduation, and must have a GPA of 3.0 or better and be in good academic standing at the time of nomination. Award decisions are expected in December. View listing of 2018/19 recipients.
View awards photos archive:
2018/19 awards
2017/18 awards (pictured)
2016/17 awards
2015/16 awards