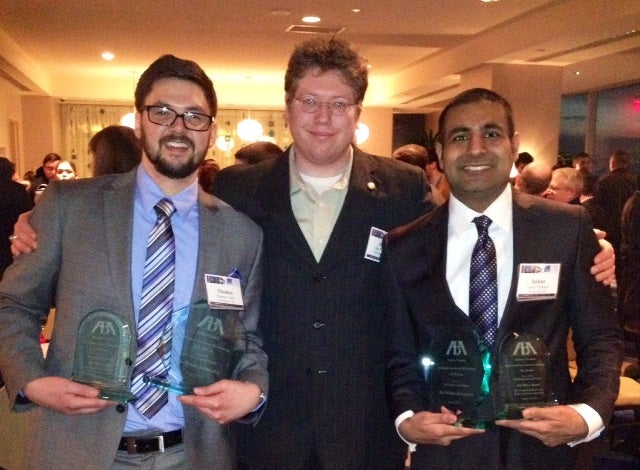 Cleveland-Marshall College of Law students Thomas Vanik and Ankur Thakkar placed 3rd in the American Bar Association (ABA) Law Student Tax Challenge.  The team of third-year J.D. students, competing in the largest and most prestigious tax competition in the United States, was also recognized for "Best Written Submission" in the January 29-31 competition in Houston, TX.
"Time after time, our tax students have demonstrated that they are among the best in the nation. Tax law is an extraordinary field of study, and Cleveland-Marshall College of Law is an extraordinary place to study tax law. To say that I am proud of Thomas and Ankur is an understatement.  They prepared tirelessly, took criticism positively, and grew tremendously." shared team advisor and Cleveland-Marshall Professor John T. Plecnik after the win. 
The annual competition, as described on the American Bar Association's web site, offers a "great way for law students to showcase their knowledge in a real-world setting and gain valuable exposure to the tax law community. On average, more than 60 teams compete in the J.D. Division and more than 40 teams compete in the LL. M. Division. The Law Student Tax Challenge asks two-person teams of students to solve a cutting-edge and complex business problem that might arise in everyday tax practice.  Teams are initially evaluated on two criteria: a memorandum to a senior partner and a letter to a client explaining the result. Based on the written work product, ten teams are selected to present at the Section of Taxation 2015 Midyear Meeting."
Thomas Vanik (left) and Ankur Thakkar (right) are pictured above with team advisor Professor John T. Plecnik (center). 
Cleveland-Marshall College of Law teams have placed in the semi-finals three times in the past five years.   For additional information about Cleveland-Marshall College of Law, please visit online or call 216-687-4692.