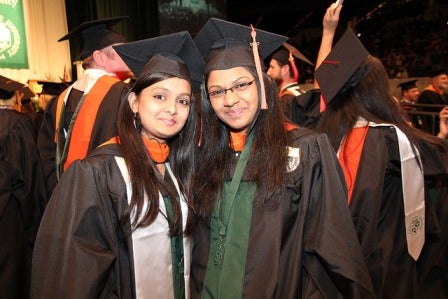 The Cleveland State University 2014 Spring Commencement ceremony was held on Saturday, May 10, 2014 at the Bert L. & Iris S. Wolstein Center. Congratulations to the 704 graduate students whose degrees were conferred in morning and afternoon ceremonies!
Senior Vice Provost for Academic Affairs and Dean of the College of Graduate Studies, Jianping Zhu, Ph.D., led the hooding ceremony for doctoral students from eight academic programs.  A total of 681 masters degrees were earned, with Monte Ahuja College of Business granting the largest number of graduate degrees followed closely by the College of Education and Human Services, and the College of Liberal Arts and Social Sciences.
Dr. Toshinori Munakata, Distinguished Professor Emeritus of Computer and Information Science, received the Honorary Degree for Distinguished Emeritus Faculty.  Monte Ahuja College Executive in Residence and respected scientist, Dr. Julian Earls, received the Honorary Doctor of Science Degree.
Cleveland State University Fall 2014 Commencement takes place on Sunday, December 14, 2014.