Campus Recreation
There is so much more to Campus Recreation Services than just a space to exercise! Cleveland State University's Campus Recreation Services is dedicated to providing an inclusive and comprehensive collection of programs and services that promote health, wellness, and leisure. Students, faculty and staff are encouraged to participate, regardless of skill, ability, age or other factors. "We're proud of what we do and the supportive atmosphere we foster. Get involved - fitness and fun for all. Join today or stop in for a tour," states Katie Skeens, Graduate Supervisor of Competitive Sports & Camps.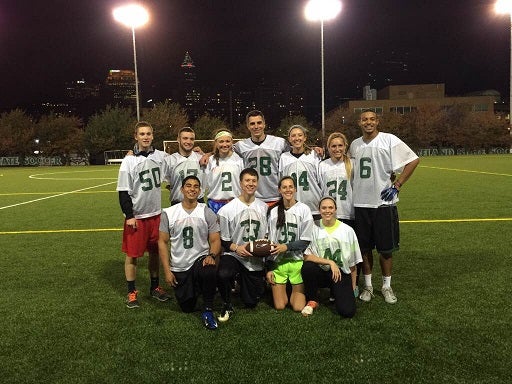 CSU's Campus Recreation Center and Busbey Natatorium is an 110,000 square foot state-of-the-art facility that is open to CSU students, faculty, staff, and to the local community. Membership gives you access to:
a wide variety of free group fitness classes and programs
competitive intramural sports played against other CSU teams
club sports for competition with other colleges and universities
the latest exercise equipment
equipment rental
discounted rates on all of rec programs and services.
Co-Ed Flag Football 2015 Team Champions (pictured here).
Viking Fit Fair
Thursday, November 10, 2016
Recreation Center
11am – 1pm

Think you know how fit you are? Whether you are new to working out or you've been going to the Recreation Center for years, come to the Viking Fit Fair to find out how you compare to the nation's health and fitness norms. At this event, you'll have the opportunity to receive personalized attention and to gain important information about your own fitness level.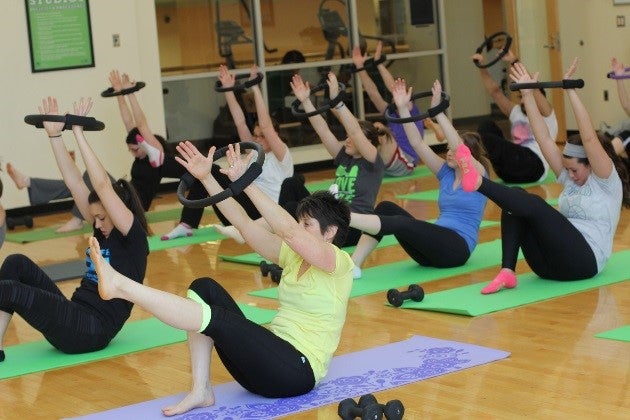 While moving through the fitness stations you will learn about your resting blood pressure, heart rate, body fat percentage, body mass index (BMI), waist-to-hip ratio, broad jump distance, cardiovascular endurance, upper body muscular endurance, and hamstring/low back flexibility. Certified personal trainers will lead you through the various activities, summarize your results, and offer suggestions for improvements.

Take advantage of the free event and reward yourself following the assessment by receiving a FREE chair massage.  Pre-registration is not required. Click here for additional details.