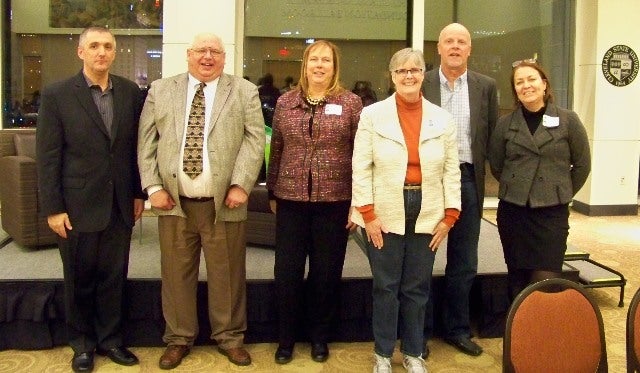 Approximately 120 guests filled the CSU Glasscock Ballroom on November 12th for an Adult Learning and Development (ALD) reception, sponsored by the College of Education and Human Services.
ALD colleagues reconnected, students networked with alumni, and two notable ALD program alums served as Keynote Speakers.  Chip Heginbotham, Senior Manager of Organization Development for Oracle, and Murray Winland, eBay's Global Learning and Quality Management Director, answered questions and discussed their CSU education, career and leadership work within the theme of Adult Education:  Practice in the 21st Century.
This CSU 50th Anniversary Alumni and Internship celebration recognized the ALD program and its students, faculty and leaders who contribute to the field of Adult Education worldwide.  ALD faculty members Drs. Catherine Hansman, Cate Monaghan, and Wendy Green are pictured above along with program coordinator, Dr. Jonathon Messemer, and Keynote speakers Winland and Heginbotham.   (Click here to view additional photos.)
Signature events are planned for each of CSU's eight Colleges as part of a yearlong 50th Anniversary celebration.  For further information, visit CSU 50th Anniversary Celebration.
Contact the College of Education and Human Services for additional information about the ALD masters, Ph.D. and certificate programs.