The concept is very simple. Doctoral students conducting research describe their study in 3 minutes with the accompaniment of only one PowerPoint slide. Developed by The University of Queensland, the Three-Minute Thesis (3MT®) cultivates students' academic, presentation, research communication skills and capacity to effectively explain their research in three minutes. The competition involves oral communication of a student's research to an educated layperson in three minutes or less, using pre-determined guidelines. Judges score each student to determine a final winner.
Cleveland State University's RJ (Robert) Laverne, doctoral candidate in Urban Affairs, was nominated by Dr. Nicholas Zingale to represent CSU at the 3MT regional competition.  Alternate representative Sara Incera Burkert, doctoral candidate in Adult Development and Aging, was nominated by Dr. Conor McLennan. Summaries of both CSU student submissions are listed below.
As CSU's representative, Laverne competed at the regional competition on April 8th at the Midwest Association of Graduate Schools Annual Meeting in Chicago. Laverne described, "Twenty-three students, myself included, from as many universities participated.  The topics ranged from early detection and treatment of Parkinson's disease to re-introduction of Cheetahs in South Africa to engineering rope footbridges that do not wobble in the wind.  I was impressed by the other students and was interested in hearing about their dedicated research efforts. It was humbling to be included with such an innovative group of curious minds and I truly appreciate the opportunity.  I was not selected as one of the finalists, but I still feel like a winner.  The entire experience was honestly exhilarating.  It was a true honor to represent Cleveland State University." 
Watch for a "How to Prepare a 3-Minute Thesis" workshop and University–wide competition for Ph.D students in Fall 2016.

Trees, Sounds and Human Attention by RJ Laverne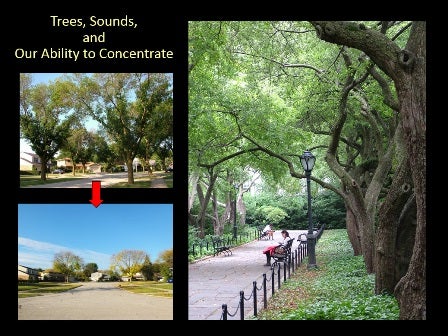 I am interested in urban ecosystems and how we humans function in them.  I am also interested in trees and how urban ecosystems change when trees are removed.  An invasive insect called the Emerald Ash Borer has killed millions of trees in North America, and as a result, many communities have lost a large proportion of their urban forests.  Does this loss of trees affect the ecosystem? 
I am using sound as a measure of ecosystem diversity. I make sound recordings and analyze the composition of sounds from nature and humans.  I have made these sound recordings both before the insects killed the trees and again after the trees were removed, and then documented the changes to the soundscapes.  Which leads to the all-important question "So what?  So what if we hear fewer birds and more cars?"  I believe that the sounds that surround us may affect our ability to concentrate, otherwise known as Directed Attention.  To test this hypothesis I am having people listen to the sound recordings – some with many trees and some with few trees – while taking simple tests that measure the strength of that person's ability to concentrate.  Perhaps the findings will help urban planners design communities that are more mentally refreshing and less stressful.  Click to view video: Trees, Sounds and Human Attention.
Bilingualism across the Lifespan by Sara Incera Burkert
I want to share with you the importance, complexity, and advantages of bilingualism. First, it has been estimated that more than half of the world's population is bilingual. Second, the bilingual experience can be very complex. Third, when performing tasks using a computer mouse, bilinguals move faster and straighter towards the correct response. This effect is even more pronounced in older adults. This means that those who speak more than one language have certain cognitive advantages over those who do not.  In my dissertation, I am capturing this complexity by asking participants to describe their languages across a continuum.
Sara summarized, "People are always asking me 'what do you do?' Thanks to this competition, I am able to give a succinct and interesting answer without taking forever to explain my research. My advisor, Dr. Conor McClennan, and I are creating The Psychology of Language video series in an effort to make scientific findings available to the general public.  The 3MT competition is another great way of achieving this goal. The more share the results from your research, the bigger your positive impact will be."