John Plecnik, J.D., LL.M., Associate Professor of Law, Cleveland-Marshall College of Law, shares his professional and personal views on career, education, public service and more.  Learn about his enthusiasm in working more closely with graduate students and graduate faculty across the University as newly appointed Interim Associate Dean of the College of Graduate Studies
Describe your responsibilities as Interim Associate Dean of the College of Graduate Studies.
As Interim Associate Dean, I work with our Dean Donna Schultheiss and the elected faculty members on Graduate Council to oversee curriculum at the graduate level.  Together, we are responsible for reviewing all graduate programs, assisting in the development of new programs, and monitoring standards for graduate student admission and graduation.  Specifically, as Interim Associate Dean, I serve as Chair of the Petitions, Grade Dispute, Graduate Faculty Review, and Graduate Student Awards Committees of Graduate Council.  I also assist Dean Schultheiss and our staff with special projects, such as Graduate Student Appreciation Week. 
We have a truly remarkable population of graduate students at CSU, and simply put, my goal is to serve them.  I am personally excited to work on new initiatives like the Graduate Student Awards and the 3-MT (Three-Minute Thesis) Competition, because they recognize our students' considerable achievements while making them more employable post-graduation.  Whether our graduate students seek jobs in academia, public service or industry, it is our responsibility to ensure that their course of study is relevant and competitive in today's market.
 How did you decide to study law?
My decision to study law dates back to my college years, when I fell in love, head over heels, with tax law.  I was 19-years-old when I graduated co-valedictorian from Belmont Abbey College with my B.A. in Accounting.  My major included coursework in taxation and Volunteer Income Tax Assistance (VITA). 
Although I enjoyed the complexity of tax accounting, I quickly realized that gray areas and novel legal issues were generally the province of tax lawyers, not accountants.  I wanted to go beyond applying rules to facts.  I wanted to exercise my professional judgment to determine which rules of law should apply.  I was 22-years-old when I reached my goal and graduated from Duke University School of Law, where I won the Faculty Award for Outstanding Achievement in Taxation & Estate Planning.
 How did you decide to become a professor?
My childhood was spent on a college campus in North Carolina, watching my father, a professor of philosophy, and his colleagues prepare for classes, register grades, author books and articles, and advise students.  I learned about the incredible impact that professors can have on their students and their local community, first-hand. 
 Discuss your career path and how you decided to join the faculty at CSU.
Following my graduation from Duke Law, I joined a Wall Street law firm and worked on multi-billion dollar deals, multi-million dollar employment agreements, and proxy statements for public companies.  I also earned my Master of Laws in Taxation at night as a part-time student at NYU Law, where I served as Executive Editor of the NYU Review of Law & Social Change. 
Although my law practice was stimulating, my desire to become a professor was stronger than ever.  I ultimately left practice to clerk for a brand new Judge on the U.S. Tax Court by the name of David Gustafson.  As his first law clerk, I worked on several seminal cases, including Anderson v. Commissioner, which the Department of Justice identified as the largest personal income tax evasion case in U.S. history.  At the same time, I taught Tax Penalties & Tax Crimes at Georgetown University Law Center as an Adjunct Professor of Law.
After experiencing law teaching first-hand, I had no doubt that I wanted to pursue a career as a full-time academic.  I applied for faculty positions through the Association of American Law Schools Faculty Recruitment Conference. Thirty interviews and eight campus visits later, I chose Cleveland-Marshall College of Law at CSU as my new home. 
 In early April, Cleveland.com highlighted your public service as a Millennial Officeholder.  How did you first decide to run for public office?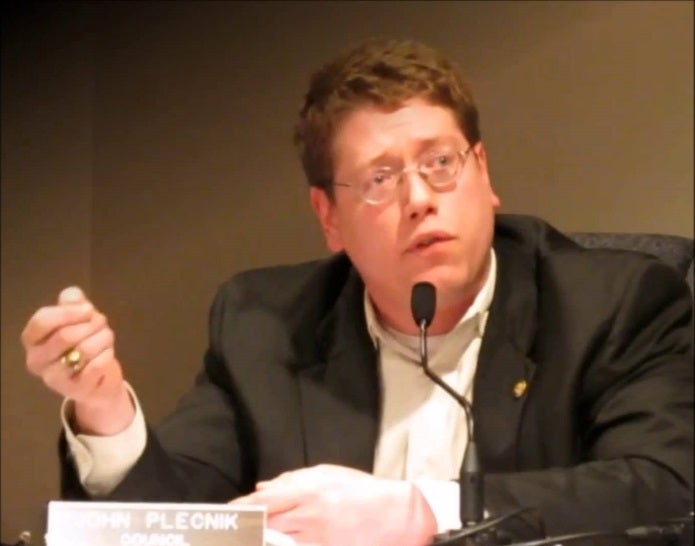 After I moved back to Ohio to accept my professorship, I started volunteering as a member of the Willoughby Hills Recreation Commission, board member of Slovenska Pristava, and Trustee for the Willoughby-Eastlake Public Library System.  When a vacancy arose on Willoughby Hills City Council, my neighbors asked me to step up and run.  A few thousand door knocks and hand-addressed envelopes later, I was elected in 2013.  Last year, I was re-elected as the top vote-getter in Willoughby Hills. 
You have served on University Research Council and have a strong record of scholarship at CSU.  What are your specific areas of interest.
Since joining the faculty at CSU, my scholarship has focused on the intersection of taxation and public policy.  You can download my articles for free at www.plecnik.org and they span topics from inflation to the earned income tax credit.  I recently published an article, entitled "The New Flat Tax:  A Modest Proposal for a Constitutionally Apportioned Wealth Tax," in the Hastings Constitutional Law Quarterly, which explores the constitutionality of wealth taxes in the United States.  Currently, I am researching wealth taxation through the normative lens of tax equity.  Through this lens, I not only argue that wealth taxes are the fairest form of taxation, but rebuke the increasingly popular view that a flat sales tax would be fair or desirable. 
Your teaching was recognized with the Student Bar Association Faculty of the Year Award in 2012 and the Golden Apple Award in 2015—tell us about your classes.
I currently teach Tax I; Tax Procedure, Penalties & Crimes; Wealth Transfer Tax; and Estates & Trusts.  Tax I is your basic income tax class, which is a survey of federal income tax law.  Tax Procedure examines the legal process of disputing tax liabilities before the IRS and in federal court, as well as the elements of and defenses to civil and criminal tax penalties.  Wealth Transfer Tax covers the income taxation of estates and trusts as well as estate and gift taxation.  Estates & Trusts is a bar course on probate and nonprobate transfers, and I supplement our textbook with Ohio cases and statutes to ensure my students are ready for any wills questions that might appear on the Ohio bar exam. 
 What do you like most about living in Cleveland? 
Although I am not a Cleveland native, my father and his family lived in and around Cleveland and Youngstown before he left to study for his Ph.D. and teach out-of-state.  Growing up, we always came back to Cleveland and Willoughby Hills to visit family.  I spent vacations and holidays in Ohio.  As to my favorite things, I love to experience the culture of Cleveland, including its halls, farms, and picnic grounds.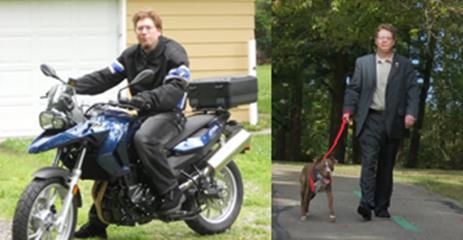 While I love all Cleveland sports teams, I really enjoy catching a baseball game with the Lake County Captains at Classic Park.  Fun fact: Professor Peter Carfagna, one of our Executives in Residence at the College of Law, just so happens to own the Lake County Captains!  I also like to ride my two-wheeled blue Bimmer (BMW F650 GS dual sport motorcycle) and I love to play with my four-legged, red-nosed Bimmer (my puppy!).
Do you have advice to share with CSU students new to their graduate programs?
My best advice to graduate students is to take advantage of all CSU has to offer.  Everyone knows it is important to study hard and earn good grades, but success reflects more than a high GPA.  Apply for the Graduate Student Awards and participate in the 3-MT Competition to further strengthen your resume.  Apply for Dissertation Research Awards from our Office of Research to fund your doctoral research.  Apply for teaching and research assistantships to gain experience, hone your writing and research skills, and build relationships with your professors.  You will need those relationships when the time comes to ask for references and letters of recommendation.  Work with your favorite student organization to apply for grants from our Office of Civic Engagement to serve and build contacts in your local community.  Our motto is Engaged Learning for a reason—the best way to learn and grow is to engage your fellow graduate students, professors, and the greater community where you hope to live and work someday soon!
Aside from your motorcycle and sports interests, do you have any other favorite hobbies or interests?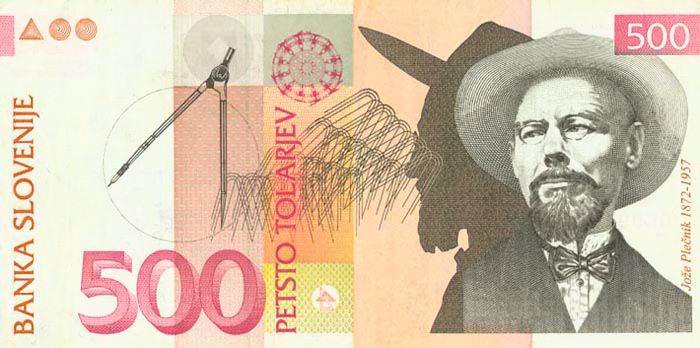 I celebrate my Slovenian heritage, and I take particular interest and pride in my relative, Professor Joze Plecnik.  He was the principal architect of Ljubljana, the capital city of Slovenia, and is considered one of the greatest European architects of all time.  In fact, his name and likeness appears on the Slovenian 500 tolar bill and Slovenia declared that 2007, the 50th anniversary of his death, was the "Year of Plecnik."  I am also a member of the High Note Society of the National Cleveland-Style Polka Hall of Fame and enjoy listening to my favorite polka band, The Polka Pirates.