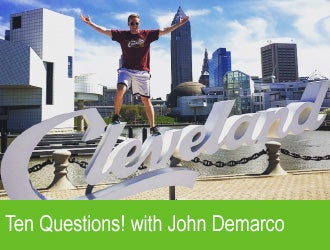 Meet CSU doctoral student John DeMarco!
The Northeast Ohio native completed his undergraduate degree while maintaining campus leadership roles and involvement in campus sports and activities.  As a graduate student, he continues his campus involvement, currently serving as student trustee to the CSU Board of Trustees. 
1. What degree are you currently seeking?
I am in my third semester of the Doctor of Physical Therapy program. As a second year student, I am making plans for my first PT clinical rotation.  I also earned my undergrad degree at Cleveland State. I was on the pre-Physical Therapy track and graduated in December '17 with a Bachelor of Science in Health Sciences, summa cum laude.
2. How did you decide on CSU?
CSU was my first choice for graduate school since my experience as an undergraduate was remarkable. It was difficult to consider elsewhere with how deep my roots are here!  John DeMarco graduated Summa Cum Laude, from the Mandel Honors College at Cleveland State University, with a Bachelor of Science in Health Sciences in December, 2017. 
3. How did you become interested in physical therapy?
I experienced a couple of sport-related injuries in high school sports that needed physical therapy. My personal experience with physical therapy was impactful and led me to consider it as a career choice. Also, while in high school, I academically coasted. I never really was ambitious about my academics, but deep down I knew I had the potential to pursue a doctoral degree.
4. How do you manage your time between graduate courses and your campus involvement?
I found that transitioning to grad school was not too difficult. I like consistency and a sense of routine so I try to wake up at 5AM and go to sleep by 10PM.  I follow a tight schedule throughout the day and make time for study, classes, labs, commuting, exercise, some social time and volunteerism, and family time.
5. How does a student become a representative to the Board of Trustees?
A call for applications to the Board of Trustees is held in spring semester.  Five applicants are selected and their names are sent to Columbus for a phone-interview with a representative from the Office of the Governor of Ohio.  The Governor then makes the final selection and appoints the new student trustee.
6. What prepared you for the Board position?
My volunteerism experience really helped. I had been actively involved in campus life as an undergraduate. I was a three-time Camp Vike Counselor, a Presidential Student Ambassador, and a 1964 Society member. I served as President of the Campus Activities Board and as a representative on the general fee advisory committee. I was also an undergraduate research assistant for two years.
7. How do you meet the Board responsibilities along with your graduate work?
I am now in my second year of the two-year term and year one actually went very smoothly.
The Board seems flexible and is considerate of student schedules.  There are two student trustees so it is not an issue if one of us has a conflict with a class or project.
8. Do you have a favorite project or assignment you've experienced on the Board?
I like all of the work and the special projects. I like meeting new people, so being involved in the presidential candidate interviews was probably one of the most interesting roles I have served so far. 
9. Do you have any general advice for others interested in becoming more connected?
Soft skills are important, as is living a productive life, even as a student. I try to maintain an attitude of being self-motivated and goal oriented. I also attempt to build networks in all areas of my life and stay connected to those networks.
10. What are your goals for the future?
I have yet to make a decision about where my physical therapy practice will take me. I expect that my clinical experiences will help guide that choice in the future. Other than professionally, I would like to qualify and complete a Boston Marathon, start a family, and possibly consider a PhD!