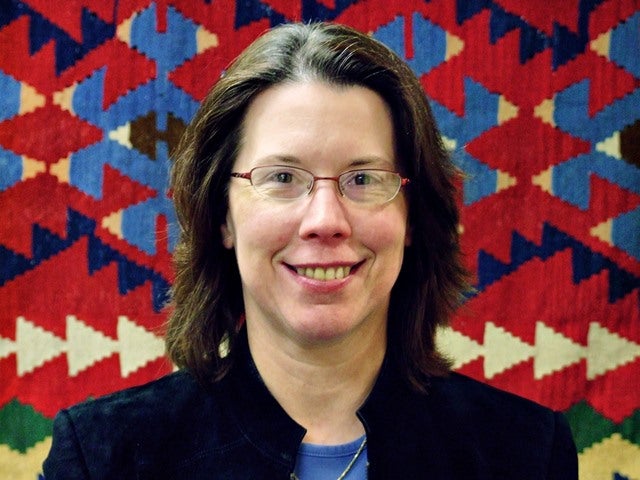 Crystal M. Weyman, Ph.D., is Professor and Chair of the Department of Biological, Geological and Environmental Sciences at Cleveland State University.  She received her BS degree in Chemistry, Summa Cum Laude, from Mansfield University, PA, and a Ph.D. in Biochemistry from Purdue University, IN.  Before joining CSU in 1998, Dr. Weyman completed fellowships in Molecular Biology and Cell Biology at the Cleveland Clinic.  She received her first NIH grant in 2000 and has since been awarded more than 2 million dollars in external funding.
 
1.  What do you like most about living in Cleveland, Ohio and being a Professor at CSU?
What I like most about living here is that I can live in the suburbs and look out my window and watch deer in the woods behind my house or walk to the park and hike and still only have to drive 30 minutes for great food and entertainment.  What I like most about CSU is that it is a combination of Mansfield University, a university focused on teaching where I earned my BS, and Purdue University, a university focused on cutting edge research where I earned my PhD. I love being around students with a great work ethic and so much yet to be realized potential.
 
2.  What is your favorite memory as a graduate student at Purdue University?
My favorite memory is all the fun I had with the other graduate students. When you survive something as challenging as earning your PhD with a group of people you are bonded for life.  The greatest challenge was, of course, the candidacy exam.  My cohort had 30 students and only 10 of us passed.
 
3.  Your most rewarding accomplishment since joining CSU in 1998:
Every student that I have helped in some way achieve their goals is an equally rewarding accomplishment.

4.  Tell us about your current research projects and aspirations?
My research program revolves around understanding the molecular signaling that coordinates the decision of skeletal myoblasts to undergo differentiation rather than apoptosis (a specialized form of cell death).  The end goal is to identify targets that could be therapeutically manipulated to increase the efficacy of myoblast transfer to treat a multitude of muscle diseases. 
During my time at CSU, we have made great progress in identifying the molecules that control the apoptotic process and have discovered a novel role for MyoD as the molecule that coordinates the decision.  The current challenge is to understand the molecular mechanism that dictates the action of MyoD to drive apoptosis, rather than differentiation, in a subset of myoblasts.

5.  What do you like about being a scientist?
What I enjoy most about being a scientist is being the first person on the planet to know a particular thing.  Making a discovery makes me very happy. I am honored and humbled to have the opportunity to do so.  I am addicted to those "Eureka" moments.

6.  Did you always want to be a scientist?
Yes, it's all I have ever wanted to be. I have childhood memories of mixing my mother's perfumes together trying to make something that would blow up.  They finally bought me a chemistry set when I was about 10.  I never did get anything to blow up.  It wasn't until graduate school when I worked a bit as a tutor for the women's basketball team that I realized how much I loved teaching too. So, being a Professor is the perfect job for me because I get to teach and perform cutting edge research.

7.  Putting your teaching hat back on, what's the best part of your day?
Watching students get excited about science!  Watching them grasp a difficult concept and experience their own "Eureka" moments!   I am honored and humbled to have the opportunity to do so.

8.  What is a favorite piece of advice you offer your grad students?
Success is guaranteed if you do what you love, have a positive attitude, take advice from people you respect and work very hard. 

9.  What do you like best about your role as Department Chair?
What I enjoy most about being a Chair is that I like solving problems and faculty, staff and students encounter lots of challenges.  I enjoy the times when I can help move or minimize whatever hurdles they encounter.

10.  What can be done to engage more CSU students in research? 
I think the faculty can easily get students excited about research by enthusiastically incorporating even a little of their own research into their classroom teaching.  There are several chapters that I cover in Bio 308 (Cell Biology) that lend themselves to a few sentences about my own research so that students know that cutting edge research is happening at CSU.  However, student interest is only half of the equation.  Faculty need the time necessary to mentor students in research.  Also, faculty need money to buy reagents that the student will use because undergraduates and even beginning graduate students are often given early steps of pilot projects not yet externally funded.  This is why the internal funding programs are so important.
     In 2007, Dr. Weyman was recognized with the College of Science's Outstanding Teacher Award.  In 2009, she won the University Distinguished Faculty Research Award.  In 2013, she was recognized as the McNair Faculty Mentor of the Year.  She has mentored 10 doctoral students, 6 Masters students and 22 undergraduate students in her laboratory.
     Weyman has also served on 69 doctoral dissertation committees and 31 Masters committees. Dr. Weyman has been a study section member for the American Heart Association and has served CSU as Founding Director of the Center for Gene Regulation in Health and Disease and Interim Dean of the College of Graduate Studies.
     For additional information, visit the Department of Biological, Geological, and Environmental Sciences online.