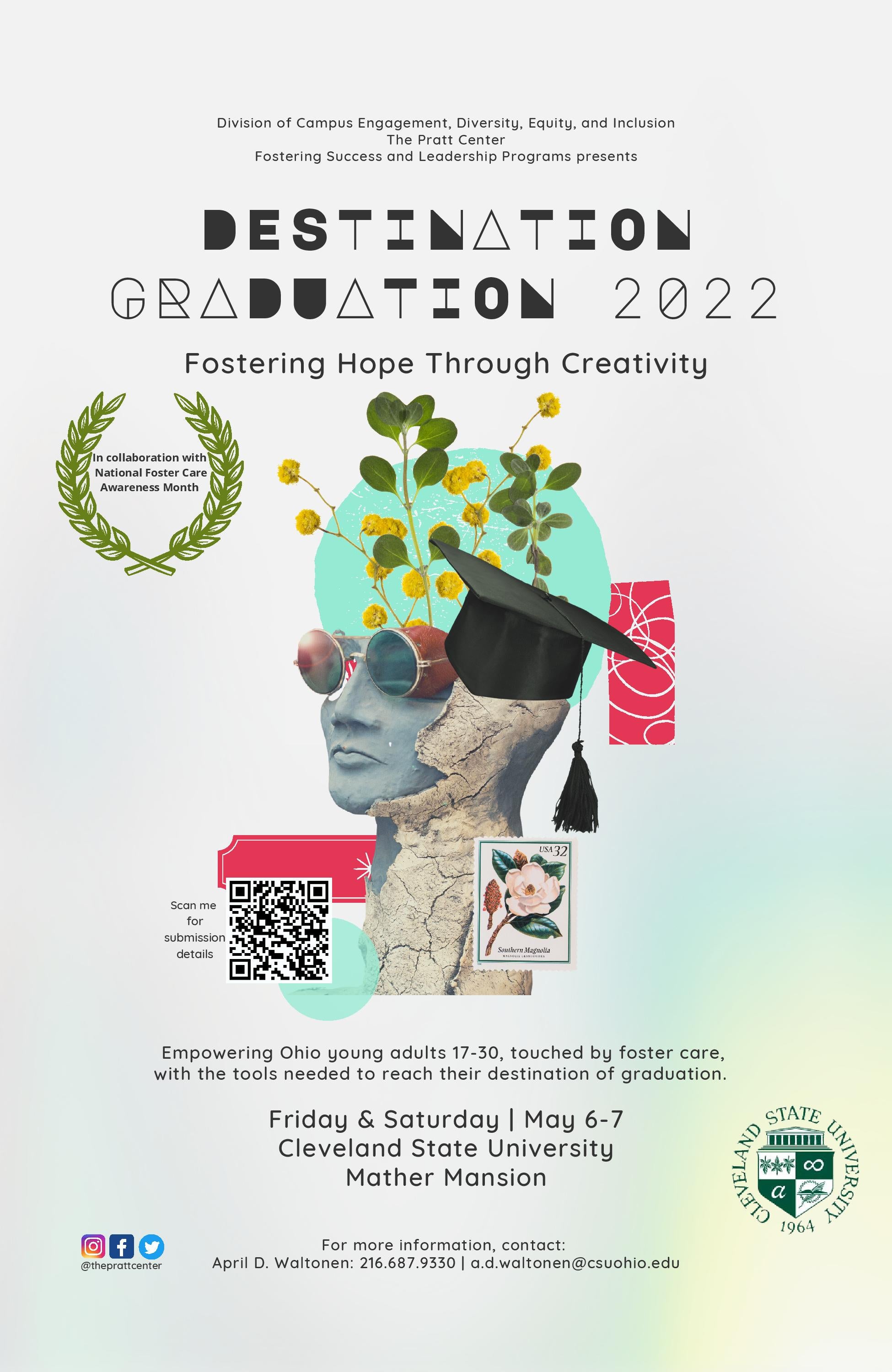 Join us for the ultimate kick-off to summer!
Since 2016, Destination Graduation has been committed to improving post-secondary outcomes for Ohio young adults, ages 17-30, touched by foster care. Our goal is to empower this population with the tools needed to reach their destination of graduation.
If you are between the ages of 17-30, reside in the state of Ohio and have been touched by foster care, we invite you to register for Destination Graduation 2022 - an event created with you in mind. If you desire pursuing an undergraduate degree and/or certificate completion, seek job/career guidance or simply want to explore options beyond your current situation, this event is the perfect place to get started.
Destination Graduation 2022
This year's theme, "Fostering Hope Through Creativity," speaks to the power of art—its ability to give voice to the voiceless, reflect society and culture, all while inspiring the human spirit.
Join us for our Destination Graduation 2022 dinner event on Friday, May 6 at 6 p.m. at Mather Mansion. The dinner will feature guest speakers, prizes, student artwork and more!  Parking will be provided for those attending. If you'd like to bring a guest, each attendee will need to fill out our registration form below. 
Or register for the complete two-day Destination Graduation 2022 student summit taking place Friday, May 6 - Saturday, May 7. The Destination Graduation 2022 dinner event will kick-off this summit of celebration and academic empowerment. Events include learning sessions, workshops, art exhibition, poetry slam and other activities. Attendees will also receive an array of valuable resources for housing, job and career exploration, support completing FAFSA form, and networking opportunities.
If you can only make it to one day of the summit, that's OK!  Simply include the days you can come when you register below. This event is entirely free, so we encourage you to come when you can. 
How to register:
Please fill out the registration form below to attend Graduation Destination 2022. 

Space is limited!
Please note: If you are bringing a guest, please make sure each person attending fills out a separate registration form.
Have questions about the event or your eligibility to register? Contact April Waltonen at 216.687.9330 or a.d.waltonen@csuohio.edu.
Are you an artist?
We are also seeking creative submissions in response to the following prompt:
How has "art" fostered hope and/or inspired you?
As an artist and creative, we are interested in how you define "art" and how "art" moves you to create. You have the opportunity to submit your work—writing, photography, art, sketch, painting, poetry, dance—whatever medium you express yourself creatively, we want to see and experience your "art."
Submission Details:
No later than: 11:59 p.m. on Monday, May 2, 2022                      
Uploads must be no larger than 100MB.
Along with your submission, attach a 1-page artist statement (double spaced, Times New Roman font) that explains:
·         Title of work
·         What is your inspiration/intention behind the work?
·         Who do you think is your audience for the work?
·         What is your goal for the work?
·         Why do you want to participate in Destination Graduation 2022?
We look forward to seeing you there!