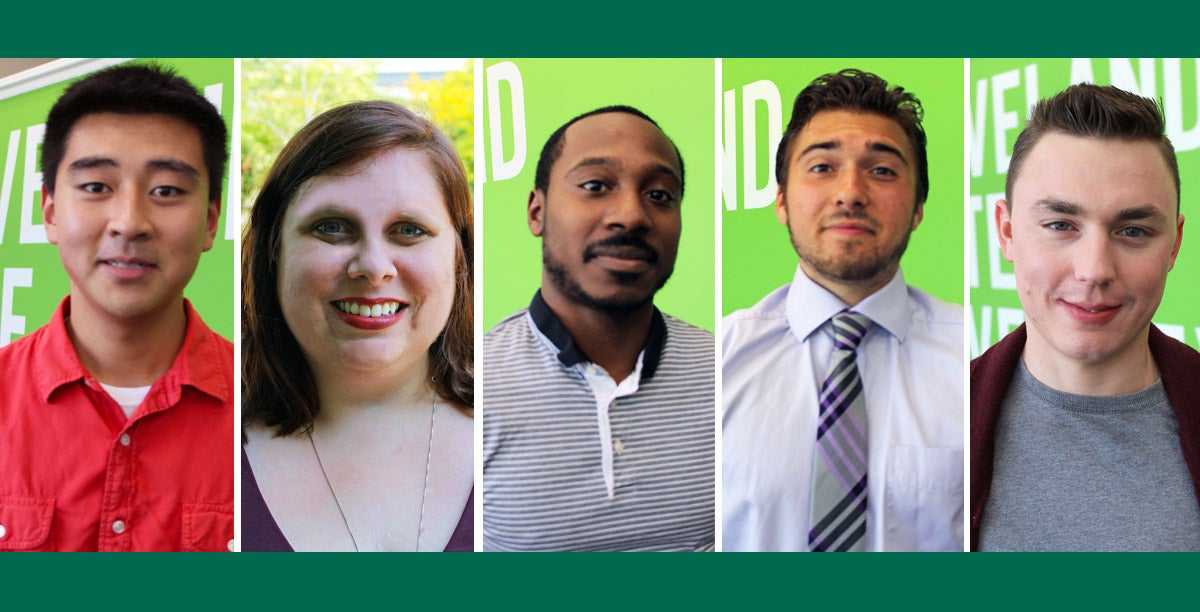 The
Deckard Family Civic Fellows Scholarship
supports rising junior and senior 
Cleveland State University students who have demonstrated a commitment 
to engagement opportunities provided by CSU
. Selected fellows are assigned to community initiatives that address 
a major challenge in Northeast Ohio and support or address a recognized 
regional, community-based, or civic organizational need.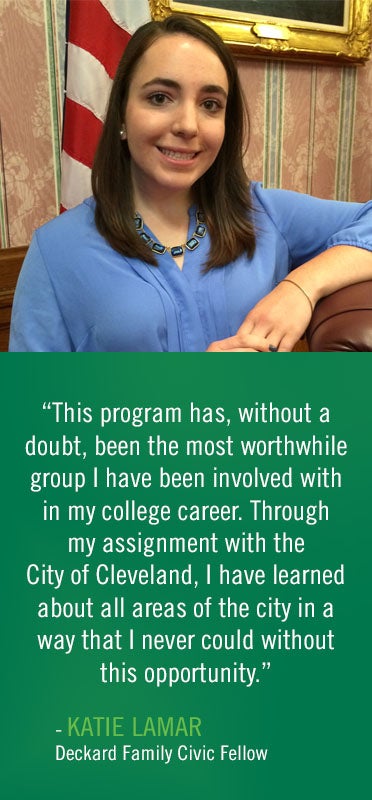 The Deckard Family Civic Fellows Scholarship program is administered by the Office of Civic Engagement under the direction of the Director of Community Partnerships in collaboration with the Office of University Advancement, the Office of Student Affairs and other departments around campus.
Fellows receive an award of $5,000 ($2,500 for fall semester and $2,500 for 
spring semester). The scholarship is renewable provided that the student 
remains in good academic standing and all assigned tasks are completed. 
Deckard Fellows devote 10 hours per week to their assigned community 
partner and attend up to four leadership development sessions per semester.
ELIGIBILITY REQUIREMENTS
To qualify for the Deckard Family Civic Fellows Scholarship, students:
Must be enrolled at Cleveland State University with a declaration of any major. Students must apply in the spring semester prior to their junior or senior year.
Must be in good academic standing with a minimum GPA of 2.5.
Must have demonstrated meaningful leadership participation in civic or community engagement activities.
 Must submit a 1,500 word essay explaining their interest in the scholarship and detailing their civic engagement activities.
Must have a demonstrated financial need.
HOW TO APPLY
Please note the deadline has passed. We are no longer taking applications. 
Applications for the Deckard Family Civic Fellows Scholarship must be 
submitted by April 30.  
Download the application below to apply:
I
nterested 
students should submit a completed application, an essay detailing their interest 
in the scholarship opportunity, a letter of recommendation from a non-family 
member and a faculty sponsor form. Though not required, a student may 
provide additional evidence of their civic engagement activity, including video 
presentations, photos, news publications, PowerPoint presentations, etc., by 
submitting a flash drive along with their application materials.