---

万绿丛中一点红,克城拂过中国风
——
美国克利夫兰州立大学孔子学院参加克利夫兰市第147届圣帕特里克节游行
稿件来源:克利夫兰州立大学孔子学院 李徐玮
2014年3月17,第147届圣帕特里克节(Saint Patrick's Day)游行如期在美国克利夫兰市盛举行。这个节日是为了纪念爱尔兰的主保圣人-圣帕特里克主教。而拥有着爱尔兰人移民最多国家的美国,也非常重视这个节日,每逢3月17日,人们都会游行,教堂洗礼和聚餐等等活动。
圣帕特里克节当日,在克利夫兰市区总计超过1万名游行者和150个组织参加了这场声势浩大的庆祝游行。初春的太阳依旧没抵过冬日的严寒,但这并浇灭不了克利夫兰人的热情,大约20万克利夫兰市民一同守候在了道路一起庆祝观赏了这场隆重游行。绿色是美国圣帕特里克节的主旋律,除了身穿绿色的服装外,食品、玩具等在节日期间都会带上绿色。游行当日,有身着苏格兰裙的表演者吹奏婉转悠扬的风笛;威风凛凛的苏格兰犬巡演;有异彩纷呈的舞蹈和乐队表演;更有各式各样的花车方阵。与往年不同的是,今年游行队伍中多出了一道鲜艳的中国红,格外引人瞩目。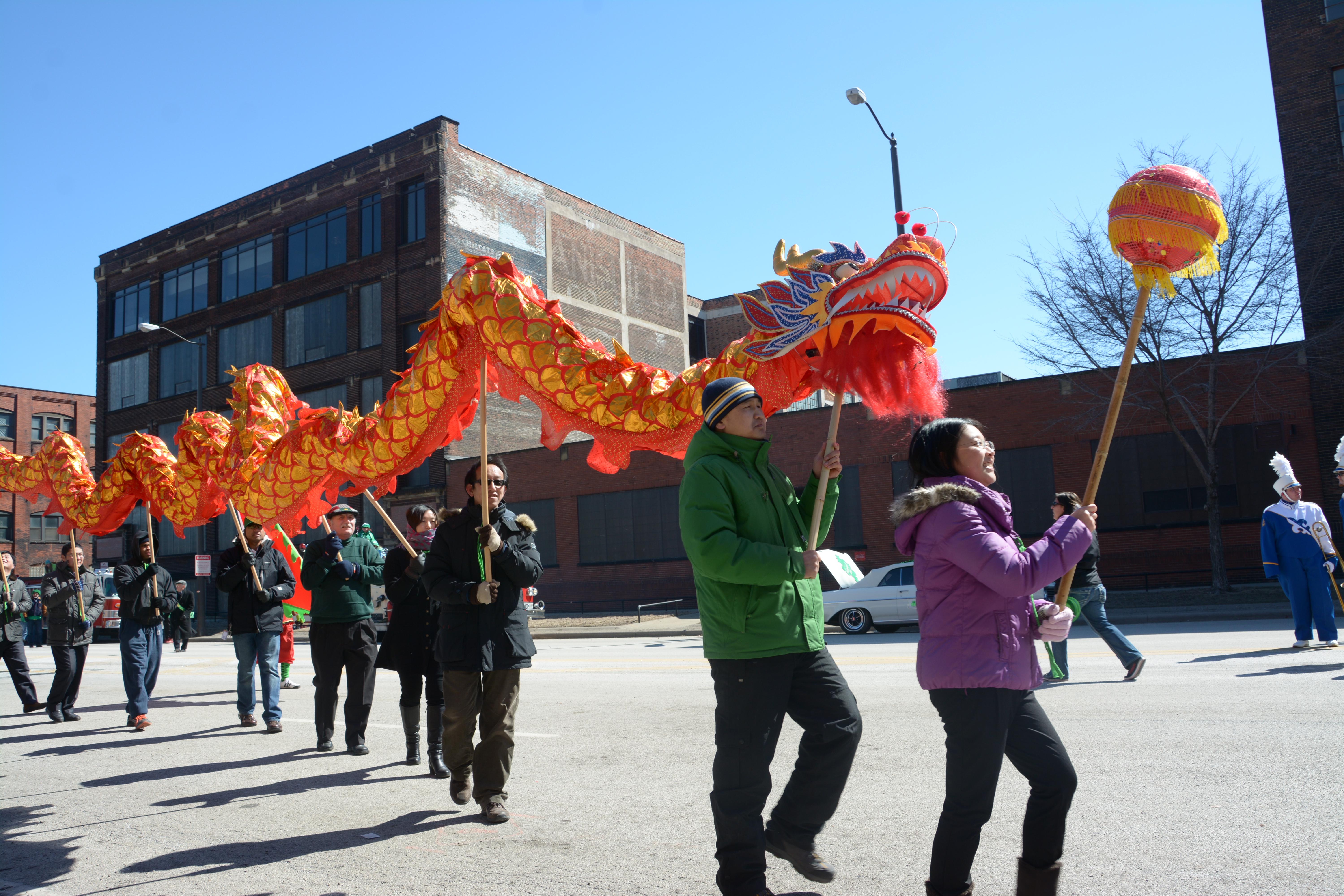 下午2点30分, 由孔子学院老师和克利夫兰州立大学访问学者和克利夫兰华裔协会成员们组成的舞龙队一下子就吸引了民众的目光。孔子学院方阵在游行队伍的中段,一条十米多长的中国龙在孔院教师的舞动下仿佛有生命一般,中国龙眨动着眼睛随着绣球左右翻滚,时不时的引来了民众的惊叹与尖叫。
这条中国龙道具由克利夫兰州立大学孔子学院购买,本次是首次在克利夫兰市亮相。在即将到来的克利夫兰亚洲节以及克利夫兰自然历史博物馆丝绸之路展上会再次与克利夫兰市民见面。除了中国龙受到了观众的喜爱,跟随着孔院方阵的熊猫人偶也受到了观众尤其是小朋友们的极大欢迎。熊猫人偶经过之处留下了一阵阵激动的尖叫声。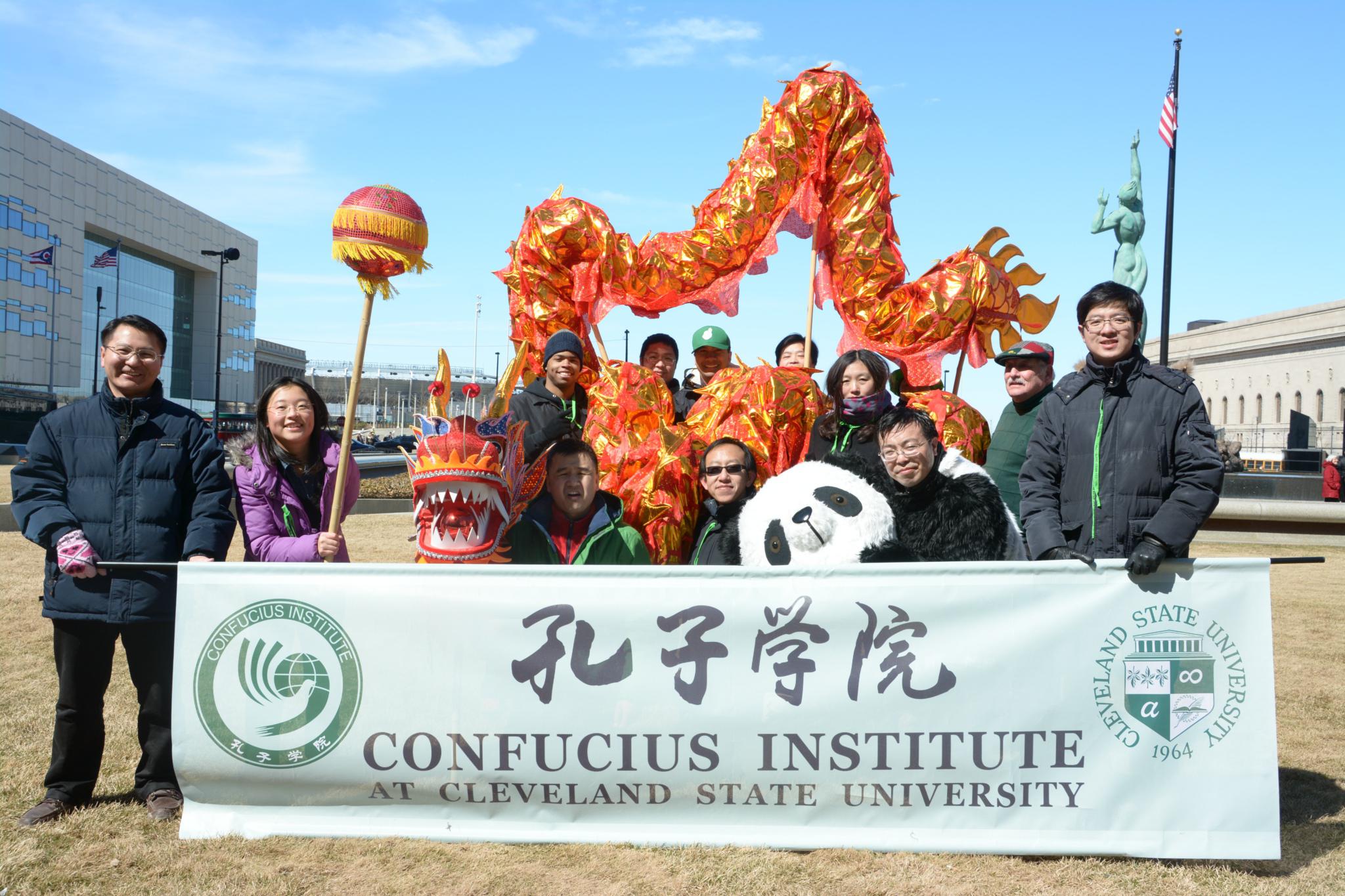 游行结束以后,克利夫兰州立大学孔子学院院长周海刚博士接受了当地媒体的采访。他说这是一次极好的机会向美国克利夫兰市人民展示中国文化,希望中国龙所承载的中国文化被美国人民所了解,也希望孔子学院这张中国名片被越来越多的人所熟知。
---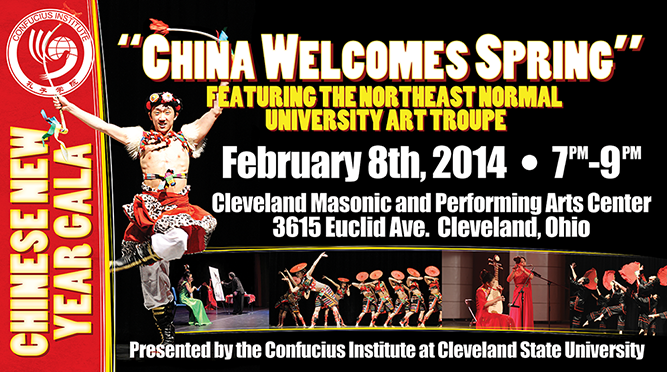 Chinese New Year Gala - "China Welcomes Spring"
Celebrate the Chinese New Year with us this February as the Confucius Institute hosts the Northeast Normal University Art Troupe for a presentation of "China Welcomes Spring," a collection of modern and traditional dances, art, music, martial arts, calligraphy, and painting.
This event, held at the Cleveland Masonic and Performing Arts Center near Cleveland State University, will be open to the public. Groups, students, and members of the community are encouraged to attend. Tickets are only available online through the Cleveland State University Advancement office. Enter the promo code 'CIATCSU' before completing payment to receive $15 off your ticket price. Please print and keep your receipt, as it will serve as your ticket.
Parking is free and available at E.36 and Chester at the Key Bank and at Copy King.  There is a lot next to Copy King on E.36 that is also large and free.  There is also parking at the Euclid and E.36 intersection behind the closed Blue Fig Restaurant.
This performance has been sponsored by Margaret Wong and Associates, a Cleveland-based law firm specializing in immigration support for both individuals and businesses.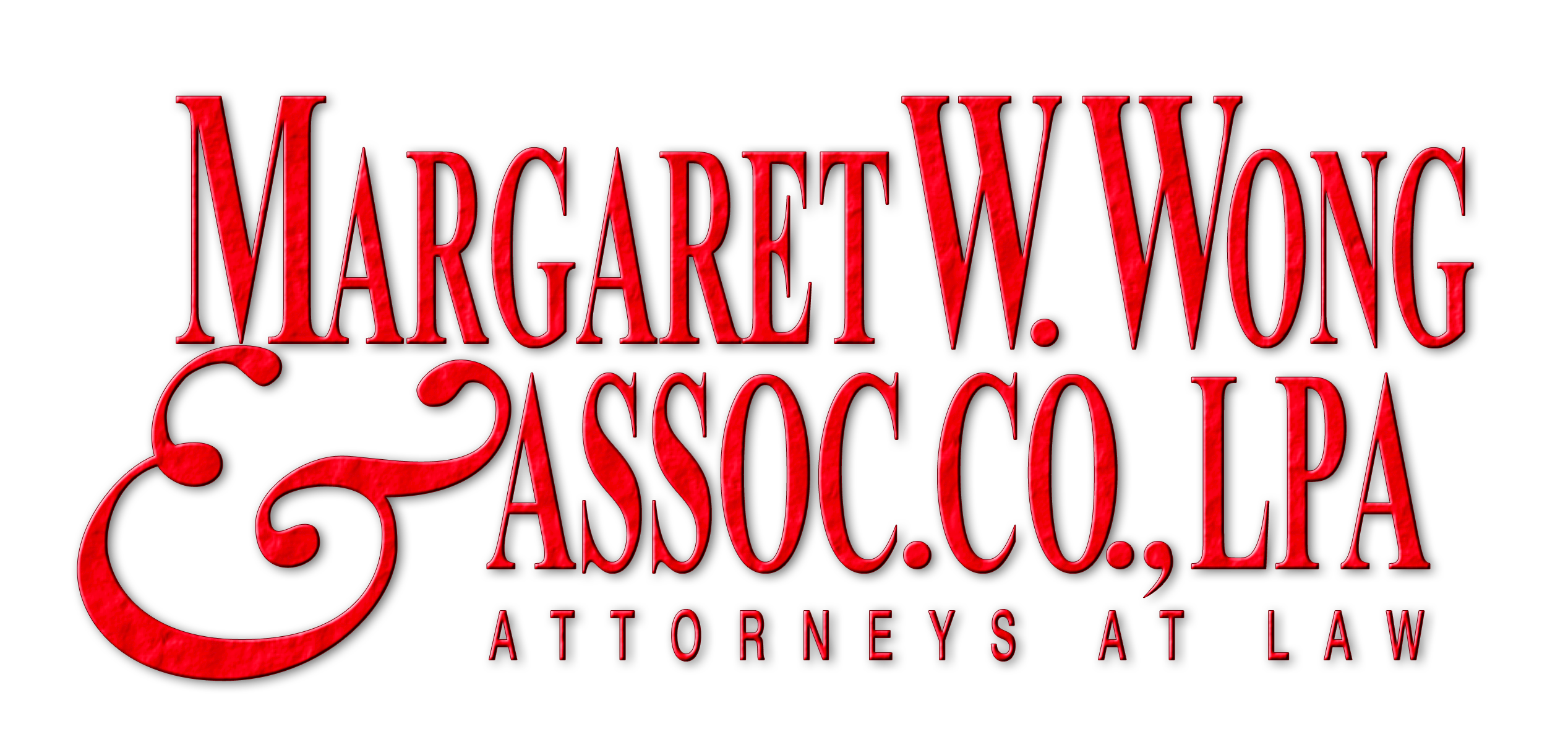 ---
About the Confucius Institute at Cleveland State University
The Confucius Institute at CSU was established in August 2008 and is a partnership between Cleveland State University, the Office of Chinese Language Council International (the "Hanban"), and Beijing's Capital University of Economics and Business.
The mission of the Confucius Institute at CSU is to enhance understanding of Chinese language, culture, and business and to promote Chinese language learning for business and commerce to the local community. The Confucius Institute at CSU also serves as a bridge connecting Cleveland State University and the local business community to Chinese institutions and organizations for academic and business purposes.