Chinese New Year Celebrations Enliven Cleveland 
The annual Lunar New Year celebration is the Confucius Institute's largest event of the year. The Confucius Institute partners with local Chinese organizations and community leaders to plan the celebration, which draws in thousands of guests each year. The event includes performances of songs, dances, martial arts, and much more. The Confucius Institute is happy to bring this slice of Chinese culture to Cleveland, and celebrates the event's success year after year. Please join us in the celebration of the New Year scheduled for 2:00-4:00 pm. Following the performance session is a reception at 4:00-5:00pm.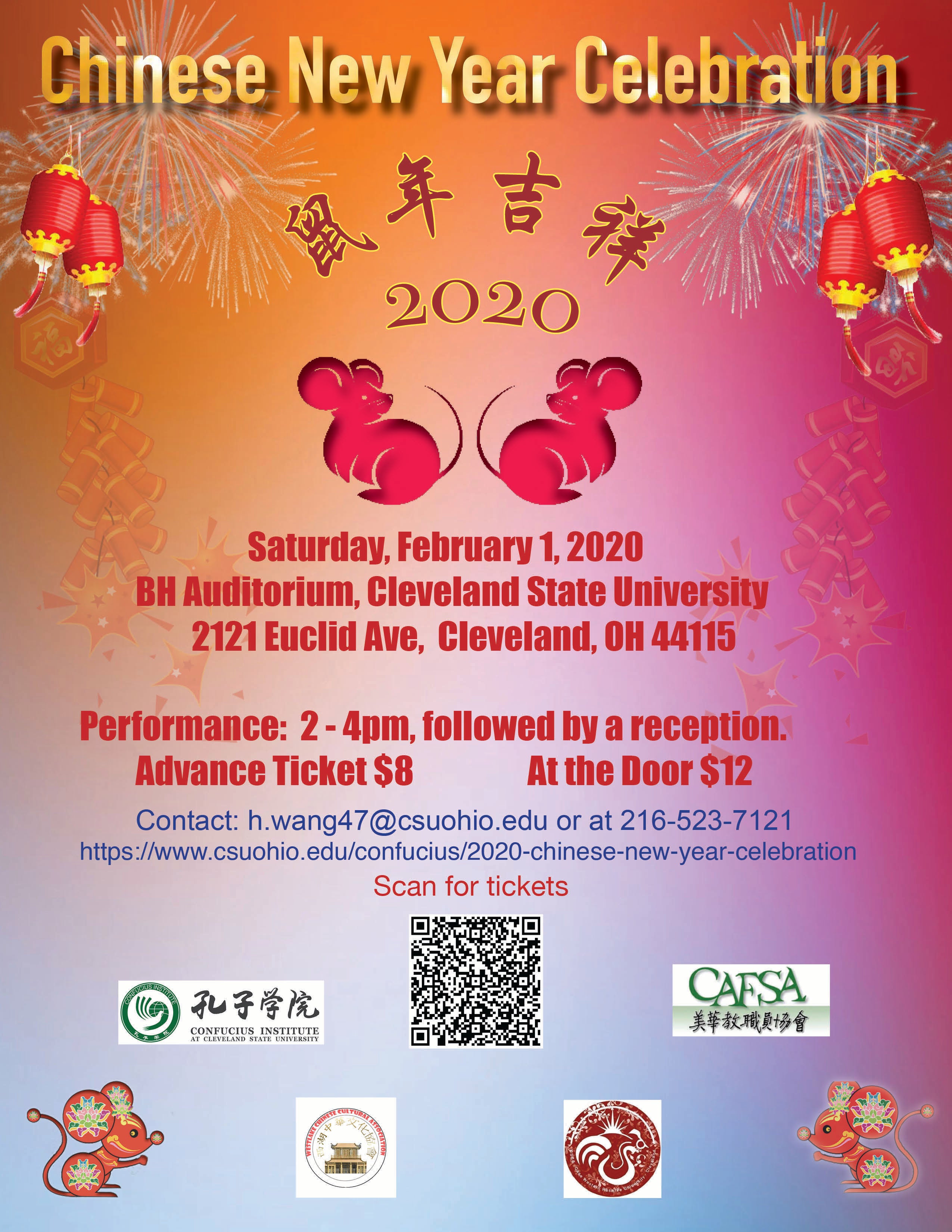 Date: Saturday, February 1, 2020
Time: 
Performance: 2:00-4:00 pm

Reception: 4:00-5:00pm
Location: Berkman Hall (Original Main Classroom) Auditorium, Cleveland State University, 2121 Euclid Avenue, Cleveland, Ohio, 44115 
CSU Campus Map.pdf
Admission Fee: 
Advanced ticket (online purchase by January 31): $8
Ticket at door (day of event): $12.
Unassigned seats; first come, first serve.
Purchase tickets here.
Parking:  
Organizers:  
Confucius Institute at Cleveland State Univesity (CSU-CI)
Chinese American Faculty and Staff at Cleveland State University (CAFSA)
Westlake Chinese Culture Association (WCCA)
Case Western Reserve University (CWRU)
Sponsors:
---
Past Lunar New Year Events
2018 Chinese New Year Celebration - ClevelandPeople.com
2017 Chinese New Year Celebration - ClevelandPeople.com
"Confucius Institute at Cleveland State University holds 2015 Lunar New Year Celebration" - Hanban News
"利夫兰州立大学孔子学院举办2015年春节文化庆典活动" - 汉办新闻中心
Additional Confucius Institute Lunar New Year  Celebrations
2015 Cleveland Heights University Heights District Celebrations 
"克利夫兰州立大学孔子学院'中国文化角'预热春节文化活动" - 汉办新闻中心
"Greeting New Year with Dumplings" - Hanban News
"饺子飘香,喜迎新春" - 汉办新闻中心