UPPER DIVISION ONLY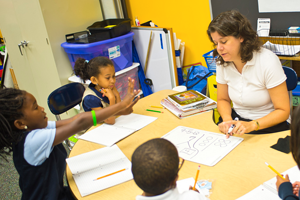 The Choose Ohio First scholarship program is designed to attract and graduate STEMM Education students. The program provides renewable scholarships of up to $7,000 per year for qualified students pursuing degrees in STEMM education fields.
Upon graduation, you can earn an Ohio license to teach in your chosen area. Mathematics and science teachers are among the most sought-after teachers. Scholarship recipients will be engaged in teaching experiences and professional learning communities that will support their classroom experiences.
Who Can Apply?
Current CSU Math and Science Majors who are already participating in a Choose Ohio First Program

 
What are the Program Requirements?
​Enroll in a degree program as a part-time or full-time student in the College of Education and Human Services leading to licensure in grades 4-9 mathematics and/or science education or plan to teach at the high school level. 
Remain in good academic standing with a GPA of at least 3.25
Participate in Choose Ohio First Scholarship Program's social and mentoring activities, including a required 10-hour per semester tutoring commitment. The scholarship amount will be re-evaluated every year based on the student's financial need, licensure area, credit hours enrolled and fulfillment of requirements.
Be an Ohio resident.
Have a current FAFSA on file with Financial Aid (www.fafsa.ed.gov).  Award cannot exceed amount due for the semester based on enrolled credit hours and joined with other scholarships and financial aid.

 
How Do I Apply? 
Continuing Choose Ohio First Scholars who are interested in participating in the STEMM Teacher Ed track should contact Dr. Joanne Goodell.

 
For More Information Contact:
Dr. Joanne Goodell
216.687.5426
J.GOODELL@csuohio.edu
Office: JH 348

 
For Additional Information on CSUteach: 
Visit the CSUteach website
Call 216-687-4666